Retirement may sound like slowing down for some, but in Breckenridge, it simply means more time to play. For those who are "formerly employed," retired Breckenridge, Colorado is like nirvana: lots of activities and adventures to experience with just the right amount of reward. After all—you've earned it.
Outdoor Adventures for Retirees in Breckenridge
The sun shines 300 days a year on average in Colorado, but it often seems like more. The summer brings long days that allow you to get out and explore using any mode of transport that you like. Prefer to rotate on two wheels? Explore more than 50 miles of mountain biking trails that cross Breckenridge, with difficulty levels ranging from easy to "rock star." For those who prefer pavement, the rec path trail is a great option, taking you from Breckenridge to Frisco with an easy grade. Want a bit more vertical? Try the lung-burning Swan Mountain Road. Options for renting bikes (both mountain and road) are plentiful in town and the staff are always happy to suggest routes.
For a combination of two great experiences, sign up for a Bike & Brews Tour. This day tour provides a guided tour along a taste of Breckenridge's thriving beer and distillery scene.
Hiking in Breckenridge is another great way to get out and explore. Looking for a leisurely excursion that showcases panoramic views of Breckenridge and the surrounding slopes? We've got 'em. Want to conquer a 14,000-foot peak and check yet another experience off of your life list? Quandary Peak is prepared to take you breath away. And for everything in between? Yeah, we've got that, too.
Of course, there's no better place to explore the fairways and greens than in Breckenridge. Golf balls fly farther (and straighter) in the altitude and at the Jack Nicklaus-designed Breckenridge Golf Club, you can see this for yourself. With 27-holes, this public golf course promises enough challenges and entertainment for several days of play.
Creativity and Culture for Retirees in Breckenridge
It's almost impossible to be in a beautiful place and not get inspired. Since 1859, Breckenridge has been attracting all sorts of folks and the town reflects this. Stroll downtown and you'll find pieces of history, from historic buildings and Victorian architecture to famous saloons, complete with swinging doors. Sign up for a walking tour with a knowledgeable guide and you'll be treated to tales of early prospectors, barons of industry and, of course, a ghost or two.
Today, downtown Breckenridge has one of Colorado's largest historical districts at about 12 square blocks. Approximately 250 buildings are listed in the National Register of Historic Places and there are 171 buildings with points of historic interest.
In addition to the historic district, Breckenridge also has a vibrant and thriving arts district. More than just an opportunity to admire art (though you can do that, too), Breckenridge Creative Arts (BreckCreate) offers a chance for a hands-on experience. Take a class on glassblowing or paper art; see an artist in residence and ask all the questions you have stored up, sign up for a culture walk or make plans to attend a performance of the National Repertory Orchestra at the Riverwalk Center. The highlight of the year is the Breckenridge International Festival of the Arts, which brings together artists from around the world in a variety of disciplines, creating an incomparable feast for the senses.
Feasts for Foodies
Along with feeding the soul, feeding the body is also very important. In Breckenridge, we pack a lot of flavor into a small town. Looking for a quick bite before heading out on the trail? Stop by Cool River for a sandwich, Redzz Above the Blue for a gyro, or Giampietro's for a slice of pizza at the recently renovated bar.
Breckenridge is not just a town for foodies—it's also a town for craft beer and spirit connoisseurs. Wet your whistle at Breckenridge Brewery or locals' favorite, Broken Compass Brewing; Breckenridge Distillery conducts tastings of its whiskey, rum and vodka at its tasting room in town and serves up a delicious dinner at its original location on Airport Road.
For a more leisurely, elevated experience, Breckenridge is home to several fine dining restaurants, including Hearthstone, Relish and SouthRidge Seafood. Italian, French, Thai, Vegetarian or Vietnamese? Yep, we've got those cuisines covered. Of course, you can't have a mountain town without a few watering holes and Breckenridge has a "new favorite spot" for just about anyone. Belly up to the bar at Blue River Bistro for a stellar happy hour, or check out Mi Casa for world famous margaritas after a satisfying day exploring.
Retirement doesn't have to mean slowing down. For the retired Breckenridge folk, it just means more time to get explore, experience and savor.
The Breckenridge Tourism Office works to enhance and promote the unique character and experience of Breckenridge as a world-renowned destination resort and to represent, serve and perpetuate the common interest and character of its membership and community.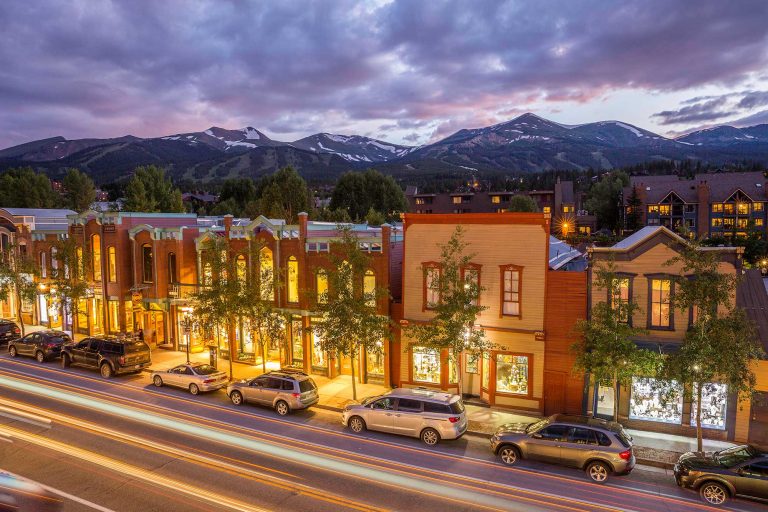 Embrace The Spirit
BLike Breckenridge™️ is a movement born of the spirit of our historic mountain town for those who call it home—whether for a weekend or a lifetime—to live by. It is a cause that connects us to each other, that we can all be a part of.