English
__________
Summer is a wonderful time to relax in Breckenridge. If you have children at home, we offer some ideas to keep the whole family occupied during the summer holidays.
One of the most recent family attractions at Breckenridge, Putt & Play Junction , is the event at the Steven C. West Ice Arena outdoor track. They have an 18-hole mini-golf course, two toy horses, basketball hoops, grass games and more. It opens daily from 10am to 9pm and is the perfect place to take the whole family.
If you are interested in exploring Breckenridge from a horse's perspective, Breckenridge Stables  offers horse and cart rides that will surely make the whole family happy.
They have more than 100 horses for their mountain walks that cover the Ten Mile Range . Whether you are looking for a historical tour or a quick trip through the town, your cart rides will take you back to the 19th century. Now head to the corner of Main Street and Washington for your wagon ride without reservations.
The  Summer Amusement Park in Breck has a multitude of activities that will keep your children smiling and wishing that summer never ends. From the Gold Runner Coaster to the Super Alpine slides, the Superputt Mini Golf, in Mineshaft Labyrinth and Ripperoo's Bounce House, there are so many ways to enjoy the snow-free mountains. Book your time and stop near the Gondola near the town to enjoy a free ride aboard the scenic BreckConnect Gondola. Babies and children of all ages will marvel at this trip to the top.
Are there skateboard fans in your family? Then do not miss the Skateboard Park  located at 880 Airport Road, right next to the Breckenridge Recreation Center on the north side. The park is free and suitable for young people and adults as long as there is light and the weather allows it.
For older children, a historical tour of the Breckenridge Heritage Alliance may be the ideal choice. Have fun taking a guided tour around the town and learn about the incredible history that surrounds us. They have everything from hikes through gold mines to enchanted walks. The school may still be closed, but learning never ends when you visit Breckenridge!
El Festival de Música de Breckenridge tiene una agenda interesante para toda la familia gracias a su serie de conciertos Blue River. Planea una noche fuera con la familia y llévalos a ver famosos artistas como Bela Fleck y Jerry Jeff Walker. El BMF (Breckenridge Music Festival) también tiene un Festival de Orquesta, una Serie de Cámara los martes y Serie de Champaña los domingos en donde presentan grandes clásicos de siempre.
El Country Boy Mine ofrece recorridos en minas y búsqueda de oro para los amantes de la aventura. Esta mina histórica restaurada también brinda la oportunidad de acariciar burros, deslizarse cuesta abajo por una resbaladilla de 17 metros de longitud que se usaba para sacar el oro de las minas, visitar la tienda y las exposiciones y equipo utilizado cuando la mina estaba en operación. ¿Con qué frecuencia tienes la oportunidad de explorar lo que un verdadero minero vio, escuchó y sintió en Colorado? Esta es tu oportunidad para viajar en el tiempo.
Adventurous children often enjoy a day of rafting. Breckenridge is located a short distance from several rivers, each offering different experiences and difficulty levels. If you are ready to plan your rafting trip, take a look at these tips to plan a great rafting trip .
Make sure you visit my post on Summer Parking to find out where to find free parking day and night, in various parts of town.
For more information visit gobreck.com/breckenridge-mexico
The Breckenridge Tourism Office works to enhance and promote the unique character and experience of Breckenridge as a world-renowned destination resort and to represent, serve and perpetuate the common interest and character of its membership and community.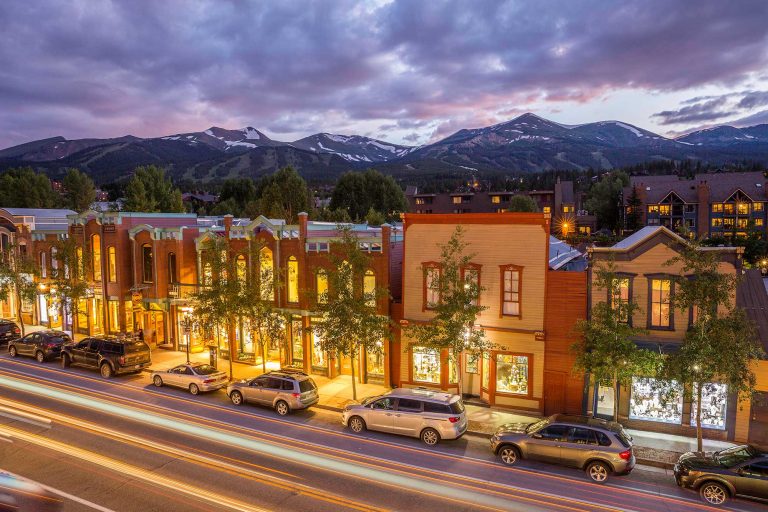 Embrace The Spirit
BLike Breckenridge™️ is a movement born of the spirit of our historic mountain town for those who call it home—whether for a weekend or a lifetime—to live by. It is a cause that connects us to each other, that we can all be a part of.