Skiing in America? Many Brits think skiing in America is too costly and too far, but the quality of skiing and the charm of places like Breckenridge make it totally worthwhile. Here is the UK Winter Visitor Guide on travel planning, packing, where to stay, how to get around, and where to ski or ride on the mountain.
UK Winter Visitor Guide to Breckenridge:
Before you go:
Where to stay – Consider where you want to stay. Do you want ski-in, ski-out or do you need easy access to town? Do you want to be in the heart of town? Or do you prefer a quiet retreat?
Ski-in, ski-out – Staying at the base of Peaks 7, 8 or 9 has many benefits as you are able to literally get out of your bed and, in some cases, be less than 100 metres [Editor's translation: about 300 feet] to the chairlift. This is perfect for those of you who are early risers and keen to get those first turns on fresh corduroy or skiing the new powder. It also helps in trying to stick to a budget. You can save quite a lot of money by making your own lunch back in your room (and save up for a night on the town at one of Breckenridge's delicious restaurants). The obvious downside of ski-in, ski-out is that it tends to be significantly more expensive and also the bases of Peak 7 and 8 in particular can sometime feel a little isolated from town, although the majority of the accommodations provide free shuttle transportation around town.
In town – This allows you to make easy journeys to Main Street Breckenridge and the multitude of restaurants and shops that the small town has. It can help if you are keen [Editor's translation: have a desire] to stumble home late at night. Obviously the main downside is that more effort is required to get to the mountain, however the bus service throughout town is not only free but also very extensive. Picking accommodation that is towards the gondola end of town is potentially a good idea if you want to avoid a bus journey to the slopes.
In reality, Breckenridge is small enough that the mountain is never that far away from where you are staying.
Flights:
If you are going from the UK then you will want to fly into Denver International Airport (DIA). Many of the major transatlantic airlines offer services to DIA with the majority flying from Heathrow. The big decision in terms of flights is whether to fly direct or indirect. However, prior to sorting out your flights you need to make sure you fill out and compete the ESTA form for immigration into the USA. Without having this form completed prior to landing in the United States, your journey to Colorado will be a very short one.
Direct – British Airways offers the strongest service when it comes to direct flights to DIA, with one every day, although other airlines occasionally offer the service, such as Finn Air. Direct flights will take you in the region of 10 hours, which when you consider how far you are going is pretty impressive. These tend to get into Denver early evening, so if you want to make the trip straight to Breckenridge you certainly have time to do so, or if not there is still plenty of the evening left to explore Denver. The return flights tend to be in the evening so you can almost squeeze in a full ski day before making the 1 hour, forty-five minute drive to DIA. Again, the downside of direct is the cost and lack of flexibility due to the limited number of flights.
Indirect – all the main transatlantic providers have numerous indirect flights to DIA with many different combinations and timings. This allows a greater flexibility for your journey but obviously has the downside that the journey is likely to take at minimum 13 hours. One good idea with an indirect flight is that you can take a small city break either side of your ski trip to Breckenridge. The major stop over points for these flights are usually big cities such as Washington DC, New York and Chicago. All of these places are worth visiting and stopping adds a nice end or start to your holiday.
Personally, if you can afford a direct flight I would choose that option, particularly if you have kids.
Indirect flights can begin to drag on and having to get off one flight and onto another can get tiresome. However if you are trying to make a few savings on your trip then this is a great place to save a few hundred pounds [Editor's translation: dollars, or money] for the sake of a few extra hours traveling.
Getting to Breckenridge from the airport:
Your two main choices are a car or a shared shuttle.
Car – hiring a car gives you the flexibility to go anywhere when you want, and you can explore the other ski areas around Breckenridge. It also lets you venture out in the evenings to nearby towns. However, the chances are that your car will be sat around for a few days on your holidays without you using it, effectively wasting the cost you paid for it.
Shuttle – very simple and hassle free way of getting from DIA to Breckenridge, but with, obviously, the lack of flexibility once you are in Breckenridge. However, it can be very beneficial if the weather is miserable when you arrive in Colorado as the I-70 drive to Breckenridge can be quite treacherous if it is snowing and dark; a shuttle takes this issue away from you. There are also a number of shuttle service companies, which keeps the market competitive and the costs relatively low. There's also the added benefit that if you want to ski in another resort, there a plethora of companies who will shuttle you to those resorts, and as an added bonus you can get to Keystone and A-Basin for free with your lift pass.
Altitude, Packing Advice, and Ski Passes:
Altitude – Denver is a mile or around five thousand feet high, so once you land you are already significantly higher than back in the UK. Breckenridge is then another four thousand feet higher again, which takes it to a whopping 2,926m. [Editor's translation: 9600 feet] This is almost as high as most people have ever skied in European resorts and that is before even getting on a chairlift! Hence the need to acclimatise your body. There are a number of options to help yourself get used to the altitude. Staying in Denver for the first night of your trip allows your body to slowly get used to the altitude and makes the transition up to Breck's height a little easier. You can also begin the journey up to Breckenridge but stop at many of the old mining towns off I-70. Many of these towns will make you think you've been transported back in time to the Wild West – they really are quite an impressive sight and worth a visit. I think that due to the altitude, if you do start to feel ill, have difficulty breathing without wheezing, then you should visit the doctor as soon as possible. In Breck, there are options for feeling better, such as supplemental oxygen, either prescribed by a doctor or purchased in small cans at local stores. Drink lots of water.
Packing – if you go to Breckenridge between the months of December through to early February, expect the temperatures to be significantly colder than you will have probably experienced in European ski resorts over the same period. Therefore it is important to take plenty of layers to wear when you ski, and all your regular ski apparel. The general vibe in Breckenridge is pretty relaxed, so in terms of evening and after-ski wear you can pretty much get away with anything.
Ski passes – depending how long your visit to Colorado is, the most financial sense may actually be to purchase a season pass (plus this might encourage you to come back later in the season when you see the snow dumping down late into April!) It tends to make sense that if you are skiing for over 7 or 8 days then it makes more sense to buy one of the options of Epic season passes that Vail Resorts offers. The website is very self explanatory and outlines all restrictions quite clearly.
The major benefit of buying a season pass is that most of them offer some form of skiing at the other Vail Resorts ski areas.
Having the ability to ski in Vail, Keystone and Arapahoe Basin is a real benefit to any holiday and having this flexibility is priceless.
Skiing and Snowboarding:
Breckenridge offers a brilliant variety of skiing across 5 peaks and if it is your first time skiing outside of Europe you will certainly notice a difference. Runs are much more obviously marked out and named, usually being lined by trees on either side. One of the other main differences is the off piste classification [Editor's translation: off trail, ungroomed] that many European skiers are used to discussing – much of what would be classified in Europe as off piste in European resorts is technically marked and patrolled runs in the USA. These runs will be marked on the piste map or trail map as extreme terrain or double black diamonds. They are technically difficult and the  snow conditions can be variable, but if you come into trouble ski patrol will come to your aid, unlike in Europe.
Peak 10 – mainly difficult, tight and bumpy double diamonds which will challenge even the most hardened skiers.
Peak 9 – brilliant long blue and green groomers. Ideal for warm up laps in the morning for more advanced skiers or a great place to learn and advance your skiing if you are still learning.
Peak 8 – probably the most varied of all peaks in Breck, lots of good cruising blues below the tree level but then above the treeline there are numerous bowls accessed by the T-bar and the highest chairlift in North America, the Imperial Express SuperChair. For those of you who are aiming to be the next James Woodsey or follow in the footsteps of Breckenridge's own Bobby Brown, peak 8 offers one of the most renowned parks in the world with a huge jump line and a monstrous halfpipe.
Peak 7 – lovely cruising runs through the trees, ideal for a few family runs or a great way to wind down towards the end of a tough day.
Peak 6 – the newest of the peaks at Breck, it offers some great skiing for all, there is a great blue-classified bowl area which gives less experienced skiers a good chance to ski in untouched and unpisted [Editor's translation: ungroomed] snow.
Dining and Shopping:
Breckenridge is more than just a skiing town, and there are a brilliant number of cafés, restaurants and shops to visit. There are so many in fact, that you may have to go to Breckenridge twice just to get anywhere close to seeing them all.
Restaurants – you really are spoilt for choice in Breck; as must visits, I would recommend:
Downstairs at Erics for awesome atmosphere, good food, lots of sport screens and the arcade games.
Empire Burger for a great selection of no fuss burgers.
Mi Casa for some delicious Mexican food and lots of tequila.
Breckenridge Brewery for not only good hearty food but also a wide selection of locally brewed beers.
Blue River Bistro for slightly more up-market dining.
Swiss Haven for an authentic taste of fondues and raclettes.
Stores – There are loads of great independent stores in Breckenridge who sell almost everything you can imagine, from novelty must have t-shirts through to jewelery.  If you have a car, the outlet malls at Silverthorne are also another great way to spend an afternoon or early evening. Here you can get some great deals on a wide selection of brands.
Other Ski Areas to Visit:
The passes that Vail Resorts offers come with at least a limited number of days at their other resorts.
Vail – another Vail Resorts ski area, well worth a visit and a relatively easy drive west on I-70 if the weather is good, or even easier sitting in the back of a shuttle.
Arapahoe Basin – not a Vail Resorts ski area, but shares passes with the other resorts. A-Basin has the feel of a 'locals' resort. Not really any base area to speak of, just a warming lodge, bar and cafeteria, but it offers great number of challenging trails.
Keystone – another Vail Resorts ski area and brilliant for a good family day out. It offers cat skiing and one of the best parks in the world for those of you brave enough to enter Area 51.
Loveland – not included on Vail Resorts passes but this old-school resort located on I-70 before the Eisenhower tunnel is an amazing example of an independent ski resort which is truly unique and offers some great big mountain skiing.
Top tip – GO!
I think many Brits get put of the idea of skiing in America due to the cost and distance, but the quality of skiing and the charm of places like Breckenridge make it totally worthwhile for a UK winter visitor. I would probably advise people to make sure their trip to Breckenridge and Colorado is at least 8 days long – the first time you go the time difference and altitude are certainly factors which you notice – plus the longer you stay the more skiing you get and the more opportunity you have to discover Colorado.
By Adam Pickett
UK resident and long-time Breckenridge visitor, Adam Pickett, outlines some of the best tips and advice for visiting Breckenridge from across the Atlantic. [Editor's translations provided for curious Americans]
The Breckenridge Tourism Office works to enhance and promote the unique character and experience of Breckenridge as a world-renowned destination resort and to represent, serve and perpetuate the common interest and character of its membership and community.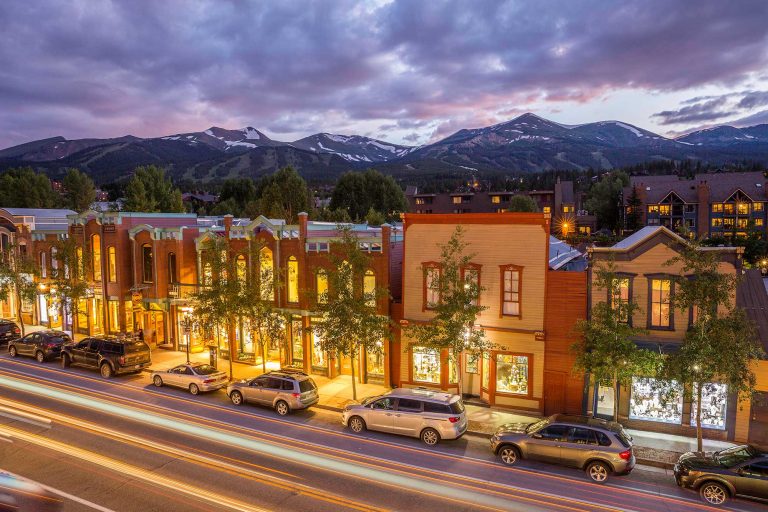 Embrace The Spirit
BLike Breckenridge™️ is a movement born of the spirit of our historic mountain town for those who call it home—whether for a weekend or a lifetime—to live by. It is a cause that connects us to each other, that we can all be a part of.