A First-Timer's Guide to Fishing in Breckenridge
Breckenridge is home to some of the best fly-fishing waters in the state of Colorado. With numerous rivers, streams, alpine lakes and reservoirs in and around Breckenridge, there's a destination to match nearly all interests and skill levels. Here's what to know before you head out on a fly-fishing adventure for the first time.
What to Know Before You Go
Fishing Licenses
Fishing licenses are required to fish in any waters throughout Colorado. Single-day, multi-day and annual fishing licenses are available online through Colorado Parks and Wildlife, or you can get one in person from an authorized fishing license retailer such as Mountain Angler and Breckenridge Outfitters in town, or the Dillon Ranger District office in Silverthorne.
Once you have purchased a fishing license, please check fishing laws and regulations that apply in your area before heading out. Anglers are required to follow both statewide and waterway specific rules so that fish populations are protected now and into the future.
Where Can I Rent or Purchase Fly-Fishing Equipment?
If you don't have your own equipment, or choose not to bring it along, local outfitters like Mountain Angler and Breckenridge Outfitters are a great location to pick up the essentials and even some extras. Opt to book a guided tour- both outfitters provide rods, reels, waders and other gear at no charge.
Guided Adventures
Why go with a guide? With so many options to choose from, knowing where to go and what the fish will be biting on can be a bit daunting.
The gorgeous rivers, streams and lakes of Summit County make it an incredible destination for fly-fishing in any season. Outdoor enthusiasts of all ages and abilities can discover the best spots, learn to cast, get your license and find out where the fish are biting with the help of our local outfitters and guides at Breckenridge Outfitters and Mountain Angler. Both outfitters offer half day, full day and float trip packages for you to choose from as well as priceless local knowledge. The wild and open waters of Colorado can be hard to tame and you can greatly enhance your experience and chances of catching a fish and creating lifelong memories with the help of a knowledgeable local guide.
Both outfitters can provide you with everything you need for your time on the water, including fishing licenses, rods & reels, waders, boots, water and drinks.
Check out more guided adventures in Breckenridge
What Should I wear to go Fly-Fishing?
Because fly-fishing is available year-round in Breckenridge, you'll need to tailor your clothing to when you're planning on going fishing. If you're heading out in the summer or fall, opt for moisture-wicking fabrics and sun protection like hats, sunglasses and sunscreen. In the winter and spring, the same rules apply, however you'll want some warmer layers like gloves, a sweatshirt and rain jacket. Wader and boot rentals are available at fishing shops around town, and if you're heading out with a tour, they'll have everything you'll need to succeed out on the water.
Local's Tip: Remember to always bring a day-pack with you complete with snacks, a re-usable water bottle and extra layers.
Breckenridge Summer Packing Guide
Breckenridge Winter Layering Guide
Where to Fly-Fish in and around Breckenridge
Breckenridge is near the headwaters of five major rivers. Within an hour of Breckenridge you can fish the Blue River, Eagle River, Colorado River, Arkansas River and South Platte River.  There are also numerous small streams, reservoirs and alpine lakes to explore. Head over to Lake Dillon for fishing of all sorts, including fly-fishing, reel & line fishing and even ice-fishing in the winter! The Frisco Marina offers pole and boat rentals and fishing licenses. Looking to go with the whole crew for a chartered ride? The Dillon Marina offers boating excursions through tour companies like Big Ed's, Alpine Fishing Adventure and Silver Flask Fishing.
Check out more places to cast your line in Breckenridge.
The Breckenridge Tourism Office works to enhance and promote the unique character and experience of Breckenridge as a world-renowned destination resort and to represent, serve and perpetuate the common interest and character of its membership and community.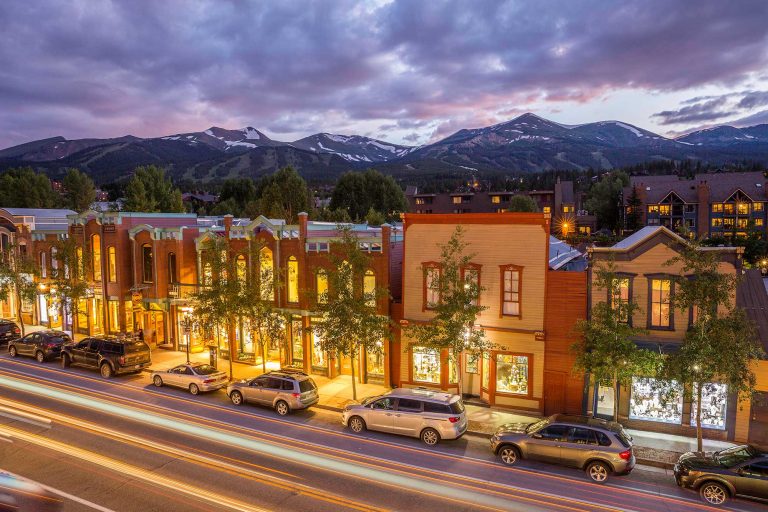 Embrace The Spirit
BLike Breckenridge™️ is a movement born of the spirit of our historic mountain town for those who call it home—whether for a weekend or a lifetime—to live by. It is a cause that connects us to each other, that we can all be a part of.