If you are heading up to Breckenridge to take in the fall scenery, it's only natural to want to capture your experience. Breckenridge is so beautiful this time of year that it's rated by U.S. News as one of the best places in the nation to witness the autumn foliage. It doesn't matter if you have a DSLR or a simple camera phone, as long as you put in a little effort into your art you'll be able to create some cool images that'll leave everyone jealous they didn't come to Breckenridge with you. To help you get started or advance your skills, local photographer, Louie Traub, shares 3 Essential Fall Photography Tips to help you capture this year's amazing fall colors.
1. Know When To Go
In photography, the first hour after sunrise and the last hour before sunset is known as the golden hour. The warmer color temperature of the sun as it gets closer to the horizon enhances the bright aspen leaves making the colors glow.  Don't be afraid to shoot into the sun and play with backlit scenes. The transparency of the leaves can make this angle particularly eye-catching. Experiment by shooting the same subject from multiple angles until you find the view you are happy with.
2. Watch The Weather
Pay attention to the weather and notice how the change in lighting affects your subject. Clouds create a giant sun diffuser and even out the lighting, which is great for portraits because there are no harsh shadows or "raccoon eyes" on your subject. If the sun emerges following a late-afternoon thunderstorm, be on the lookout for rainbows in the opposite direction. Come October, try to catch seasons colliding as the final fall leaves hang on when the first snowfall of the season arrives.
3. Good Fall Photography = Location, Location, Location
For those touring via vehicle, Boreas Pass is the marquee local drive for leaf-peeping. The 18-mile dirt road from Breckenridge to Como and Fairplay is passenger car accessible and the first couple miles offers some of the best opportunities to photograph fall colors in the area. If you're using a manual controlled camera, bring along a tripod, as you'll be shooting at a low ISO and smaller aperture to capture as much detail as possible. If it's windy, watch your shutter speed, as fluttering leaves will create blur.
Looking to view the fall foilage on foot?  Try the Blue River Recreation Path and layer different visual elements, like cyclists or joggers in the frame with the mountains, or use leading lines to draw the viewer in.  To get off the beaten path, hundreds of miles of trails in and around Breckenridge offer endless opportunities for leaf seekers. Frame your friends or family with fall colors on Aspen Alley, which begins near the Boreas Pass winter trailhead and offers a flowing, aspen-lined 1.3-mile, 500' descent down to Boreas Pass Road.
For more information on where to shoot fall photography in Breckenridge, as well as other fall activities, visit the Breckenridge Welcome Center on Main Street or keep exploring Fall in Breckenridge.
The Breckenridge Tourism Office works to enhance and promote the unique character and experience of Breckenridge as a world-renowned destination resort and to represent, serve and perpetuate the common interest and character of its membership and community.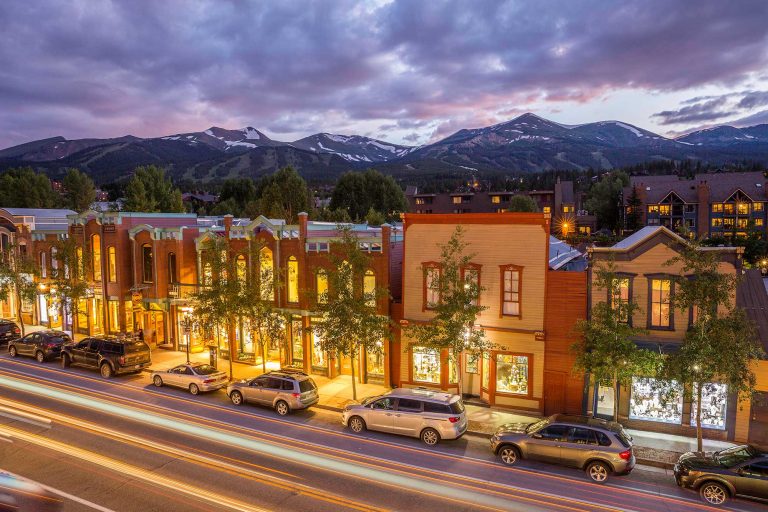 Embrace The Spirit
BLike Breckenridge™️ is a movement born of the spirit of our historic mountain town for those who call it home—whether for a weekend or a lifetime—to live by. It is a cause that connects us to each other, that we can all be a part of.