6 Hiking Myths in Breckenridge – Debunked
Hiking around Breckenridge in the summer is a soulful way to have an intimate connection with the mountains. And it's easier than you might think. No need for clunky hiking boots, special equipment, bear spray or a geo-locater. Our wide variety of trails offer something for every age and fitness level. So don't myth out, and stick to the basics. Here, we debunk six myths about hiking in Breckenridge.
Myth #1: You need hiking boots to hike
Forgot your hiking boots at home? No need to worry. While flip-flops are not recommended for any dirt or hiking trails, one of Breckenridge's most popular paths, the Blue River recpath in downtown Breckenridge, may be you're go-to for easy walking and great views. Flip-flops are just fine for this paved trail- check out native wildflowers and scenic views of the iconic Ten Mile Range. Bring a packed lunch and stop along the Blue River to enjoy a snack at one of their many picnic benches along the pathway.
For most trails however, proper footwear is a must. Colorful joggers and sneakers substitute for hiking boots on many of our trails rated as moderate or easy. For a rocky hike up a Fourteener, good hiking boots with ankle support and Vibram soles are needed for the 5-8 hour journey. Yet, most of Breckenridge's trails aren't that demanding. Hiking sandals like Chacos or Keens are popular for good reason: not only are they are comfortable and your feet can breathe, but they give arch support and won't fall off.
Proper footwear is not the only gear choice to consider for your hiking excursion. Before you depart, think about how far you plan to go, how remote the location is, and what the weather calls for. Check out REI's Day Hiking Checklist for an easy planning guide for a hiking outing. Be sure to review and follow Leave No Trace principles before heading out and be prepared for your adventure. If you are unsure where to go, visit the Breckenridge Welcome Center for advice on trails, maps, gear, and proper footwear.  If you don't have everything you need, outdoor stores throughout town can help you rent, buy, and find the right gear for your hiking and clothing needs. Don't forget these necessities no matter the time of year:
Layers and a rain jacket
Sunscreen, hat and sunglasses
Re-usable water bottle and snacks
Myth #2: All hiking trails are steep and rocky
Every trail in the Breckenridge area goes up at some point, that's the nature of being in the Rocky Mountains. But not every trail is steep and rocky. There are trails to suit every level of hiker around Breckenridge. The gentle meander along the Blue River Trail and the historic hike on the B&B Trail are perfect starting points to get your legs and lungs acclimated to the altitude. The gradual climb up Iowa Hill gains elevation over a mile of switchbacks, making it a good next level trail, or try Bakers Tank Trail from the Boreas Pass trailhead. If going downhill sounds more like your speed, the guided hiking trails at the Breckenridge Ski Resort are accessible by a chair lift ride up the mountain.
With hundreds of miles to choose from it can be hard to decide on which trails to explore. Explore the best apps and websites for choosing the perfect trail.
Myth #3: It's easy to get lost
While you can definitely still get lost, it's also just as easy not to get lost. One of the best ways to stay found is to stay on the trail. Even though shortcuts can be tempting, please don't take them. A few extra strides on the path will protect native plants and the homes of the true furry locals. It'll also ensure you don't lose the trail or your way. The excellent systems of loops and connectors in the French Gulch and Gold Run Gulch areas are marked with trail posts at every intersection, and most trailheads will have signs and maps too. Downloading a trail map or grabbing a copy of the Summit County Open Space and Trails Map will give you an overview of the trail and help you keep track of where you are and where you're headed. With so many trail options to check out, exploring a new path through the woods could lead to unexpected and amazing discoveries.
The map of local trails is available at the Breckenridge Welcome Center and area retailers. For a definitive guide to trails in Colorado, visit Colorado Trails Explorer.
Myth #4: Trails loop
Some do, but many don't in the Breckenridge area. Because the Town of Breckenridge is located at 9,600' at the headwaters of the beautiful Blue River, most times there is only one way to go – up.  That's also true of many of the trails in the Breckenridge area where our extensive network is left over from the historic gold rush days when the miners had one destination to reach – the mine.
There's nothing wrong with an out-and-back hike. Even if your boots traveled the same path, your views are completely different. If you were looking east when you climbed up, you will be looking west on the way back down.
Still, there are many options to loop trails in the Breckenridge area. The trail systems in French Gulch east of downtown or Gold Run Gulch near the Breckenridge Golf Course provide options to create your own loops, like the classic B&B Trail to Minnie Mine.
Myth #5 – Watch out for lions and tigers and bears – oh, my!
Whether you're a visitor or local, what makes Breckenridge so special is the wildness of our home. While you're in Breckenridge, you may see animals like moose, mountain goats and foxes. In most situations, people and wildlife can coexist, and most wild animals are harmless if left alone. So don't be too worried about mountain lions, foxes and bears. They are relatively rare to see and most likely won't want anything to do with you. The only animals you really have to ever worry about in Breckenridge are moose and coyotes. Seems weird, right? Although moose are herbivores and seem docile, they can get territorial and aggressive, especially when with their young or during winter when there is less food to eat. If you happen upon a moose, the best thing you can do is get away as quick as possible- they just want to be left alone.  Learn more about living with moose.
Coyotes are small and don't typically pose any threat to humans, but they do prey on pets like cats and smaller dogs- so just remember to always keep a close eye on your furry friends or keep them on a leash on dog-friendly trails. If it seems like a coyote wants to play with your dog, avoid temptation, as this is a pack hunting technique. Learn more about living with coyotes.
To keep wildlife, and you, safe, follow these tips:
Never feed, approach, chase, follow or surround wild animals and always observe from a distance.
Keep your furry buddies leashed when enjoying dog-friendly trails and pack out their waste all the way to a trashcan.
Keep your eyes and ears open. Many animals like moose and bear have great camouflage, and it's not uncommon to startle each other along the trail. Stay calm and back away.
We understand how exciting it is to see wildlife and it's ok to take a few photos from a distance without disturbing them. Help us care for Colorado by practicing responsible tourism not only for the safety of our environment and its creatures, but also for us and generations to come. Check out our guide to common Breckenridge Wildlife for tips on how to live with them safely. Once you know before you go, you'll have little to worry about and can get ready to hit the trails in a breeze!
Myth  #6 – Trails are Crowded on Weekends
Some are, most aren't. Popular trailheads like French Gulch, B&B and Mohawk Lakes can fill up by late morning on weekends in the summer. But with so many options for hiking in Breckenridge in the summer, it's easy to avoid the crowds.  The best way to find uncrowded trails is to lace-up your boots and find a lesser-known trail. Our favorite trail finding resources include COTREX, alltrails.com, the Summit County Hiking map (available for purchase at our Welcome Center on Main Street), and the friendly, knowledgeable staff at the Breckenridge Welcome Center.
Another tactic to skip the crowds is to avoid going during peak times. We recommend exploring the most popular trailheads mid-week to enjoy more solitude. Getting an early start is always a great idea too, but harder in practice, especially if you have a big family group to coordinate. Another option is to wait until later in the afternoon when most of the crack-of-nooners have finished their hikes and the trails open up. Be sure to check the weather for afternoon thunderstorms and layer up just in case.
With these tips, we hope you'll find a hiking destination to create memories until your next visit. As always, practice Care for Colorado principles and responsible tourism while you're here!
Discover more hiking in Breckenridge:
The Breckenridge Tourism Office works to enhance and promote the unique character and experience of Breckenridge as a world-renowned destination resort and to represent, serve and perpetuate the common interest and character of its membership and community.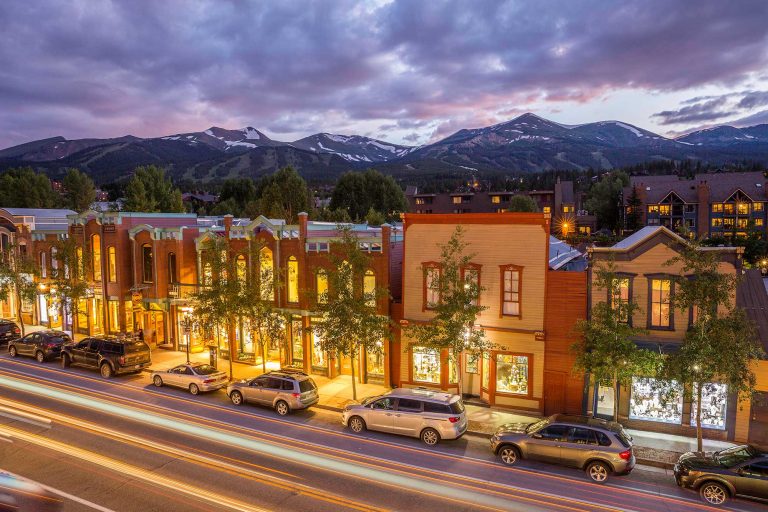 Embrace The Spirit
BLike Breckenridge™️ is a movement born of the spirit of our historic mountain town for those who call it home—whether for a weekend or a lifetime—to live by. It is a cause that connects us to each other, that we can all be a part of.