Breckenridge Ski Resort is a world-renowned winter destination for skiers and riders, but it wasn't always that way.  Learn about Breckenridge Ski Resort's enthralling history.
9 Secrets About Breckenridge Ski Resort's Past
Aspen Ski Days Inspired Breck's Creation
In the 1950s, Breckenridge developer, Bill Rounds, and his family regularly visited Aspen Ski Resort for family ski days.  The family often skied with Sigurd Rockne, Trygve Berge (both Olympic downhill skiers for Norway moonlighting as Aspen ski instructors) and quickly became friendly with the pair as well as resort developers around Aspen.  It was Bill's Aspen friends that convinced him of skiing's vast growth potential as well as Breckenridge's potential as a ski resort.  This resulted in Bill's family, who owned Rounds and Porter Lumber Company, purchasing thousands of acres of land in and around Breckenridge and opening a lumber yard to meet the expected demand for home and lodging construction.  In 1960, Rounds and Porter Lumber Co. submitted a preliminary proposal for a ski area in Breckenridge, Colorado.
That winter, Bill asked Sigurd to join him in Breckenridge to snoop on the tentative ski area. In December 1961, Bill Rounds, Sigurd Rockne and Trygve Berge co-founded Peak 8 Ski Area. Trygve Berge served as the Breckenridge Ski School Director for the resort's first 11 years. Today, Berge's legacy is honored at Breckenridge Ski Resort with a run for beginners called Trygve's Run.Learn more about Breckenridge's transition from near-ghost-town to ski town.   Learn more about Breckenridge's transition from near-ghost-town to ski town.
Lift Ticket Prices We're Originally $4.00
The Peak 8 Ski Area opened on Dec. 16, 1961, with one chairlift, a short t-bar near the base and a handful of runs on Peak 8.  Ticket prices were $4.00 for adults and $2.50 for children. You could add an instructor for the day for an additional $10.00. That first ski season attracted roughly 17,000 skier visits, despite the fact that Interstate 70 was not finished to Summit County yet.  Parking at the base of Peak 8 was free.  Learn how your favorite runs on Peak 8 earned their names.
An Explosion Destroyed Peak 8 Base Building
In 1965, a building was completed on Peak 8, but the structure was short-lived. An explosion destroyed the building shortly after completion. While an exact cause was never determined, a gas leak was suspected, and sadly, one person was killed in the accident.   The
Bergenhof Bar and Restaurant
did not experience a similar fate.  During the opening in 1961, The Berfenhof was the only bar/restaurant at the ski resort.  Its wrap-around deck, stone fireplace and ski area views made it a popular après hangout for nearly five decades.   
Learn more about Breckenridge Ski Resort's first decade.
ASPEN SKIING COMPANY OWNED BRECKENRIDGE SKI RESORT
In 1970 Aspen Skiing Company purchased Breckenridge Ski Area. During Aspen's eight years of ownership, Aspen invested $4.5 million into an expansion that installed two new double chairs, the popular C Chair, and added multiple ski runs.  During the summer of 1971,  Aspen expanded chairlift access onto Peak 9 with two double chairs, 12 trails and constructed an alpine slide on Peak 8. Skier visits for the 1971-72 season total 221,000, compared to 17,000 almost ten years earlier during the 1961-62 season.
The two ski resorts melded into once again in the 1994 movie, Dumb and Dumber, when downtown Breckenridge was portrayed as Aspen in select scenes.
Keg Safety Checks To Breaking Records
When Peak 9 opened in 1971, lift operators loaded the A lift with Coors kegs to do the final load tests.  In 1981, Breckenridge Ski Resort installed the world's first high-speed quad chairlift on Peak 9, later replaced by the Quicksilver Super 6 in 1999, which was the country's highest-capacity lift and first double-loading six-passenger chairlift. Throughout the years, Breckenridge has led the ski industry on progressive capital improvements like opening the highest chairlift in North America in 2005, the Imperial Express SuperChair, which tops out at 12,840 ft. above sea level. Even the BreckConnect Gondola, which welcomed its first riders in 2007 and created a ski-in, ski-out mountain town vibe with amazing mountain/town access that most visitors know today, was visionary when announced and installed.
Star Wars Profits Plays A Historic Role
In 1987, after installing chairlifts to provide access to Peak 9, Aspen Skiing Company sold Breckenridge Ski Resort to 21th Century Fox, which had vast profits from the hit movie Star Wars.  According to the Summit Daily, ""High Anxiety" and "The Goodbye Girl" are both runs that were created during the late 1970s ownership of the ski area by 20th Century Fox when the movie studio, flush with profits from these movies as well as "Star Wars," ventured into the ski recreation business for a short time."  Learn the history of how Breckenridge's trails were named.
There was a year of no snow
The 1980/81 season marked a big drought for Breckenridge when only 86 inches of natural snow fell. Skier numbers fell to 195,000 – almost half the previous season. The following summer, Breckenridge heavily invested in snowmaking operations to prevent poor conditions seen the previous year. 
Learn how Breckenridge survived the drought of 1980-81
.
First Resort to Allow Snowboarders in 1984
In 1984 Breckenridge became the first Colorado resort to allow snowboarding. The following year, it hosted the first snowboard World Cup and has hosted major winter events nearly every year since.
Breckenridge Goes to the dogs
In 1993, Breckenridge was purchased by Ralston-Purina, of Purina Dog Food, which already owned Keystone Resort and Arapahoe Basin. The three ski resorts logged a combined 2.6 million skier visits. Both Breckenridge and Keystone ski resorts were sold in 1997 to Vail Resorts.  Despite the sale, Breckenridge continued to be an amazing place for dogs to visit and live.  Help your dog live his best life with our guide to dog friendly Breckenridge. In 1997 the U.S. Justice Department approved the merger of Vail Resorts (at the time comprised of just Vail and Beaver Creek) and Ralston Resorts Inc., in which Vail Resorts purchased and acquired Arapahoe Basin, Breckenridge and Keystone in Summit County. The purchase was approved under the condition that Vail Resorts would sell Arapahoe Basin to a third-party, and so Vail Resorts became the operator of Vail, Beaver Creek, Breckenridge, and Keystone.
The Breckenridge Tourism Office works to enhance and promote the unique character and experience of Breckenridge as a world-renowned destination resort and to represent, serve and perpetuate the common interest and character of its membership and community.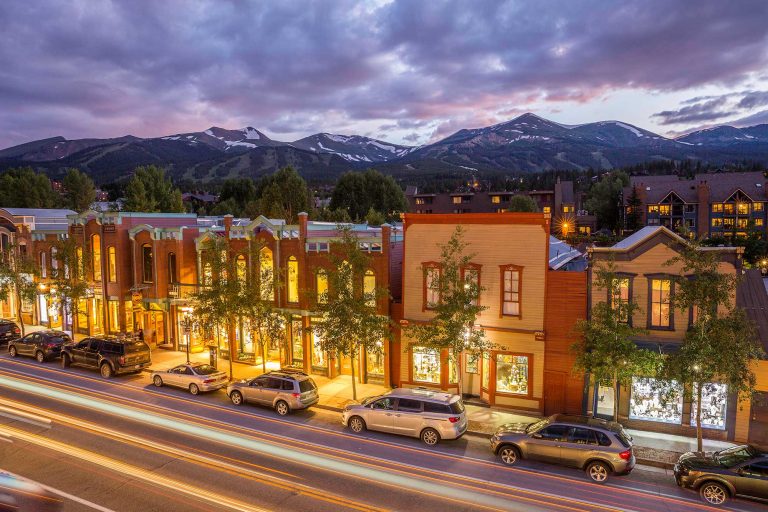 Embrace The Spirit
BLike Breckenridge™️ is a movement born of the spirit of our historic mountain town for those who call it home—whether for a weekend or a lifetime—to live by. It is a cause that connects us to each other, that we can all be a part of.