If you want to support Breckenridge lodging businesses that focus on sustainable "green" environmental measures, choose lodging options that share your sustainability values. One of the best ways to show your commitment to sustainability is to go car-free while visiting Breckenridge. Select a hotel or rental property that is walking distance to downtown and/or provides shuttle service.
Green Lodging in Breckenridge:
Gravity Haus
At the very core, Gravity Haus stands for sustainability. Before anything gets done, they ask themselves: Is it good for you? Is it good for the planet? Is it an amazing experience? Gravity Haus curates a sustainable experience for adventurous guests and they're leading the eco-paved way in the hospitality industry. 
Intentional Products
Gravity Haus has partnered with sustainable brands, prioritizing plant-based and energy-efficient products in guest rooms and around the property, as well as environmentally-friendly linens. 
Waste Reduction
Did you know Americans discard 58 billion coffee cups per year, enough to fill New York's Central Park 90 feet high? The Unravel Café's groundbreaking reusable glass jar program keeps thousands of paper cups and plastic lids out of landfills. 
Locally Sourced Ingredients
All on-property dining options at the Slope Room, Unravel and Cabin Juice operate with sustainable farm-to-fork regionally sourced ingredients, supporting Colorado farmers and ranchers.
Volunteer Trail Work
Additionally, participants in their membership program can opt in for planned trail repair volunteer days. These monthly events are the perfect opportunity to give back to the community and to beautify and restore beloved trails.
BEAVER RUN
In an effort to become an environmentally friendly resort, Beaver Run Resort has created a "green committee" and developed green initiatives. Their goals include reducing their environmental impact, improving the recycling program, and reducing the resort's carbon footprint.
Recycling
Beaver Run works hard to create new opportunities for recycling around the property. Recycling bins are available in all guest rooms and all departments recycle paper, plastic, aluminum, and glass. They are constantly evaluating opportunities to improve recycling and have added recycling in all lobbies, conference center, pool areas and more. On top of that, all the grease and oil produced in their kitchens is repurposed into biofuel.
Purchases
At Beaver Run we try our best to purchase from equitable partners and strive to stay green. Toilet paper for guest rooms and copy paper is EPA compliant with at least 20% post consumer waste materials. Facial tissue and bulk rolls of toilet paper for common areas are 100% recycled. All in-room and bulk coffee for restaurants is USDA Organic. Additionally, Beaver Run is developing private label, all natural, environmentally friendly in room amenities for guests.
Conservation Efforts
All guest room lighting has been updated to compact fluorescent bulbs. Beaver Run's water conservation efforts include installing low water use toilets, using water conservation cards to educate guests on towel choices and washing sheets every 3rd day of a guest stay, unless specifically requested by the guest.
LOGE
LOGE (pronounced 'lodge') believes that more responsible users of the outdoors creates more people that will fight for the protection of our wild places. The foundation of LOGE's mission has always been that "Engaging people in the outdoors makes them better stewards of the environment."  They do this through two channels: Giving, and Responsible Building practices. 
Responsible Building
Instead of tearing to the ground and building new, standard practice for most "developers," the LOGE's business model is to renovate existing structures, prolonging their lifespan and avoiding an outsized footprint inherent in new construction.  At all properties they use low flow fixtures like shower heads, sink faucets and low flow toilets. When upgrading electrical they use LED lights, and use fixtures that are energy efficient. With landscaping they recycle natural, native landscaping that does not need watering, and their goal is to move in a direction where all of properties are LEED Certified. 
Repurposing
When designing new spaces, the LOGE re-uses as much of the old furniture, lamps, mirrors, dressers, and frames if possible. Remaining furniture and bedding is donated to shelters for humans and animals instead of throwing them in the trash. 
Giving
For each LOGE location, they find a local non-profit that supports their mission around outdoor stewardship, and donate 1% of top line revenue from that location to the foundation. Additionally, LOGE donates another 1% from a company wide level, bringing their giving to a total of 2% of our revenue. In Breckenridge, LOGE has partnered with the Friends of the Dillon Ranger District to help maintain open space and trails, creating volunteer opportunities for residents and guests.
Breckenridge Grand Vacations
Breckenridge Grand Vacations is dedicated to responsible business practices that ensure minimal impact to the local mountain environment by mindful development, resource conservation and waste reduction. They have a company-wide goal to increase their waste diversion-rate to 80% by 2030, and have implemented initiatives like bagless recycling bins, glass bins and compost bins available in all rooms, to make this possible. Additionally, BGV has a company-wide responsible purchasing goal, which has helped lead the decision to replace plastic water bottles with refillable, aluminum water bottles.
 Renewable Energy
Breckenridge Grand Vacations is proud of their investments into solar infrastructure, with the goal of offsetting electricity usage at all BGV properties. In 2013, BGV invested one million dollars in a local solar garden and in 2022, BGV partnered with Pivot Energy to sign up for a 4.9 megawatt community solar subscription—the largest in the hospitality industry—which is equivalent to powering about 5,000 American homes.
 Conservation Efforts
By 2030, they have a company goal of reducing greenhouse gas emissions by 50%, and are focussed on implementing electric vehicle charging stations at BGV properties. They also track energy usage, water usage and waste diversion to monitor and implement new programs to improve operations.
Reduce Carbon Footprint
On-property efforts include reducing guests' carbon footprint with shuttles and access to free public transportation bus systems, providing reusable shopping bags and aluminum water bottles available for purchase, installing water refill stations, and having a Sustainability Champion on each BGV property.
Eco Friendly Tips
BYOB (BRING YOUR OWN BAGS & BOTTLES)
The Town of Breckenridge has a bag fee of 10 cents per bag at shops around town, restaurants and grocery stores. Visit like a local and bring your own reusable shopping bag or purchase one at the Welcome Center on Main Street. They make great souvenirs too! You might also notice that straws don't come in your beverages at coffee shops and restaurants. That's because straws are only available per request. Another item to keep in your day bag is a reusable water bottle. Breckenridge has water refill stations throughout town, not to mention, some of the best tap water in the country to fill up on in between adventures. With these local tips, you'll save money and keep Breckenridge clean.
Learn more about Sustainable Breck and be sure to brush up on Leave No Trace Principles before you head out.
Transportation & Parking
You've heard of Sleepless in Seattle, but how about Carless in Breckenridge? Why worry about clearing snow off your car, sitting in traffic and finding and paying for parking? Let us handle the winter driving conditions while you enjoy the views and get to were you need to stress free. Getting to and around Breckenridge is easy and convenient, due to free transportation options and our easily walkable town.
Wildlife in Breckenridge
While you may not always see wildlife, they are always here! Breckenridge is home to many furry and scaly critters like moose, bears, foxes, trout, beavers and more! Learn how to respect our home (and theirs) with our Breckenridge Wildlife Guide.
The Breckenridge Tourism Office works to enhance and promote the unique character and experience of Breckenridge as a world-renowned destination resort and to represent, serve and perpetuate the common interest and character of its membership and community.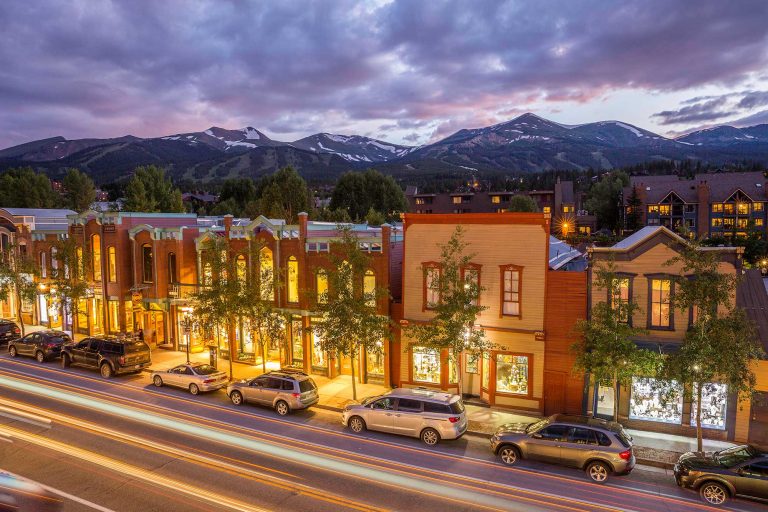 Embrace The Spirit
BLike Breckenridge™️ is a movement born of the spirit of our historic mountain town for those who call it home—whether for a weekend or a lifetime—to live by. It is a cause that connects us to each other, that we can all be a part of.