Planning a mountain wedding in Breckenridge, Colorado may be one of the best experiences in your life. Imagine having all of your friends and family in one place, at one moment in time, to celebrate your new beginnings as husband and wife. It literally is a dream come true for the bride and groom.
Here are a few tips to help make the planning process as memorable as the wedding, itself.
Planning a Wedding in Breckenridge
Set a Budget
The first place to start when planning your destination event is the budget. Determine a minimum and maximum as a starting point, and once you've determined a range you will have a starting point to approach vendors and venues. Anticipate and include travel fees, taxes and other items besides the goods itself into your overall budget. Find out what your priorities are as a couple, and allocate the funds to what matters most. Flower lover? Invest in quality work. Want a band or live music? Hiring musicians may or may not be more than a DJ.
The Setting for a Wedding in Breckenridge
When you imagine yourself exchanging vows with your best friend, where do you see the ceremony? On an outdoor patio outside a traditional venue? Breckenridge has many options, including private homes, and other outdoor spaces. My wife and I created BreckWeddings.com, a wedding-specific blog and online resource, where you can find pictures of venues, photo shoot locations, trails and more. There are dozens of weddings in off-the-beaten-path locations in Breckenridge. Some couples want a secluded outdoor space and then move their reception to another location. Others choose to combine expenses and use a private home rental as basecamp for the week, and for the ceremony, and / or reception.
Time Management
Weddings take approximately 150 hours of planning, and if you're not careful with managing your time, it can be overwhelming. You might need the assistance of a Breckenridge wedding planner, or at least a day of coordinator, as your venue manager is not responsible for items normally addressed by the previous two. 
An experienced local planner is an invaluable resource that is well worth the investment. They will have backup plans in place, and will be a great way to decrease overall stress.
Prepare your vendors with details, print out details and confirm with everyone a week or two before the big day. Designate someone to problem solve, so that the bride and groom can enjoy the day. Travel times increase on the weekends. 
The Memories
The saying is true. Time Flies When You're Having Fun. Investing in a proper photographer and videographer is a top choice for many brides and grooms to remember the big day. A professional photographer captures the details, the faces and the emotions that take place throughout the day. Videos can be a treat, as voices, music, and facial expressions can be caught and relived.
Music and Entertainment
If there's anything that enhances the atmosphere at an event, it's the music. A professional DJ is hard to beat, so make sure to clue them into the timeline as it develops. Crowdsource requests from the guests before the wedding or you could create your own playlist. 
For simple ceremony music I recommend one or two musicians with acoustic guitars, and having a trio of classically trained musicians for cocktail hour is very elegant, and when the crowd is matched perfectly with the audience, a large, multi-person band can fill the dance floor for hours.
Summer Attractions
The saying goes that you come for the winter, and stay for the summer. Coming up on 20 years myself, I completely understand this now. Everyone skis at the Breckenridge Ski Resort, but the summer opens up trails that are perfect for mountain biking, hiking and trail running. Take a mine tour, or sign up for a guided historic tours and learn about the local gold rush, including the discovery of the Colorado's largest chunk of gold, Tom's Baby. 
Location is Everything
There are many reasons to plan a destination wedding in Breck, but one of them is simply because is that it's centrally located for guests coming from around the country. Denver International Airport is just over an hour away and numerous companies offer shuttle services, so that guests can relax and enjoy the whole wedding week experience. 
That's what I've come to realize. It's not just the day, it's multiple days, with lots of choices for lodging, venues, vendors and activities. Don't try to squeeze it all in, because you won't be able to. Save it for another trip back. There are a lifetime of mountains here, and they'll be waiting. Just start with the wedding and the rest will take care of itself. 
Stacy Sanchez is the former owner of Petal and Bean. He and his wife, Dina, have launched a new online blog and wedding resource – BreckWeddings.com. They're also owners of Summit Mountain Weddings, an online wedding concierge providing all-inclusive packages and planning resources for the Breckenridge area.
The Breckenridge Tourism Office works to enhance and promote the unique character and experience of Breckenridge as a world-renowned destination resort and to represent, serve and perpetuate the common interest and character of its membership and community.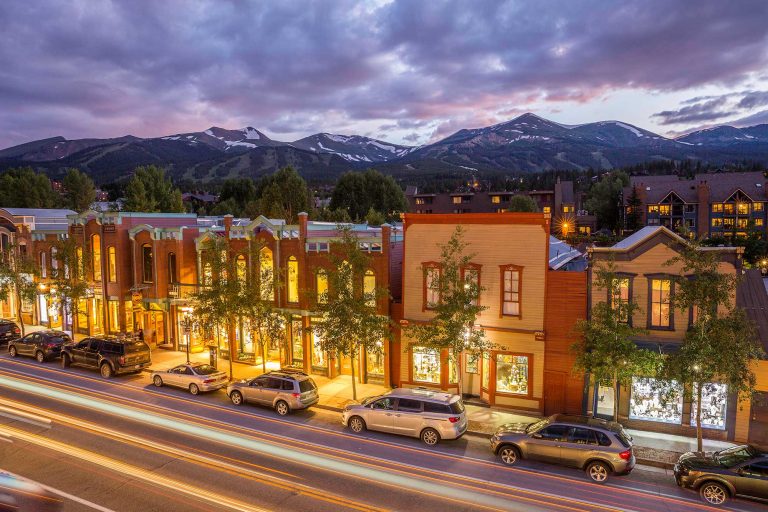 Embrace The Spirit
BLike Breckenridge™️ is a movement born of the spirit of our historic mountain town for those who call it home—whether for a weekend or a lifetime—to live by. It is a cause that connects us to each other, that we can all be a part of.