One hour is plenty of time to complete one of the good mountain bike rides in Breckenridge. Maybe you have the opportunity to sneak out from your family vacation, or perhaps you're on your lunch break. Whatever the reason, here are four loops you can ride, starting and ending in town, that take about an hour. We've given each ride a rating (our own subjective rating) and identified the type of rider who might enjoy each ride.
Hour-Long Mountain Bike Rides in Breckenridge:
Great for Beginners and First Timers
Super Easy. From town, jump on the rec path and head North (towards Frisco). Just past the Breckenridge Recreation Center, cross Valley Brook Road and in about 1/4 mile, before the bridge, take a left onto the River Trail. This follows the Blue River to Colorado Mountain College, where you make a right on Coyne Valley Road, then another right onto the paved rec path. Ride back to town on the opposite side of the river. This is an awesome beginner loop, with very little elevation change. With a lot of walkers, other cyclists and fisherman, the speeds will need to be kept low. You get about two miles on dirt, with another two miles on the rec path starting downtown.
Easy. Start from downtown and ride the rec path north to Huron Road / Country Road 450 (look for the bridge leading to the crosswalk by 7-11 — there is a traffic light and crossing is easy). About 1/4 mile past 7-11, on the north (left) side of the road, look for the Lower Flume trailhead. If you get to the Y in the road, you've gone too far. At the first intersection, turn left to stay on Lower Flume. There are several road crossings, so look for markers indicating where the trail continues. Make a right onto Mike's trail and another right onto Upper Flume, which loops back to the trailhead.
Great for beginning mountain bikers looking for a challenge.
From the easy ride above — follow the directions to get on Mike's Trail; make a left onto Middle Flume (crossing roads a couple times). At a well-marked intersection in the woods, take a left onto Upper Flume, and you'll pop out onto Gold Run Road (unmarked dirt road). Take a hard right and get ready for a steep 3/4 mile climb. But it's so worth it. At the top, keep an eye open for Slalom on the right hand side. The Slalom Trail is about a mile of high speed, banked turn goodness. Always be on the lookout for other trail users coming the opposite direction. If you encounter others coming up be sure to stop (uphill riders have the right of way), put a foot down and say, "Hi!"  At bottom of Slalom, take a left onto Upper Flume and continue to the bottom, finishing on Huron Road / County Road 450.
Great for those with a good fitness base.
Medium Hard. Starting from Carter Park, climb those switchbacks. Yep, straight up. This is my all up, then all down loop. At the first bench (this is where Hermit Placer, Moonstone, and Carter Park switchbacks all meet) keep climbing up Moonstone. Cross Moonstone Rd, regain the trail and take a hard right onto Barney Ford extension (trail sign here, make sure you take the right) and climb a short bit 'til you cross Baldy Road. Pick up Juanita trail and keep climbing. You're at the top when you come to Baldy Road again. Cross here and pick up the little connector trail to the top of Barney Ford.
Descending begins here and returns to Carter Park. Have fun, but again, watch out for other trails users. You descend about a mile, until making a hard right onto a section of doubletrack. Go 1/4 mile until trail signs and intersection. Take a hard left and continue on Barney Ford. After one sweeping right hand turn, there is a short and steep climb, but then it's downhill fun again. After a slight flat in the trail, keep an eye for the trail to go right and into a clear cut open field. You can see town and, in the right season, tons of wildflowers.
Keep descending and cross Moonstone Road. I advise taking Barney Flow trail down, but you have options. B-line offers easily-skirted wood features, Moonstone is the least technical (though you'll encounter uphill traffic), and Barney Flow is what many would call the most fun. Keep speed under control–the Flow trail can be fun even for a variety of abilities but for advanced riders going fast, there are double jumps with gaps. You don't want to case it on your first day in Breckenridge. At the bottom of Barney Flow, you'll come to the Hermit Placer intersection. Stay left and descend on Jack's Cruel Joke. Beware the rock garden at the bottom. Take Sunbeam back to Carter Park.
A longer deviation. Ride the above loop to the halfway point of the Barney Ford downhill, where there is a trail marker and intersection–instead of going left on Barney Ford, you can stay straight to reach V3. It's a fun, flowing black-rated trail down to French Creek Road. Return to Main Street via Wellington Road.
Wellington Bike Park. All skill levels
The Wellington Bike Park and Pump Track opened in summer 2015. Have fun, work on skills and run into lots of like minded people. Located at 710 Wellington Road., it's an easy spin (climb) from town.
Please, always keep in mind that you're not the only person who loves Breckenridge. Lots of locals and tons of visitors also do. What that means is it's almost guaranteed you'll run into other trails users. Whether it's beginning cyclists, hikers, dogs off leash, runners, and fisherman, please be friendly and courteous. Remember the uphill rider (the person who is huffing and puffing up the hill) has the right of way. And bikers always yield to everyone else – hikers and even horses. We're all in this together and there's always a moment to stop and say hello to a fellow outdoors–person.
Mountain Bike Maps and Trail Resources
For the best and most current trail information including trail conditions, maps, volunteer days, suggested loops and more, visit BreckenridgeTrails.org.
Grab a map of mountain bike rides in Breckenridge for $10 at the Breckenridge Welcome Center, located at 203 S. Main St.
https://www.youtube.com/watch?v=9jAndSmkAts
The Breckenridge Tourism Office works to enhance and promote the unique character and experience of Breckenridge as a world-renowned destination resort and to represent, serve and perpetuate the common interest and character of its membership and community.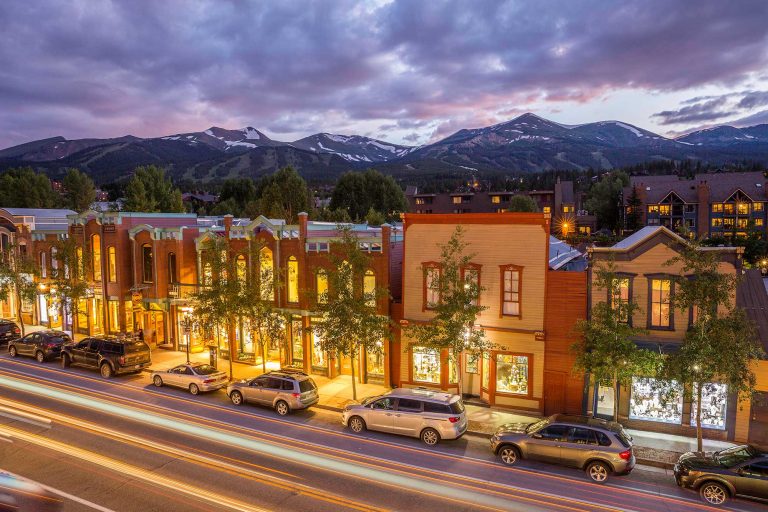 Embrace The Spirit
BLike Breckenridge™️ is a movement born of the spirit of our historic mountain town for those who call it home—whether for a weekend or a lifetime—to live by. It is a cause that connects us to each other, that we can all be a part of.