Climbing a Colorado 14er is a rite of passage for state natives and a tough but rewarding adventure for new visitors. For all, there's an undeniable lure of climbing as high as you can go and be on top of the world around you. Here's all you need to know about climbing your first Colorado 14er, including trail use guidelines, what to pack and other great brag-worthy hikes without the 14er crowds.
What to Know Before Climbing A Colorado 14er
What is a 14er? Why are they such a big deal?
Simply put, a "fourteener" is any mountain that exceeds an elevation of 14,000 feet above sea level. That's 4,267.2 meters, 2.6 miles, 46.6 football fields, nine and a half Empire State buildings, 2,089 stacked NBA players … okay, okay, you get it, they're really tall mountains. While Alaska, California and Washington have a few 14ers as well, Colorado comes out on top with 53 across the state. This unique geographical feature helps to define Coloradan culture. Ask any local Colorado outdoors enthusiast and they'll tell you (probably in much more detail than you care to know) about each of the Colorado 14ers they have summited or plan to in the future.
When is the Best Time to Climb a 14er?
Fourteener season generally starts in late June to early July depending on how much snow fell over the winter and how dry the trails are. All Colorado 14ers can have patches of snow year round, but the trails generally are clear to hike by mid-summer. Colder temperatures, frequent storms and shorter daylight hours generally end the 14er climbing season around early October. Winter summiting is also a popular option with snowshoes or skins, though this usually is more practical in spring and requires more gear, knowledge and planning.
Here in June but still a lot of snow? Here's our favorite early-summer hiking trails that tend to dry out sooner.
Quandary Peak
Located just south of Breckenridge, Quandary Peak is the only 14er in Summit County with many different routes to the 14,265-foot summit. Adventurers looking for their first ascent can try the East ridge route, which is a long gradual trail that slowly but surely ascends to the peak. It has incredible views of the dramatic 14ers to the South and the Ten Mile and Gore ranges to the North. More experienced climbers looking for a technical ascent can try the Western ridge route.
Some other nearby 14ers for first timers include Grays and Torreys Peaks, the Kite Lake 14ers, and Mt. Elbert.
Notice: Visitors to Quandary Peak and McCullough Gulch Trail areas will now be required to reserve parking online or use the free shuttle from Breckenridge. Learn More.
Climb a Lesser-Known Breckenridge 12er or 13er
While Quandary Peak is the only Breckenridge 14er, there are still a ton of other quad-crushing and jaw dropping hikes that'll give you bragging rights without the crowds.
Wheeler Pass – This long and occasionally steep trail travels diagonally across several peaks from one side of the iconic Ten Mile Range to the other, rewarding you with great views in all directions. Your elevation tops out at 12,600 feet in alpine tundra above Breckenridge Ski Resort and cuts through pine forests on either end.
Peak 8 Summit – A short, steep 1-mile climb convenient if you're staying in town or near the ski area, especially if you don't have a car. You technically can hike Peak 8 from town if you're feeling really ambitious, but it's an all-day affair. You'll earn big views of town and the Blue River valley if you first take the free Gondola from town to the Peak 8 base area and then ride a chairlift to the top. From there your legs help you gain almost 2,000 feet of vertical in a short amount of time. A great option if you want to get above it all, but don't have the time or lungs to ascend all the way from valley floor to ridgetop.
Peaks Trail – A great trail for a hot day thanks to many shaded sections in pine forests and high elevation, but still not for the faint of heart due to the long distance and sustained elevation. The trail pops you out of the woods in several picturesque alpine zones in a roadless area that only ambitious hikers will see. Keep an eye out for herds of elk and deer that are escaping the heat too.
Bald Mountain – "Baldy," as it's most often called, rises an impressive 13,684 feet above sea level, giving you a serious elevation challenge. While Baldy looks like a single peak, it's actually a six mile long ridgeline that divides into two sections. To the southeast is Boreas Mountain which rises to 13,082 and to the northwest is Bald Mountain which is the "true" summit at 13,684.
Peak 1 – While Peak 1 isn't a 14er and comes in at only 12,805 feet, it's been ranked as one of the most difficult hikes in Summit County with almost 4,000 feet of elevation gain in just 3 and a half miles. Peak 1 is the iconic pointy peak between Frisco and Breckenridge on the TenMile Range and can be seen from almost everywhere in the county.
Discover more difficult hiking trails in Breckenridge and the best summer hikes in Breckenridge.
View All Breckenridge Hiking Trails
View White River National Forest Trail Details
How to be prepared to hike a 14er
Before attempting any 14er or hike, do your homework. Every mountain is different with ascents ranging from "a steep hike" to "multi-day expert-only mountaineering." Know where the trailhead is, what route you will climb, how long it will take and what the weather forecast looks like. Storms can move in fast at high elevations and can be deadly.
What Should I Wear to hike a 14er?
Good hiking shoes or boots – your feet will thank you.
Rain Jacket – Mountain weather conditions change quickly; be prepared.
Layers – Regardless of what the temperature at the trailhead is, it will be much colder and windier on top.
Avoid wearing cotton– As cool as you might think you look in your jeans and t-shirt, cotton clothing is a bad idea. Once you sweat (or it rains) your cotton clothes will stay wet, leaving  you cold and uncomfortable. Polyester and moisture-wicking fabrics are best. We recommend a dry-fit t-shirt, a warm fleece pull over and a waterproof rain jacket, along with zip off hiking pants. Wool socks, a warm hat and gloves are also a good idea.
What Should I pack to hike a 14er?
Be sure to bring a good day pack that fits everything you need but still comfortable to carry.
Re-usable water bottle or camel back with at least 2 liters of water.
Snacks – You'll burn a lot of calories climbing a Colorado 14er, so make sure you eat enough calories to replenish your body. Trail mix, energy/chocolate bars, and electrolite beverages are a great option, plus it will give you something to look forward to and "celebrate with" at the top.
Sun protection – Even on a cloudy day, sunscreen, sunglasses and protective clothing are a must.
Camera – How else will you prove you were there? #BreckLife
Just in case something goes wrong, it's also good to have a few essentials – Matches or a fire starter, extra layers, a flashlight/headlamp, extra food and a first aid kit.
Other Things to consider:
Even though you love hiking with your furry friend, it's not a great idea to bring them on your 14er adventure. As you get above treeline, trails often turn into boulder fields and sharp, jagged rocks can harm paws and can be difficult to maneuver. Remember, dogs have to take twice as many steps as you do, and pets and wildlife don't always mesh well.
Check out our guide to dog-friendly Breckenridge for our favorite dog-approved hikes and activities.
Be prepared for widlife encounters while hiking a 14er
Whether you're a visitor or local, what makes Breckenridge so special is the wildness of our home. While you're in Breckenridge, you may see animals like moose, mountain goats, foxes and bears. In most situations, people and wildlife can coexist, and most wild animals are harmless if left alone. We understand how exciting it is to see wildlife and it's ok to take a few photos from a distance without disturbing them. Help us care for Colorado by practicing responsible tourism not only for the safety of our environment and its creatures, but also for us and generations to come. Check out our Guide to common Breckenridge Wildlife for tips on how to live with them safely.
Mountain Goats 
If you're in any high alpine environment above tree level in Colorado, chances are likely that you may see some mountain goats along the way. While these skilled climbers are relatively harmless to humans, they can still charge if feel threatened. You'll find that mountain goats are unafraid of humans and while on the trails, they may just stop and check you out for a while. Stay at a safe distance, and never feed them or allow them to lick your skin or backpack. Although they're cute and don't necessarily mind the presence of people at a distance, never surround, crowd, chase or follow a mountain goat. A selfie isn't worth putting stress on our Colorado wildlife.
Leave No Trace
We are committed to caring for Colorado, and we hope you'll do the same. Be prepared, stick to trails, trash the trash and leave it as you find it. Everyone is here to enjoy nature, so let's help keep it pristine.
Breckenridge Hiking Resources
Stop by and pick up a trail map from the Breckenridge Welcome Center. Gear and maps are available at Mountain Outfitters.
The Breckenridge Tourism Office works to enhance and promote the unique character and experience of Breckenridge as a world-renowned destination resort and to represent, serve and perpetuate the common interest and character of its membership and community.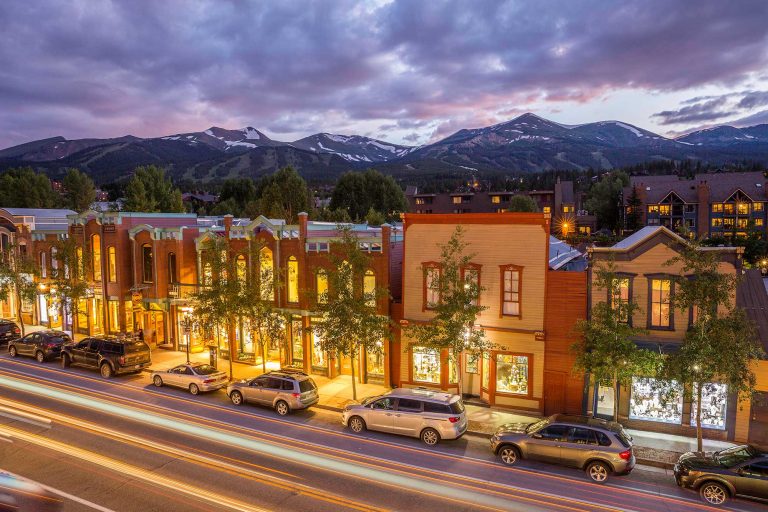 Embrace The Spirit
BLike Breckenridge™️ is a movement born of the spirit of our historic mountain town for those who call it home—whether for a weekend or a lifetime—to live by. It is a cause that connects us to each other, that we can all be a part of.