Quandary Peak
Located just south of Breckenridge, Quandary Peak is the only 14er in Summit County and offers many different routes to the 14,265-foot summit. Quandary Peak is one of Colorado most popular 14ers, due to its dramatic views, accessibility  and relatively easy climb.  Accessing the trailhead requires a parking reservation or a shuttle ride June 1 to Sept 30.
Some other nearby 14ers for first timers include Grays and Torreys Peaks, the Kite Lake 14ers, and Mt. Elbert.
McGullough Gulch Trail
McGullough Gulch trail is a 2.9 mile round-trip high alpine hike that wanders through rich evergreen forests with granite outcroppings, waterfalls, green meadows and fragile wildflowers. Both Quandary Peak trail and McGullough Gulch trail are very popular and utilize the same forest service roads to get to their respective trailheads. Accessing the trailhead requires a parking reservation or a shuttle ride June 1 to Sept 30.
Looking for more hikes? Challenge yourself and plan to conquer one of these difficult hiking trails in Breckenridge during your visit.
How Do I Get To Quandary Peak and McGullough Gulch?
Parking at Quandary Peak & McCullough Gulch is extremely limited and requires an online parking reservation throughout the summer months (June 1 – Sept. 30).  Visitors can also access these popular hikes through a reservation based shuttle system from downtown Breckenridge. Visitors will be able to make reservations starting late May.
Make a Parking and Shuttle Reservation
Full-Day Reservation (5am-3pm) – recommended for Quandary

$25 Monday – Thursday (excluding holidays)
$50 Friday – Sunday (plus holidays)

3.5 Hour Reservation – recommended for McCullough Gulch

$5 Monday – Thursday (excluding holidays)
$20 Friday – Sunday (plus holidays)
Parking is free and first-come, first-serve after 3pm. Visitors hiking Quandary are STRONGLY encouraged to start their hikes early in the morning to avoid dangerous afternoon thunderstorms. The average time to hike Quandary is 6 hours. The average time to hike McCullough Gulch is 2 hours.
Why Do I Need a Reservation?
The reservation system is part of a pilot program put in place by Summit County Open Space & Trails due to significant increases in visitation at Quandary Peak and McCullough Gulch over the past several years, leading to numerous public safety issues. Illegally parked vehicles block emergency access on roadways and limit residents' ability to access or feel safe in their own neighborhood. The new parking reservation system and shuttle service alleviates these pressures and makes it easier for hikers to safely and legally access the trailheads.
Shuttle Information
Visitors must choose a date to ride the shuttle, but do not need to reserve a time. Boarding is first-come, first-serve, with proof of payment. The shuttle runs 7 days a week, 5am-5pm, between the Breckenridge South Gondola Parking Structure and Quandary Peak. Visitors going to McCullough Gulch will take the same shuttle as hikers going to Quandary Peak, and then board a second shuttle at the Quandary Peak Trailhead, to McCullough Gulch.
Make a Parking and Shuttle Reservation
$5 for residents (round trip) – proof of residence can be submitted at parkquandary.com
$15 for visitors (round trip)
Visitors are required to show proof of payment to board the shuttle. Dogs are allowed on the shuttle, however, we STRONGLY encourage you to make a parking reservation if you plan to hike with your dog.
What to Know Before Hiking Quandary Peak
Be Prepared
Quandary Peak Trail is a 6.6 mile heavily trafficked out and back trail that is rated as difficult and can take 4-7 hours depending on your ability.
Hikers are encouraged to start early and should be prepared to descend before midafternoon when thunderstorms are common and are dangerous when above tree line.
Hikers should bring plenty of food and water as well as layers. It can get extremely cold on the summit, particularly if it rains. Sturdy close-toed shoes are recommended.
Quandary Peak is the most popular hiking route in the area and is heavily trafficked in the Summer. Visitors are recommended to hike it mid-week to avoid some of the crowds.
Hikers should be advised that there is no cell phone service at the base of Quandary Peak, at McCullough Gulch, or in the trailhead parking area. Please bring a physical map or download your hiking guides beforehand.
Leave No Trace
You can help us preserve and protect what we love by following Leave No Trace practices during your visit. 
Should I bring my dog?
While it is not recommended to bring your furry friends, dogs are allowed on the trail but must be kept on a leash. Please bring poop bags and clean up after your pet. Visitors bringing dogs should reserve a parking space and not take the shuttle. Please keep in mind that as you get above treeline, trails often turn into boulder fields and sharp, jagged rocks can harm paws and can be difficult to maneuver. Remember, dogs have to take twice as many steps as you do, and pets and wildlife don't always mesh well.
Check out our guide to Dog Friendly Breckenridge for trails you and your pup will both love!
Wildlife
We understand how exciting it is to see wildlife and it's ok to take a few photos from a distance without disturbing them. To help keep Colorado's wildlife – and you – safe, never approach, chase, follow, surround or feed them, and always observe from a distance. Always keep pets leashed and pack out and dispose of all trash properly. Remember, if the animal doesn't fit behind your outstretched thumb, or alters its behavior, you are too close!
Here's our guide to common Breckenridge wildlife and tips on how to live with them safely.
Looking for more info? Here's what to know before climbing your first 14er.
The Breckenridge Tourism Office works to enhance and promote the unique character and experience of Breckenridge as a world-renowned destination resort and to represent, serve and perpetuate the common interest and character of its membership and community.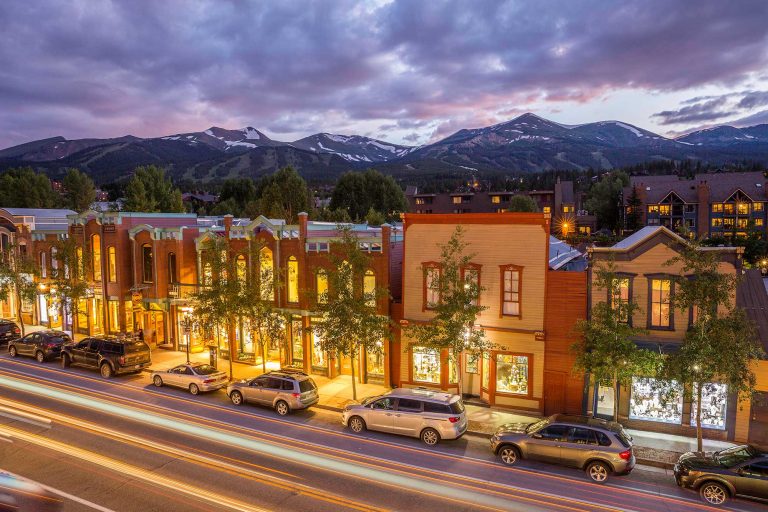 Embrace The Spirit
BLike Breckenridge™️ is a movement born of the spirit of our historic mountain town for those who call it home—whether for a weekend or a lifetime—to live by. It is a cause that connects us to each other, that we can all be a part of.