Challenge yourself and plan to conquer one of these difficult hiking trails in Breckenridge during your visit. As always, ensure you are prepared for the adventure you plan. Having food, water and layers appropriate for a wide range of conditions is always smart. Keep an eye on the weather with hiker-focused weather app Open Summit.
Difficult Hiking Trails in Breckenridge:
Quandary Peak
One of Colorado's 53 "Fourteeners" (peaks with an elevation above 14,000 feet), Quandary Peak is the crown jewel of hiking around Breckenridge. In addition to the cache of bagging the area's tallest peak, Quandary offers incredible views and while the elevation and high-alpine exposure make this a challenging hike, the relatively relaxed approach to the summit make this one of the more attainable 14ers.
Locals' Tips: Because of the popularity of the hike, consider attempting Quandary during an off-season and/or an off-day and -time. July and August are the busiest months for hiking so consider June after melt-out or September and October when fall colors come out but crowds die back. If you go in peak season, leave as early as possible not only to beat crowds but to avoid potentially dangerous afternoon storms. Limited trailhead parking is an ongoing issue, so consider carpooling from town with friends, arriving early or even taking an Uber from the free parking at the Stephen C. West Ice Arena.
Distance: 6 miles round trip
Elevation Gain: 3,305 feet
Directions: From the intersection of Main Street and Ski Hill Road/Lincoln Avenue drive south on Highway 9 approximately 8 miles to Blue Lakes Road (No. 850). Turn right and park at the large parking area on the right. Walk on County Road 851 for .1 miles to the marked trailhead.
Wheeler National Recreation Trail
A long and occasionally steep trail that travels diagonally across several peaks from one side of the iconic Ten Mile Range to the other, rewarding you with great views in all directions. Your elevation tops out at 12,600 feet in alpine tundra above Breckenridge Ski Resort and cuts through pine forests on either end.
Locals' Tips: You'll spend a lot of time above treeline in alpine terrain in the middle of this hike, so plan on departing early and watching the weather. Lightning is a serious danger and afternoon storms are regular in summer months. Consider starting the hike in Copper and finishing in Breckenridge. After this epic of a journey, you'll want some food and refreshments and Copper can be a bit of a ghost town in summer, while Breckenridge is open and bustling with options.
Distance: 9 miles one way
Elevation Gain: 2,250 feet
Directions: Two cars are required for this hike. Leave one car at the Breckenridge/Blue River end of the trail. Then from Breckenridge, drive north to Frisco and take the westbound entrance onto Interstate 70. Follow I-70 for 7 miles to Copper Mountain, exit 195. Cross the bridge over the highway and immediately turn left into the Vail Pass/Ten Mile Canyon bikeway parking area, leaving one car. Drive the second car to the trailhead: from the intersection of Main Street and Ski Hill Road/Lincoln Avenue drive south on Highway 9 approximately 8 miles to Blue Lakes Road (No. 850). Turn right and then turn right onto County road 851. Drive on County Road 851 for 2 miles. The trail intersects the road just right of a sharp left turn in the road.
Peak 8 Summit
A short, steep 1-mile climb convenient if you're staying in town or near the ski area, especially if you don't have a car. You technically can hike Peak 8 from town if you're feeling really ambitious, but it's an all-day affair and not worth the effort. You'll earn big views of town and the Blue River valley if you first take the Gondola from town to the Peak 8 base area and then ride a chairlift to the top. From there your legs help you gain almost 2,000 feet of vertical in a short amount of time. A great option if you want to get above it all, but don't have the time or lungs to ascend all the way from valley floor to ridgetop.
Locals' Tips: Combine this hike with some activities through Epic Discovery. From ziplines to bungee trampolines, there is plenty to do and the Adventure Pass will include the chairlift ride you'll need in addition to activities.
Distance: 2 miles round trip
Elevation Gain: 2,000 Feet
Directions: Walk to or park near the Breckenridge Transfer Station (170 Watson Ave, Breckenridge, CO 80424) where the free gondola will be obvious. Take the 10-minute gondola ride to the Peak 8 base. There you can get a lift ticket to ride the chairlift to the top. From the top of the chair, a road and unofficial trails lead along the looker's left side of Horseshoe Bowl towards the top of Imperial Chair (not running in summer) and ultimately to the top of Peak 8 at nearly 13,000 feet (12,976). Follow a similar route back down to the chairlift.
Peaks Trail
A great trail for a hot day thanks to many shaded sections in pine forests and high elevation, but still not for the faint of heart due to the long distance and sustained elevation. The trail pops you out of the woods in several picturesque alpine zones in a roadless area that only ambitious hikers such as yourselves will see. Keep an eye out for herds of elk and deer that are escaping the heat same as you.
Locals' Tips: Catch this trail from Peak 7 in Breck so your hike is mostly downhill, then grab the Summit Stage bus back from Frisco. Start early in the morning on a weekday to feel like you have the Ten Mile Range to yourself. Weekends bring more mountain bikers you'll have to dodge.
Distance: 8.5 miles one way
Elevation Gain: 450 feet; 850 foot loss.
Directions:  Take advantage of the Summit Stage Transit to loop back to Breckenridge or leave a second car at the end of the trail in Frisco. If using two cars, leave one car at the trail's end at the end of 2nd Ave. in Frisco. Drive the second car to the trailhead in Breckenridge: from the intersection of Main Street and Ski Hill Road/Lincoln Avenue drive west on Ski Hill Road for 2.3 miles to the signed trailhead on the left, just past the ski resort's Peak 7 base area.
Trail Etiquette & Leave No Trace Practices
Anytime you are out enjoying nature, it's important to abide by Leave No Trace principles. Remember pack it in, pack it out always— this includes all trash, waste, gear etc. If you see trash along the trail, pick it up! It is best to leave the trail and the wilderness even more beautiful than when you arrived whenever possible. Stay on the trail and avoid the side trails or any shortcuts to preserve the natural environment as much as possible while avoiding erosion. You can help us preserve and protect what we love by following Leave No Trace practices during your visit.  Learn more by taking the Tree-Hugger Challenge.

Basic Trail Etiquette
Follow these easy tips and guidelines while out on the trail to respect nature and other trail users.
A hiker going uphill has the right of way.  If you're on a flat section, just be courteous and move to the side allow others to pass.
Greet others with a simple "hello" or a smile when you pass.
Keep conversation volume down to respect nearby trail users and enjoy the quietude of nature around you.
Keep dogs within sight, under control and have a leash handy to avoid and unwanted interactions with other pets, wildlife or trail users.
Stay on the trail. Avoid shortcuts, unless they are official trails. This helps protect the fragile habit, plants and integrity of the natural area.
Yield to bikes and horses, livestock. Technically bikers are supposed to yield to hikers, but usually bikes are moving quickly and it's easy enough to stop and let them pass. When you see horses on the trail, just step to the side and let them pass.
Local's Tips
Want to make sure you've packed all the essentials? Check out our Summer Packing Guide or prepare for your hike with these handy tips and what to bring from the experts at REI.
Colorado Trail Explorer (COTrex) is a great place to start looking for hikes. Choose your location and all the trails for that area will show up. Star your favorites, get trail info and look at recent photos.
No car? No problem. Carpool or take the bus to many of the Breckenridge trailheads.
On busy days, trailheads can fill up by noon, so head out early- the trail will be less crowded too and you'll miss the afternoon thunderstorms that can roll in by the afternoon.
Know and follow trail etiquette and leave no trace principles. Please pack out your trash, leave the wildflowers for others to enjoy, and give a friendly wave to the other users sharing the trail with you.
New to hiking or mountain biking?  Consider going with a guide or taking a class.  Breckenridge Heritage Alliance offers guided hiking trails that add an educational component to your trip.  Colorado Adventure Guides offer a variety of mountain biking lessons and guided hikes for all skill levels.
With these handy tips, you're well on your way to choosing one or many hiking destinations perfect for you and your group, and you didn't even have to create a matrix diagram to make your decision.
Find out more things to do this summer in Breckenridge, and learn more about hiking in Breckenridge without a car!
For a full listing of all the excellent trails located in the area, download the Breckenridge Summer Trail Maps. A hard-copy of the map is available at the Breckenridge Welcome Center (203 S. Main St.) or at local retailers. Proceeds from the sale of the printed trail map go directly to trail building and open space maintenance efforts.
View All Breckenridge Hiking Trails
The Breckenridge Tourism Office works to enhance and promote the unique character and experience of Breckenridge as a world-renowned destination resort and to represent, serve and perpetuate the common interest and character of its membership and community.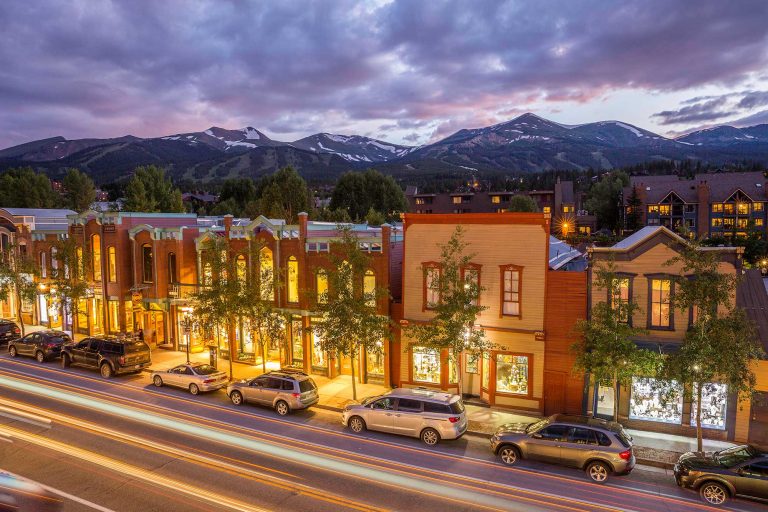 Embrace The Spirit
BLike Breckenridge™️ is a movement born of the spirit of our historic mountain town for those who call it home—whether for a weekend or a lifetime—to live by. It is a cause that connects us to each other, that we can all be a part of.