Our number one rule in Breckenridge: know before you go. Being prepared is everything in the mountains, and the more prepared you are, the more enjoyable your summer vacation to Breckenridge will be. But this doesn't have to mean maps and compasses. It's everything from having extra layers for changing weather, staying hydrated with a re-usable water bottle and protecting yourself from our strong Rocky Mountain sun. Start filling your suitcase- here's our Breckenridge summer packing guide, so you can spend less time worrying and more time doing the activities you love!
What is Breckenridge like in the Summer?
Many locals say that the winter brings them to Breckenridge but that summer is what entices them to stay. The temperatures are near perfect in the 70s, and there are endless activities and events to enjoy. Summer in Breckenridge brings glorious sunshine, breathtaking bluebird skies and scenic views. A quick afternoon rain shower is to be expected and will come and go, refreshing all of the natural mountain foliage. Evenings will cool off considerably and often call for a hoodie or light jacket.
What to Pack for a Summer Trip to Breckenridge
Sun protection: Sunscreen, Sunglasses, Hat 
Truth be told, we have more days of sunshine than San Diego and we are closer to the sun due to our high elevation. Be sure to bring sunglasses, sunscreen and protective clothing like hats and extra layers or you can always buy them once you get here. SunLogic has two locations on Main Street with an amazing selection of shades at all price levels.
BYOB (bags and bottles)
Nope, not what you're thinking. We mean re-usable shopping bags and water bottles. The Town of Breckenridge charges 10 cents per bag at the local grocery stores like City Market and around town at boutiques and shops. Bring your own bag or bottle or buy one as a souvenir at the Welcome Center. Not only is this cheaper, but you'll also be doing your part to keep Breckenridge clean and as environmentally friendly as possible.
The Rocky Mountains really do have some of the best water in the country. Fill up at your hotel, condo or around town before you head out for your daily activities.
Local's Tip: There are water bottle fill stations all over town. View the map.
Comfortable Walking Shoes and/or Hiking Boots 
With Breckenridge being so easy to get around, that means you can walk almost anywhere in town! Spend a day shopping and snacking along Main Street your first day to get acclimated, and then try a hike or two over the next few days. Most trails you won't need super high tech boots, and sneakers should do just fine if you don't have hiking boots. Comfortable sandals are great for during the day when its warm, and are perfect for whitewater rafting too! Keep in mind the activities you'll be doing during the day- flip flops aren't the best choice for excursions like ziplining, horseback riding or mountain biking.
Local's Tip: For a night on the town, there's no need to be fancy. Leave the heels and dress shoes at home. Most locals go out for drinks, dinner or live music in what they wore to work (don't forget to bring a sweater or light jacket). Casual dress is even suitable for the higher-end restaurants like Legends, Ember or Hearthstone.
Rain Jacket 
Breckenridge is well-known to have afternoon showers throughout the summer. Even if it looks beautiful throughout the morning and noon, the weather can change quickly in the mountains, so it's always a good a idea to have a rain jacket and umbrella with you. Always check the weather before you plan a day of activities, and if you can, start early in the morning. If it does rain in Breckenridge, they are typically around 3 pm, and the good news is that storms roll through quickly. However, it's no fun (and can be dangerous) to be caught in a thunderstorm at the top of a mountain while hiking or biking. Keep an eye on the clouds and always head down immediately if you think a storm may be approaching.
Extra Layers
When the sun goes behind the clouds or mountains, the temperature can drop dramatically, so having a sweater or light jacket to throw on at any moment can be the difference between a fun time or a miserable time. For outdoor activities, we recommend wearing shorts and a t-shirt or tank-top underneath, and always bring a long-sleeve sweatshirt to layer over, and a light coat or rain jacket as outer layers. A hat, wool socks and extra pants are always a great idea too. It's best to have layers made of moisture-wicking materials like polyester or wool- when cotton gets wet, it doesn't dry quickly and will make you even colder.
For just walking around town, jeans, sandals, t-shirts and a light jacket are perfect. Breckenridge is a laid back town, which means you can leave your fancy clothes at home. You can even go straight from your morning hike or zipline to lunch on Main Street in the same clothes. They'll be perfect for soaking up some sun on the patio!
Swimsuit
While swimming pools are the stalwart of fun for many during the summer, they aren't necessarily top of mind when planning a summer vacation to Colorado, let alone a mountain destination like Breckenridge. However, there are over a dozen amazing pools in Breckenridge, perfect for a day to relax and take in the views, or a way to get the kids tuckered out before dinner. The sport of hot-tubbing is big here too, especially at night when it gets a little colder, and you can soak at most hotels and many vacation rentals. If your muscles are sore from the steep incline of your first 14er, take the night to relax before your next adventure tomorrow! Rainy Day? The Breckenridge Recreation Center offers a huge indoor swimming pool with a slide, as well as hot tubs, a steam room and a sauna. Check out more rainy day activities here!
Forgot your suit at home? Many stores on Main Street will sell them throughout the year, like Patagonia, Breck Sports, Mountain Goat and Goods.
Camera
The reason you're coming to Breckenridge is for the amazing views and activities, so don't forget to capture your memories!
Looking for the best spots to get the perfect photo? Here's the top 10 most Instagrammed locations in Breckenridge.
Day Pack
Having the extras with you is only convenient if you have something easy to put them in. Whether you're window shopping along Main Street or hitting the trails, bring a day bag or backpack with you so you don't have to worry about leaving anything behind. Here are our top three must-haves to pack in your day bag:
Re-usable water bottle and snacks
Sun protection: sunglasses, sunscreen and a hat
Layers and a rain jacket
Forget Something?
No need to worry! There are over 200 shops in Breckenridge specializing in mountain clothing, equipment and souvenirs. Check out Mountain Outfitters or Mountain Goat for sports gear like hammocks, water bottles and hiking boots, as well as stylish mountain clothing and light jackets. The Breckenridge Hat Company and Joy of Sox specialize in one thing, hats and socks, perfect if you forgot to pack those smaller necessities. Name brands like Columbia, Patagonia and Helly Hansen are available too.
Other Breckenridge Tips
Altitude
The altitude in Breckenridge altitude sits at over 9,000 feet above sea level, creating an unforgettable high alpine climate with low humidity and year-round sunshine.
The mountains of Breckenridge are majestic and snowcapped most of the year, with ample sunshine (300 days on average), fresh mountain air and low humidity providing a remarkable experience in the summer and the perfect snowflake for ski season. Enjoying life in the beauty of the high country above 9,000 feet takes some adjusting. The high-alpine climate is dry, the air is thinner (that's why your golf ball goes further) and the sun is closer and more powerful, even on a cloudy day. These conditions can cause the potential for altitude sickness. Thankfully, there are easy ways to adapt to the environment and fully enjoy all the activities and wonders the mountains have to offer.
Hydrate: Drinking plenty of fluids is key at elevation-  try to drink twice the amount of water here as you would at home, and mix in electrolyte beverages to replenish your system too. Pedialyte and Gatorade are great option. So stop, drink some water and take in the view – you're on vacation after all!
Take it easy: Adjusting to elevation can affect anyone regardless of what sort of physical condition they're in before arriving. Experts recommend taking it easy for at least the first day at altitude. So don't hit the slopes or jump on a mountain bike your first day. Ease into it by exploring historic Main Street, the Arts District or Breckenridge's museums.
Avoid food and beverages that are dehydrating: Alcohol and caffeine slow down the body's ability to acclimate at elevation. If you plan to indulge in Breckenridge's craft beer and libation scene, try matching every drink with a glass of water to ensure you're staying hydrated and won't feel that high elevation hangover the next day.
No Car, No Problem
Once you are here, it's easy to get around Breckenridge without a car. There are plenty of transportation options for those who are going carless in Breckenridge. The Breckenridge FreeRide offers free bus transportation throughout the day with multiple shuttle systems running throughout Breckenridge. Most likely, the place you are staying is right next to a bus stop or offers its own FREE shuttle transportation to town. Once you are here, you'll find it's easy to get around town on foot or on bike and that everything is just a few blocks away. If you are planning to visit neighboring towns during your trip, the Summit Stage is a free county-wide bus system available throughout Summit County. Uber, Lyft and multiple taxi services are also available to help you travel around town or between towns.
Parking
While going carless is the easiest way to go, if you do need a car, we recommend parking outside of town and taking the bus in. The Breckenridge FreeRide bus system will service the Satellite Lot and Ice Rink lot on regular scheduling. Paid lots within town will be available for guest parking (F-Lot, Tiger Dredge, East Sawmill, and Wellington lots), but will fill up quickly. For free overflow parking, guests can park at Colorado Community College on the north end of town with the FreeRide bus servicing this lot every 20 minutes throughout the day.
Free Ride Transit System Map and Schedule
Leave No Trace
As always, remember to Leave No Trace and always practice responsible tourism to care for Colorado so other can enjoy it too. Learn more about Leave No Trace ethics and how to care for Colorado.
Mulling over whether to visit in summer or winter? Check out the best of the best with our Top 10 Things to do in Breckenridge to help you decide!
The Breckenridge Tourism Office works to enhance and promote the unique character and experience of Breckenridge as a world-renowned destination resort and to represent, serve and perpetuate the common interest and character of its membership and community.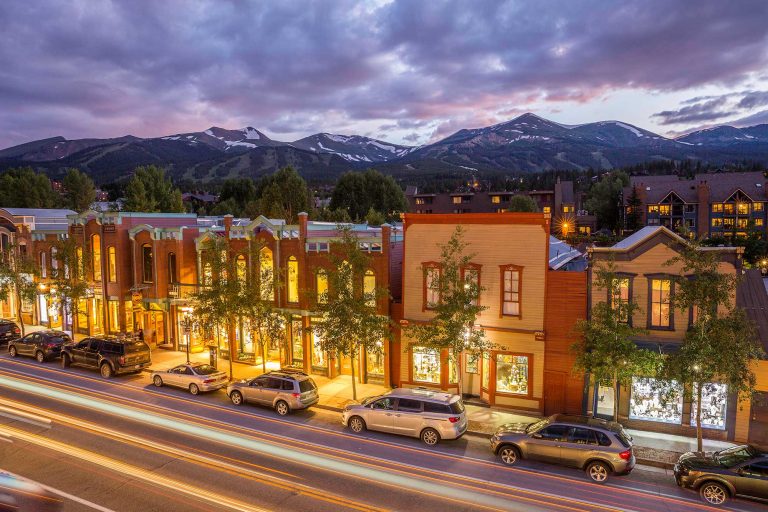 Embrace The Spirit
BLike Breckenridge™️ is a movement born of the spirit of our historic mountain town for those who call it home—whether for a weekend or a lifetime—to live by. It is a cause that connects us to each other, that we can all be a part of.