In Breckenridge, "the more the merrier" is a given. Festivals, holidays, concerts, dinners, outdoor adventures—everything is just better when shared with your favorite people.  Here are our top tips for successfully traveling  with a group—we're talking 8 or more people—in Breckenridge.
Plan Everything Ahead
With a little precise planning and forward thinking, your group will come out of this trip closer, happier and stacked with inside jokes. Choose a group leader (or two) to wrangle the big stuff—lodging, gear, transportation, group activities—months in advance. That way you'll waste less time mulling decisions and spend more valuable time experiencing Breckenridge. An itinerary, Google Doc, travel apps, or group text message can make planning and communication while traveling with a group more structured and less hectic.
Transportation
Breckenridge is 90 miles west of Denver, so thinking ahead about how you're getting to and from the airport is important. Numerous shuttle companies transport you from DIA to Breckenridge and hold up to 12 people. TripAdvisor or a quick Google search will help you find the best company.
Once you're in Breckenridge, it's extremely easy to go carless. Take advantage of the Free Ride town-wide transit system, the Main Street trolley, Lyft and Uber and hotel shuttle services.  If you are traveling with a group that includes small children, the free trolley counts as transportation and a free activity.
Sitters
Traveling with a group with children or pets? Breckenridge goes above and beyond to welcome pets and our kid-friendly restaurants and activities make us a top family destination year-round. Dog-sitting and walking services and trusted childcare are easy to source. Just be sure to book them in advance of arriving in Breckenridge.  There are also an endless amount of kid friendly activities to take your kid on as well as dog friendly hikes, restaurants and shops.
Book Lodging with Perks
If you're looking into hotels, save your group time and effort by booking lodging that offers a free shuttle (be sure to tip your driver), rather than paying parking fees or trying to drive and park.
If you are traveling with a group ask about complimentary extras like ski valets to schlep your group's equipment, fire pits with s'mores for the kids, deals on activities or welcome reception happy hours for the grown-ups. Some properties even offer discounts for guests at onsite spas and complimentary ski school pick-up for the kids.
When it comes to cooking for large groups, consider your needs. Many Breckenridge properties come equipped with dream kitchens loaded with top-of-the-line appliances and dining areas ideal for big sit-down family dinners.
Make Meal Plans
Don't feel like cooking? Call on one of the many catering companies or Breckenridge restaurants that offer catering services.  It makes dinner plans while traveling with a group simple because it takes away the pressure of deciding where to go and what to eat.  If you are traveling during the holidays They'll even whip up Thanksgiving and Christmas dinners and handle full setup and cleanup.
If you're planning on dining out, call ahead at least 24 to 48 hours for dinner reservations. Some restaurants that don't typically take reservations prefer to have a little notice for groups of six or more (check OpenTable.com to see which restaurants accept reservations). A handful of Breckenridge restaurants even have special spaces that can be reserved for large groups and private gatherings.
If the restaurant doesn't accept reservations, don't fret—show up early, put your group on the list and then stroll and shop historic downtown Breckenridge while you wait to be beeped or texted.
Groceries
If you're renting through Airbnb, VRBO or a local property management company, ask about pre-stocked fridge options. There are also grocery shopping and delivery options available through private vendors. Otherwise, send one or two people with a list to the grocery store later in the evening or early in the morning to avoid crowds. Tip: Bring your own reusable shopping bags or plan to buy a set; Breckenridge instituted a 10-cent paper or plastic bag fee a few years back. If you've forgotten your set pick up a few of Breckenridge's themed reusable bags at the Breckenridge Welcome Center.  Designed by local artists, these bags are practical, adorable, and great for the environment.
Reserve, Reserve, Reserve
Activities
Traveling with a large group usually means you're working with diverse interests. Talk about expectations ahead of time and make sure everyone has a game plan when they arrive. Maybe your group needs to split up into smaller clusters based on skill levels and interests. Maybe there are some folks itching to try something new (fat biking, whitewater rafting, dog-sledding?) while others want to unwind and relax (spa day, yoga, hikes).  Discuss what activities the whole group wants to do and which ones are fine for just a few.
Book activities as far out as possible. Guided activities hold a limited number of spots and tend to fill up quickly. Try and be flexible with dates and remember there's typically more room on a weekday than on busier weekends. Tip: Stay focused on the details. Many companies' names sound the same and sometimes visitors show up at the wrong rafting company, spa, or bike rental location. Save or take a screenshot of your reservation for easy reference on your smartphone.
Skiing and Snowboarding
If your group is here to ski, book gear rentals and purchase lift tickets online in advance to save money and time spent at counters and ticket windows. Ask about package deals on skis or boards, boots and helmets and inquire about group, student and military discounts on lift tickets. During peak ski season times, arrange to pick up gear the night before so you can head straight to the slopes in the morning.
At Breckenridge Ski Resort, buying lift tickets online at least seven days in advance means you're guaranteed the lowest price and your tickets can be mailed to you, allowing your group to skip the ticket window altogether. Look into multi-day tickets for the absolute best value.
Discounts
When you are traveling with a group always ask lodging and activity managers about a group rate or group discount. (Don't expect one, though. But it's worth asking.)  You'll want to call in advance. Also, look into Free Activities in Breckenridge so that your group has a variety of free, cheap and splurge-worthy activities to choose from.
Don't Over-Plan
Some people require more downtime than others. Be sure to leave open mornings or afternoons for your group to split up or go solo and explore Breckenridge's many parks, pubs, coffee shops and easy-to-access trails.
Read through these Breckenridge vacation FAQs for more trip-planning intel.
The Breckenridge Tourism Office works to enhance and promote the unique character and experience of Breckenridge as a world-renowned destination resort and to represent, serve and perpetuate the common interest and character of its membership and community.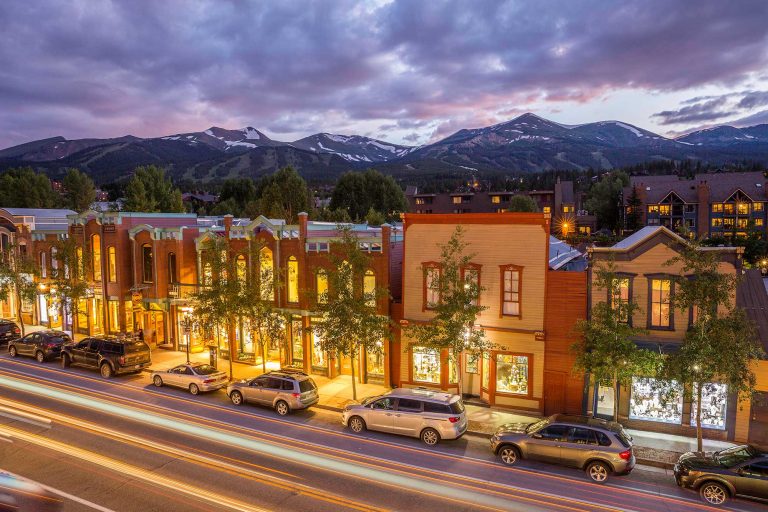 Embrace The Spirit
BLike Breckenridge™️ is a movement born of the spirit of our historic mountain town for those who call it home—whether for a weekend or a lifetime—to live by. It is a cause that connects us to each other, that we can all be a part of.