Nestled in the heart of the Rocky Mountains, Breckenridge, Colorado is much more than a paradise for adventurers and adrenaline seekers. It has a growing art scene, nationally recognized historic centre and a wide variety of dining and nightlife hotspots. So what makes Breckenridge completely unique and different than other destinations in the U.S.? Here are 15 Breckenridge facts you didn't know about our mountain town!
1. In 1859, gold was discovered along the Blue River in Colorado and a small mining town was created.  Originally called "Colorado's Kingdom,"  Breckenridge was inadvertently left off the U.S. map in the mid-1800s until the mistake was discovered nearly a half a century later. The town was officially named Breckenridge in 1961.
2. On average, Breckenridge has 300 days of sunshine each year and 300+ inches of average snowfall, making it the perfect place for a winter vacation!
3. Speaking of snowfall, Breckenridge gives thanks for the abundance of snow every year during Ullr Fest.  It's a celebration of snow, tradition, and fun!
4. In 1984, Breckenridge became Colorado's first major resort to allow snowboarding.
5. Breckenridge is home to more than 200 shops and almost 100 restaurants and bars!
6. The movie "Dumb and Dumber" was filmed in Breckenridge, not Aspen, and "National Lampoon's Christmas Vacation" was filmed nearby in Frisco, 9 miles away.
7. The Breckenridge Ski Resort boasts 187 trails spread across five huge peaks, totaling 2,908 acres of ski-able terrain.
8. Breckenridge is one of the largest historical districts in Colorado with more than 200 structures on the National Register of Historic Places.
9.  Free WIFI for all! Free Wi-Fi hotspots are provided by the Town of Breckenridge at no charge as a courtesy to our residents and visitors.
10. In 1887, Colorado's largest piece of gold was discovered near Breckenridge. Nicknamed "Tom's Baby", weighing around 13.5 pounds.
11. During the Big Snow Winter of 1889, it snowed for 79 days! On flat ground, the snow reached a depth of 20 feet.
12. Our base town elevation is 9,600 feet, and the top elevation on mountain reaches 12,998 feet. Because of this, Breckenridge is home to the highest chairlift in North America, the Imperial Express Superchair, leading to the top of peak 8.
13. The town of Breckenridge is 7 miles long and 2 miles wide.
14. In the summer, the average temperature is 70°F in the day and 50°F at night, making it a top destination to escape the summer heat that hits a lot of other states.
15. Breckenridge is home to many Olympic athletes including freestyle skiers Keri Herman and Bobby Brown, halfpipe snowboarders Arielle Gold and Steve Fisher, Nordic skier Matthew Dayton, rower Greg Ruckman and speed skier, C.J. Mueller.
Want to learn more about Breckenridge? Visit the Welcome Center upon arrival to stock up on brochures, information, and visit at their in-house history museum.
The Breckenridge Tourism Office works to enhance and promote the unique character and experience of Breckenridge as a world-renowned destination resort and to represent, serve and perpetuate the common interest and character of its membership and community.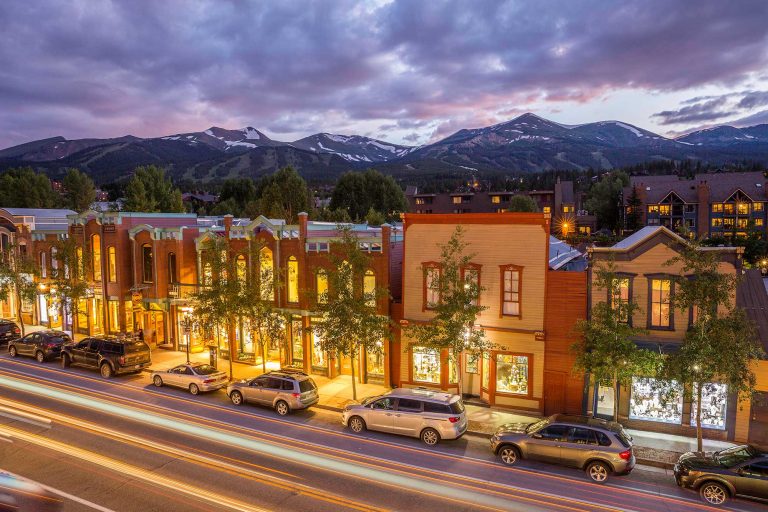 Embrace The Spirit
BLike Breckenridge™️ is a movement born of the spirit of our historic mountain town for those who call it home—whether for a weekend or a lifetime—to live by. It is a cause that connects us to each other, that we can all be a part of.