Wellness Shops & Boutiques in Breckenridge
Breckenridge spas and shops serve up the latest in fitness apparel, apothecary goods and DIY home rituals. Find on-trend natural health and wellness gifts for yourself and your favorite people at these local boutiques and wellness shops in Breckenridge.
Harmony Health Massage and Wellness Spa
Master bodyworker, wellness guide and yoga instructor Inanna Hall is known for her transformational touch prana healing and synergy sessions. Within Harmony's healing space, she has created a boutique wellness shoppe filled with Colorado-made CBD goods, handcrafted bath bombs from WholeMade Bath Co. and Breckenridge-born skincare by Peak 10 Skin designed specifically for high-altitude climates. Snag immunity and stress-relieving tinctures, massage oils and more.
Ambika Herbals
Erica Ragusa takes the earth's elements, the moon's power and her radiant grounding energy and pours them into Ambika's natural beauty products. The certified herbalist, yoga instructor and massage therapist crafts products with fresh herbs from local farms—including full spectrum hemp, calendula, lavender, mallow and vervain—to create magic blends such as her Shanti Salve, winner of the American Herbalists Guild's "Best Green Product."
Soothe Spa
Inside the Grand Lodge on Peak 7, Soothe Spa is a luxurious resort spa specializing in massage, body treatments, skin care and natural nail care. Shop specialty products spanning arnica bath oil by Kneipp—perfect for easing joint and muscle aches after a solid day on the slopes—and Zents clean-ingredient organic body care packed with luxe hydrators and natural anti-agers ideal for those with sensitivities and for mothers-to-be.
Resveralife Breckenridge
The fountain of youth may just be on Main Street, Breckenridge. Resveralife retail brand focuses on healthy lifestyle experiences inspired by the five senses. Shop for oils and diffusers, candles, handcrafted tea blends; red clay, honey and coffee soaps, and books that inspire rejuvenation and spiritual wellness. Experts will help you navigate the aromatherapy bar to create an essential oil blend for reducing stress, inspiring creativity or enhancing productivity.
Bhava Yoga
Sip kombucha while browsing this cozy welcoming boutique's curated selection of wellness gifts. Sample oils and lotions by Milk + Honey and peruse Palo Santo smudge sticks, journals and productivity planners, along with bolsters, mats and yoga props, prayer beads and Colorado-crafted jewelry. Bhava carries the latest in yoga and fitness wear by brands like Alo Yoga, Beyond Yoga and Manduka and offers ample cushy couch space to zen out on.
The Breckenridge Hemp Co.
Sample the CBD (the non-psychoactive component of cannabis) craze in this quaint space filled with samples, salves and professionals ready to answer all of your questions about this buzzing natural health remedy. Call on the full spectrum therapeutic pharmaceutical grade CBD products for relief with anxiety, insomnia and nerve pain. The shop carries a range of hemp-derived CBD oil tinctures, lotions, edibles, concentrates and CBD drinks.
Pharmstrong CBD
On the other end of Main Street, stop into Pharmstrong to chat CBD starter kits. The clean, contemporary shop prides itself on premium grade CBD that's grown in the USA and free of chemicals. Pros will help build the ideal package to target specific wellness needs. There's a pain and joint kit, a calm kit and a sleep kit; there are oral drops and balms, there are even CBD remedies for your pet.
The Breckenridge Tourism Office works to enhance and promote the unique character and experience of Breckenridge as a world-renowned destination resort and to represent, serve and perpetuate the common interest and character of its membership and community. Lisa Blake is a regular contributor. The Breckenridge-based freelance writer, editor and mom enjoys researching and sharing stories on health, wellness, dining and the outdoors. Find her work in Breckenridge Magazine, The Purist, 5280.com, and at lisablakecreative.com.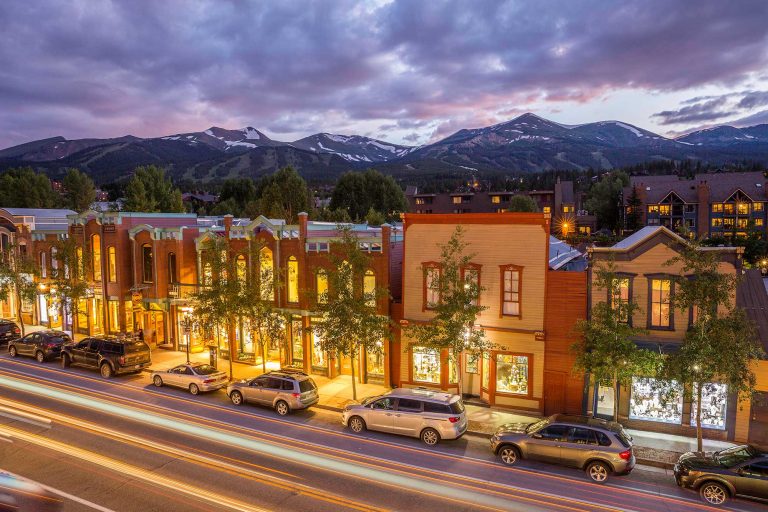 Embrace The Spirit
BLike Breckenridge™️ is a movement born of the spirit of our historic mountain town for those who call it home—whether for a weekend or a lifetime—to live by. It is a cause that connects us to each other, that we can all be a part of.