Breckenridge is home to world-class skiing, views, hiking, biking, restaurants and much, much more! But if you've got some extra time, there are so many incredible places to discover in Colorado.  Because Breckenridge is such a great central location, explore our town and then use it as a base camp for this assortment of delightful day trips from Breckenridge. From hot springs, hikes, charming historic towns and National Parks, the Colorado Rockies are your home for adventure.
Day Trips from Breckenridge
1. Frisco and Dillon
Frisco and Dillon are the shortest distance from Breckenridge on our day trip list- just take Highway 9 north toward I-70. Either use the free Summit Stage bus, drive or even rent bikes and cruise along the paved Blue River Recpath. The bike to Frisco usually takes around half an hour and is all down hill. Then on the way back, either ride or hop on the bus (they have bike racks) and take the easier way up the hill back to Breckenridge. Rent paddle boards or kayaks while you're there and take to the waters of Lake Dillon to enjoy incredible views and soak up the sun. There are two marinas, one in Frisco, and one in Dillon, where you can rent everything you'd need for a day out on the water.
After you're done exploring the lake, head to the Tiki Bar at the Dillon marina or the Island Grill at the Frisco Marina for lunch right on the water. If you have extra time, check out Frisco Main Street for cute shops and other restaurants, or the Dillon Amphitheater and park. If you're driving, be sure to take the scenic route between Frisco and Dillon along the Dillon Dam Road.
3. Mayflower Gulch + Leadville
Tucked in a high mountain valley and surrounded by snow-capped mountains is Leadville–  a city rich in history, abundant in outdoor recreation, and the highest incorporated city in North America at 10,200 feet. Cute ice cream and antique shops line Main Street, recreating how Colorado was 30 years ago.
As you head toward Leadville, stop at Mayflower Gulch, a scenic hike just a short cruise on Interstate 70 westbound before you exit onto Highway 91. The trailhead is located on the left side of the road less than 6 miles from Copper Mountain Resort. The easy 2-hour, 5-mile round-trip hike follows an old jeep trail and is a good acclimation tour, providing spectacular views of the Tenmile Range en route to old mining ruins. Soak up the spectacular scenery of the cirque that dwarfs the Old Boston Mine boarding house and cabins below, and then head to Leadville for a much deserved lunch and a beer.
Note: You can add length to this hike by climbing adjacent Gold Hill. If possible, hit the trail on a weekday to avoid the crowds. The gulch usually holds snow until late June or July in big snow years so bring along a pair of snowshoes if venturing out during spring.
4. Buena Vista
Just a 1.5-hour drive from Breckenridge is one of the best and most rafted rivers in the country — the Arkansas River. From Breckenridge, head south on Colorado Highway 9, and hang a right onto US Highway 285 in Fairplay. Continue on 285 for 35 miles until you hit US Highway 24. Turn right on Highway 24 to Buena Vista.
As far as day trips go, BV has it all. It's a mecca for whitewater rafting whether you're searching for a scenic float for the whole family or a multi-day, adrenaline-pumping paddle through famed Browns Canyon, The Numbers and other well-known sections of the river. This is a must-do for any Colorado summer vacation. Buena Vista also sits just to the north of the Collegiate Peaks of the Sawatch Range — some of the highest mountains in the Rockies and so named because several of the mountains are named for prominent universities.
Note: There are a slew of respectable operators that run the Arkansas, including Performance Tours, KODI Rafting, Arkansas Valley Adventures and River Runners. Excursions vary from quick half-day trips to overnight campouts along the water, and even raft and zipline combo packages. Save some money and drive down yourself or go all out with to-and-from transportation, meals and more.
2. Hot Sulphur Springs
No trip to Colorado would be complete without a soak in one of the rejuvenating hot springs nearby. The relaxing and therapeutic waters of Hot Sulphur Springs is a must in any season and a perfect end to a long day on the trails or spring slopes. The quick 1.5-hour drive north up Highway 9 affords magnificent views of the Gore Range and Green Mountain Reservoir en route to Kremmling. From there, follow the headwaters of the Upper Colorado River east on US Highway 40 to the short, scenic 8-mile gorge of Byers Canyon before coming to the springs.
More than 200,000 gallons of natural, hot mineral-rich water flow through the resort's 21 mineral pools and baths every day at temperatures ranging from 95-112 degrees. The family-friendly springs are nestled along a hillside overlooking the Colorado River, and the resort has an outdoor swimming pool during the summer. They also offer an assortment of massages, including hot stone and deep tissue.
Note: A bathing suit, flip-flops, a towel and plenty of water is essential. A robe is also a nice touch if it's winter. The springs offer towel and robe rental for $2 and $6. Keep in mind- these pools contain a high sulphur content, so the smell is part of the experience!. Simply rinse the minerals and scent away afterward in the locker rooms before exiting.
5. Glenwood Springs
The natural healing waters of Glenwood Hot Springs Pool and Iron Mountain Hot Springs are supplied by the Colorado and Roaring Fork rivers. Head west on I-70 toward Grand Junction, through the scenic canyon along the Colorado River, and the exit will be on your right toward Aspen.
Glenwood Hot Springs Pool and Spa is the home of the world's largest mineral hot springs pool. The historic thermal spring water has been drawing visitors from all over the world since 1888. The source of the Glenwood Hot Springs' mineral water is the Yampah spring which produces over 3.5 million gallons of water per day at a temperature of 122°F. In addition to being the largest mineral pool in the world, the Glenwood Hot Springs Pool is one of the hottest in Colorado. Before the water enters Glenwood Hot Springs' two pools, it is cooled down to 104°F for the resort's hot tub-like Therapy Pool and it's cooled down even further to the bathwater-warm temperature of between 90° – 93°F for the gigantic main pool.
Iron Mountain Hot Springs is one of the newest hot springs in Colorado, and offers 16 geothermal soaking pools offer guests a pure soaking experience—the way nature intended. This is a smaller and quieter atmosphere than Glenwood Hot Springs, perfect for those looking for a more intimate experience. Their freshwater family pool is cooler and ideal for all ages. An attached elevated jetted spa provides yet another opportunity to relax. Thoughtful amenities are built in throughout: towel tree sculptures at each soaking pool, changing rooms stocked with complimentary shower products and a restaurant that serves food and drinks adds to the ambiance.
Take adventure to new heights at the Glenwood Caverns Colorado Adventure Park! This western-themed adventure park starts with a scenic Gondola Ride to the top of Iron Mountain, and  kicks off a day of fun with incredible views, amusement rides, cave tours, and much more! Glenwood Caverns Colorado Adventure Park features several scream-worthy thrill rides, along with a variety of kid-friendly attractions and activities perfect for the entire family.
Glenwood Springs also offers great shopping and dining, historic tours, golf, trails and much more, so it's easy to spend the whole day here!
6. Rocky Mountain National Park
Rocky Mountain National Park's 415 square miles encompass and protect spectacular mountain environments. Head north on Highway 9 toward Kremmling and Hot Sulphur Springs, or get off I-70 at Idaho Springs and head north to Nederland and Estes Park. Once you're there, drive through the park along the highest paved road in America, Trail Ridge Road, which crests at over 12,000 feet including many overlooks to experience the subalpine and alpine worlds – along with over 300 miles of hiking trails, wildflowers, wildlife, starry nights, and fun times. Stop at the Alpine Visitor Center at the summit to take in the views. Pull over for some hikes along the way, or head to the town of Estes Park for some eclectic charm.
In case you didn't know, Estes Park is also home to the famous Stanley Hotel. The Stanley Hotel opened in 1909, however, by the 1970s the hotel's splendor had faded due to lack of care and investment. It might have eventually have succumbed to the wrecking ball, if not for a fortuitous visit by author Stephen King. A stay of one night was enough to inspire his third major work and first hardcover bestseller The Shining, which remains a landmark masterpiece in a long and well-known list of novels. Day and night tours of the hotel are available year-round.
7. Boulder
Sure it's back on the Front Range, but that's part of the beauty of Breckenridge- easy access to all things Colorado in the form of day trips from Breckenridge. Drive I-70 back east toward Denver,  take the Golden/Red Rocks exit, and then turn left and head north on Colorado Highway 93. Follow 93 for nearly 20 miles. Or, for an even more scenic route, exit I-70 at US Highway 119 and follow Clear Creek Canyon to Golden, then continue north on Highway 93.
With more than 300 miles of hiking and biking trails and 45,000 acres of open space (not to mention warmer temps during the spring), Boulder is the perfect town for outdoor exploration of any kind. Start your hike from the Chautauqua Park Trailhead to tackle the famed Flatirons. Want to take it easy? Boulder's famed Pearl Street Pedestrian Mall has restaurants and shops galore. Plus, it's perhaps the best place in all of Colorado for people watching.
Note: Take a relaxing drive up Flagstaff Mountain to get a bird's-eye view of town. Numerous pull-offs provide great views and the perfect spots for a picnic.
For more information on other day trips from Breckenridge, please contact the Breckenridge Welcome Center, (970) 453-5579.
The Breckenridge Tourism Office works to enhance and promote the unique character and experience of Breckenridge as a world-renowned destination resort and to represent, serve and perpetuate the common interest and character of its membership and community.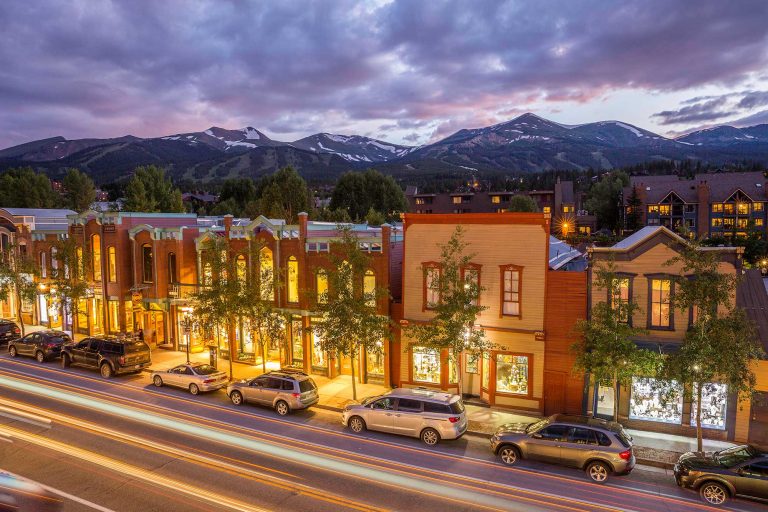 Embrace The Spirit
BLike Breckenridge™️ is a movement born of the spirit of our historic mountain town for those who call it home—whether for a weekend or a lifetime—to live by. It is a cause that connects us to each other, that we can all be a part of.