Swimming pools are the stalwart of fun for many during the summer, and that certainly doesn't change when planning a vacation to Colorado! While Breckenridge is known for its mild summer temperatures, it's still warm enough to soak up some mountain rays by the pool, and perfect for a dip after a long day on the trails. And what's better than tiring out the kiddos while you get to work on your tan? In true Breckenridge fashion, we've put our own unique spin on the standard swimming pool experience. Here are our 6 best pools in Breckenridge (in no particular order of fun)!
Best Pools in Breckenridge
Residence Inn by Marriott
One of the newest hotels in Breckenridge is the Residence Inn by Marriott. In addition to its ideal location on Main Street and close proximity to winter recreation, it's amenities are what you'd expect from a company like Marriott: free breakfast, free wifi, spacious hotel suites and a pool – an outdoor pool! Now before you think, "burrrrrr," the average summer temperatures in Breckenridge are 70 degrees for the high and 40 degrees for the low, don't worry, this heated pool is perfect for soaking in unobstructed views of the Tenmile Range during the day and stunning stargazing views by night.
Beaver Run Resort
Beaver Run Resort and Conference Center is known for its ski resort access (at the base of Peak 9, just three blocks from Main Street), but it has one of the best pool and hot tub games in town. They have six outdoor hot tubs on their main pool deck, right next to their indoor/outdoor swimming pool, perfect for multi-generational family trips. In addition, a large outdoor hot tub (20+ people) can be found adjacent to their neighboring ski runs, along with another outdoor pool (both areas are open year-round – insert a nice "Spring Break" shout out here). As if they haven't impressed you enough, Beaver Run also has an arcade, equipped with indoor mini golf and more!
One Ski Hill Place, a RockResort
One Ski Hill Place, a RockResort may be a bit overlooked in the summer because of its direct access to the Peak 8 base area. However, if you are looking for some perfect summer pool time, this hotel is hidden gem. Plus, you may just feel like you're at a spa, too. Their private aquatics center and fitness facility features two indoor swimming pools, two hot tubs, a steam room, sauna and a fire pit. And this place isn't stuffy at all – check out their kiddie pool with water cannons!
Blue Sky Resort
Blue Sky Resort may just take the cake for the most intimate pool setting in Breckenridge. With just 52 residences, this boutique resort is a luxurious and intimate property tucked away in trees, just three blocks off Main Street. The heated outdoor pool and three hot tubs offer a serene setting among evergreens and surrounding mountains. What's more perfect for relaxing after a day on the mountain or exploring the town?
Grand Lodge on Peak 7
A list of the best pools in Breckenridge wouldn't be complete without mentioning the Grand Lodge on Peak 7. The resort does so much to cater to families, with well-appointed accommodations ranging in size from suites to four-bedroom residences, private movie theatres, a family fun center and of course, the pools. There are multiple indoor/outdoor pools in their aquatics area, including a children's pool, slide, adult only relaxation area, plenty of hot tubs and locker room. Listen up parents, they also have an indoor Grotto at their Soothe Day Spa. The Grotto is an adult-only enclave with a hot tub, waterfall, sauna and steam room – there is no other experience like it in Breckenridge.
Breckenridge Recreation Center
Finally – if you're staying at one of the many vacation homes, smaller hotels or B&Bs in the area without a pool, simply go where the locals go – the Breckenridge Recreation Center.  The Rec Center is home to the largest public aquatics center in Breckenridge, complete with two pools and two spas. The Leisure Pool is a free form pool with a two-story slide, the Summit Plummit, that both children and adults can enjoy. A small slide is there too to keep the little ones happy. Other amenities include a lazy river swim stream, basketball hoop and a vortex pool. In addition to four swim lanes, the lap pool has a mini rock climbing wall and a rope swing (make sure to check the pool schedule in the link above for swing times). In the summer, there is an outdoor "beach" area, which offers a large grassy lawn as well as lawn chairs for those who just want to enjoy the sunshine.
Visiting in the winter? Be sure to check out Breckenridge's Best Hot Tubs!
More Breckenridge Lodging
The Breckenridge Tourism Office works to enhance and promote the unique character and experience of Breckenridge as a world-renowned destination resort and to represent, serve and perpetuate the common interest and character of its membership and community.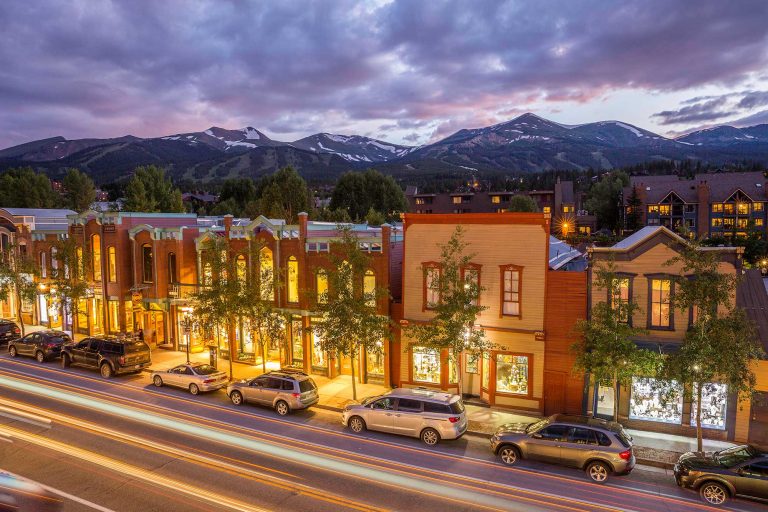 Embrace The Spirit
BLike Breckenridge™️ is a movement born of the spirit of our historic mountain town for those who call it home—whether for a weekend or a lifetime—to live by. It is a cause that connects us to each other, that we can all be a part of.