There's no better feeling after a long day on the mountain than a rejuvenating soak in a hot tub.  In Breckenridge, we take our hot tubbing seriously.  With slopeside hot tubs, hot tubs with mountain views and hot tubs with cascading waterfalls to massage away the day, one of the 1,000 +  hot tubs in Breckenridge will be just right for you!  Overwhelmed by your choices?  Take a dip into the top 8 hot tubs in Breckenridge.
Best Hot Tubs in Breckenridge
Grand Colorado on Peak 8
Located at the base of the ski area, the brand new Grand Colorado on Peak 8 has some of the best views in Breckenridge. Guests have the luxury of enjoying a ski in/ski out location, an indoor/outdoor pool, children's pool, an adults-only relaxation area, a rooftop lounge area and unparalleled views of Peak 8.
Beaver Run Resort
Beaver Run Resort features 6 outdoor hot tubs as well as "The Hub" bar which provides drinks for guests during après ski. The resort is situated at the base of Peak 9, so guests are able to ski in/ski out as they so desire.
The Bivvi
Just because you don't have a big budget doesn't mean you can't have an amazing hot tub soak! The Bivvi is one of Breckenridge's hippest hostels. Book a night with your close friends and enjoy their hot tub with beautiful views overlooking the Tenmile Range.
The Upper Village Pool
Head over to the Upper Village pool & hot tubs to soak those sore muscles after an incredible day on the mountain!  Three newly remodeled on-site hot tubs and an indoor/outdoor pool can be enjoyed by guests of the Upper Village neighborhood.
The Lodge at Breckenridge
If you're looking for a peaceful setting nestled above the town, book a night at the pet-friendly Lodge at Breckenridge. This perfect Rocky Mountain getaway features 360-degree views of both the Tenmile Range and Boreas Pass.
Residence Inn
At the Residence Inn, you'll enjoy soaking in the views from their rooftop hot tub. This resort-inspired retreat is one of Breckenridge's newest properties and conveniently located in the heart of downtown on the south end of Main Street.
Breckenridge Recreation Center
Up for the day or missing a hot tub at your digs? Take a dip in the indoor and outdoor hot tubs at the Breckenridge Recreation Center. For the low cost of  $15 for adults and $7.50 for kids, you can enjoy a therapeutic soak, indoor waterslide and a little local flavor. Be sure not to miss out on their steam room or sauna!
Private Rental Homes with Hot Tubs in Breckenridge
There are hundreds of private rental homes to choose from in Breckenridge from many property management companies. These are perfect for large groups or those looking to get a more private, local vibe. From large homes, townhomes and condo complexes, there are options for every budget. Start searching now.
Other Great Hot Tubs in Breckenridge
Discover More Breckenridge
The Breckenridge Tourism Office works to enhance and promote the unique character and experience of Breckenridge as a world-renowned destination resort and to represent, serve and perpetuate the common interest and character of its membership and community.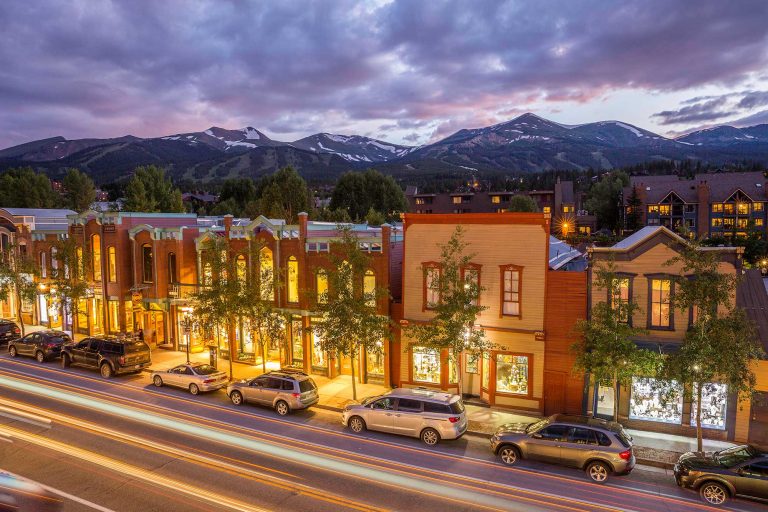 Embrace The Spirit
BLike Breckenridge™️ is a movement born of the spirit of our historic mountain town for those who call it home—whether for a weekend or a lifetime—to live by. It is a cause that connects us to each other, that we can all be a part of.