Activity that Take 1, 2 and 4 Hours
Explore the best group activities in Breckenridge, Colorado when you are short on time.
1-Hour Summer Group Activities
When you have a quick break, take the time to connect over nature, fitness and mountain heritage.
Shop Main Street
Breckenridge is famous for its beautifully preserved Victorian Main Street. With more than 200 shops, a walk down our buzzing thoroughfare reveals bookstores, jewelry, antiques, home furnishings, art galleries, sporting goods and chic on-trend clothing. Shop wellness treats at these feel-good boutiques and seek out goods and gear made locally with lots of love.
Take a Tour
Cherry pick from a full menu of Breckenridge History Tours and embark on a guided walking tour to learn about Breckenridge's rich history, haunted spaces and wild west landmarks.
Hike Around Carter Park
Breckenridge is a web of simple-to-find hiking and biking trails. Convenient spurs offshoot from town for easy one-hour walks through the woods. Access shaded paths in the White River National Forest via Carter Park in the southeastern corner of Breckenridge.
Unwind with Yoga
Take a class and find your zen at one of the many yoga studios in Breckenridge. Professional yogis lead indoor and outdoor classes, stand-up paddleboard yoga and beginner to expert studio mat sessions.
Walk the Trollstigen Trail
Social media sensation Isak Heartstone is a 15-foot-tall wooden troll sculpture located on the Trollstigen Trail near the ice rink in Breckenridge. Isak was created by the Danish artist Thomas Dambo, who is known worldwide for bringing awareness to recycling and upcycling by building incredible works of art out of trash. Snap a selfie with the mountain icon and enjoy a serene and mellow forested stroll. Here's how to find the Breckenridge Troll.
Visit a Museum
Check out our free museums as you walk down Main Street and explore Victorian homes, mining sites and relics, ski history and interactive exhibits.
2-Hour Summer Group Activities
With a little more time to roam, dive into longer trails and opportunities to create and escape.
Take an Art Class
The BreckCreate arts district is a creative playground filled with workshops on everything from oil painting to glass blowing to clay molding.
Bike the Rec Path
Rent cruiser bikes, road bikes, fat bikes and more in town and then hit the smooth, paved recreation path connecting Breckenridge to Frisco. Local shops carry a variety of models and offer guided tours.
Visit an Escape Room
Work as a team to find clues, solve puzzles and pool efforts and wits to get out on time at one of Breckenridge's exciting themed escape rooms.
Ride Horses
Breckenridge Stables sits conveniently on Peak 9 offering scenic one-and-a-half-hour horseback rides, group lessons and a horses and hors d'oeuvres trail ride along the gorgeous Ten Mile Range.
Hike from Main Street
Take advantage of one of Breckenridge's hikes that start from in-town or near your conference center. A conference favorite is the Sawmill Trail.  It's an easy-rated 1.5-mile hike is located just off 4 O'Clock Road, an approximate 10-minute walk from the Breckenridge Welcome Center. Begin at the bottom of the Snowflake Lift and follow a stream to a hidden reservoir.
Don't forget to bring water and wear sunscreen.
4-Hour Summer Group Activities
Make a half-day adventure of it and get your group going with bike tours, alpine slides and award-winning golf course action.
Bike the Pass
Embark on a thrilling, yet easy, coast down 3,000 vertical feet on the Vail Pass paved bike path west of Frisco. The peaceful path delivers lush mountain splendor, snow-capped peaks, waterfalls and fresh mountain air. The best part? A scheduled shuttle will bring you and your bike home, eliminating the uphill pedal back to Frisco and Breck.
Sip and Ride
Ridden Breckenridge runs fat bike tours on the paved rec path to the Broken Compass and the Breckenridge Distillery year round. See how the craft beer and spirits are made, enjoy some samples and take in the scenery as you cruise along the beautiful Blue River.
Go Underground
Visit Country Boy Mine for a taste of life in the 1880s. Follow costumed guides 1,000 feet down into a real gold mine, pan for actual gold (keep what you find!), pet the burros, throw axes and explore historic trails.
Hit Peak 8
Ride the gondola to the Epic Discovery fun park on Peak 8. Whether you have an hour or a full day, craft your day your way with a pass, add on a zip line tour, or just enjoy a scenic chair lift ride.
Play 18 Holes
Play a round at the Breckenridge Golf Course, the world's only town-owned 27-hole Jack Nicklaus-designed course. Check out twilight or happy hour tee times for the best discounts.
Explore More Of Breckenridge
The Breckenridge Tourism Office works to enhance and promote the unique character and experience of Breckenridge as a world-renowned destination resort and to represent, serve and perpetuate the common interest and character of its membership and community. Lisa Blake is a regular contributor. The Breckenridge-based freelance writer, editor and mom enjoys researching and sharing stories on health, wellness, dining and the outdoors. Find her work in Breckenridge Magazine, The Purist, 5280.com, and at lisablakecreative.com.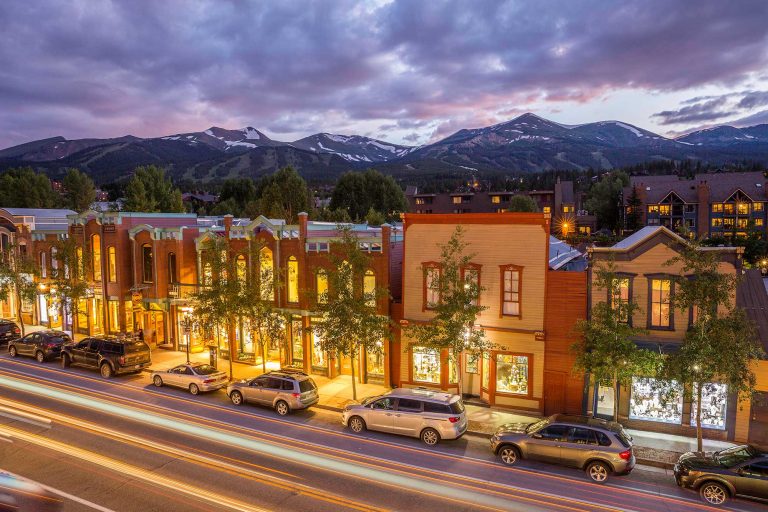 Embrace The Spirit
BLike Breckenridge™️ is a movement born of the spirit of our historic mountain town for those who call it home—whether for a weekend or a lifetime—to live by. It is a cause that connects us to each other, that we can all be a part of.