Services to Simplify Your Vacation
Sometimes you just need an extra hand. And sometimes you just want someone else to do it for you. We get that. And so do these Breckenridge service providers. Call on these trusted locals to make life easier and truly relax into your vacation.
Gear Rentals
Baby Gear from MountainTot
Infants and toddlers travel with a lot of stuff. They're pretty high maintenance humans. Not to fret, family-owned MountainTot rents a full line of top-quality baby and toddler equipment and gear. They have everything: full-size cribs, deluxe pack-n-plays, toys, activity mats, walkers, swings, jumpers, table and chairs, sleds and more. They'll even keep you exploring trails and peaks with child carrier hiking backpacks and single and double jogging strollers. Book online or over the phone and MountainTot will deliver and set up.
Skip the rental shop lines and head directly to the slopes with Ski Butlers. Reserve equipment — boots, skis, boards, helmets, anything you need — online or by phone and they'll deliver. Once you're finished, they'll come pick it up.
Private Chefs
Chef Jenny and her team of culinary masters provide gourmet in-home meals with a personable and fun vibe. The Happy Cuisinière puts together creative delicious meals from scratch using fresh seasonal ingredients while accommodating special dietary restrictions, as well as last-minute requests. Ask about their wine pairing service.
Chef Nick Leo invites you to take a load off, enjoy the company of friends and family and let him do the shopping and cooking. Wilderness Bound Provisions offers luxury personal chef services and memorable dining experiences using organic sustainably sourced ingredients. Gluten-free? Paleo? Vegan? Food allergies? No problem. Wilderness Bound Provisions makes it all. Bonus: They donate a percentage of profits to Protect Our Winters, a local nonprofit focused on climate change.
Step from your vacation home hot tub to the dining room with no worries about reservations, large group tables or driving anywhere. A professional chef and assistant will cater to your family in the comfort of your home, plating salads and entrees, sides and desserts and even making sure the kids are fed and happy.
At Your Breck and Call checks all the helper boxes, including private chefs and mixologists. They offer complete concierge services spanning airport transportation, pre-arrival grocery delivery, gear rentals and private yoga classes. They can even help you book bike rentals, horseback riding and whitewater rafting trips. They'll assist with holiday decorating and wedding arrangements, too. Basically, they're your Breckenridge boots-on-the-ground personal assistant.
Private Yoga & Wellness
Bhava Yoga offers private yoga lessons personalized to your needs. They can help you hone your meditation practice, host a therapeutic session or enhance your bachelorette or wedding weekend.
Meta Yoga brings the workout to you with intimate in-home or in-studio private classes for individuals and groups.
At Your Breck and Call works with local yogi Melany Beck of Love Grown Wellness to bring yoga to your home.
Be Your Own Guru Wellness offers private and group sessions including yoga, reiki, tarot readings, ear acupuncture and more. Customize your experience or sign up for a signature package.
Instruction, mats and necessary yoga props are provided by all studios.
Grocery Services
Owner Britany Root offers premier grocery and liquor shopping and delivery services, ensuring your vacation home is stocked just the way you like it. She specializes in wedding parties and family reunions and supplies a handy online grocery list for digital ease. The best part: Breck Grocery Express puts the groceries away for you so everything is there when you arrive.
A one-stop-shop for grocery delivery, holiday decorating and luggage and gear courier services, Summit Home Services does the heavy lifting so you can maximize vacay time. They'll shop for Christmas trees and holiday decorations and deck your home in all your favorites before you arrive (and take it all down after you leave). Have your ski gear and clunky luggage shipped to them and they'll have it waiting at your lodge for you.
Charcuterie Boards
Hosting a bridal shower or girls getaway? Wedding welcome reception or family reunion? Or maybe you just want a fancy happy hour at home. The Noshing Platter will build your dream meat and cheese board with all the accouterments and deliver it to your home. More elaborate gorgeous grazing tables are assembled onsite and disposable bamboo cutlery/tongs, paper plates, napkins and table cloths are available. Swing by The Cheese Shop for catering, party platters, charcuterie boards and grazing boards made to order.
Pura Vida Picnic Company brings you luxurious, elegant, boho style picnics. Whether you're having an intimate date night, special birthday, brunch with your friends, planning a proposal, or any special occasion, they've got you covered.
Restaurant Delivery
Get meals delivered to your door with third party delivery from Warrior Xpress, offering restaurants like Empire Burger, Giampietro, Asobi Tepanyaki, Piante Pizzeria and more! Door Dash is available in Breckenridge, including restaurants like Gold Pan Saloon, Breckenridge Tap House and Pho Real. Download the apps or simply place your order online. If you're looking for traditional delivery, try Northside Pizza and Windy City.
Breckenridge Transportation
No Car, No Problem
Most travelers book a shuttle or rent a car to travel from the airport to Breckenridge. Shuttle services are well equipped to fit all your luggage and ski gear and offer door-to-door service.
Shuttle Companies serving Denver International Airport (DIA) to Summit County:
In-Town Transportation
There are plenty of transportation options for those who are going carless in Breckenridge. The Breckenridge FreeRide offers free bus transportation throughout the day with multiple shuttle systems running throughout Breckenridge, including the Main Street Trolley. Most likely, the place you are staying is near a bus stop or offers its own free shuttle transportation to and from town. If you are planning to visit neighboring towns during your trip, the Summit Stage is a free county-wide bus system available throughout Summit County. Uber, Lyft and multiple taxi services are also available to help you travel around or between towns.
The Breckenridge Tourism Office works to enhance and promote the unique character and experience of Breckenridge as a world-renowned destination resort and to represent, serve and perpetuate the common interest and character of its membership and community. Lisa Blake is a regular contributor. The Breckenridge-based freelance writer, editor and mom enjoys researching and sharing stories on health, wellness, dining and the outdoors. Find her work in Breckenridge Magazine, The Purist, 5280.com, and at lisablakecreative.com.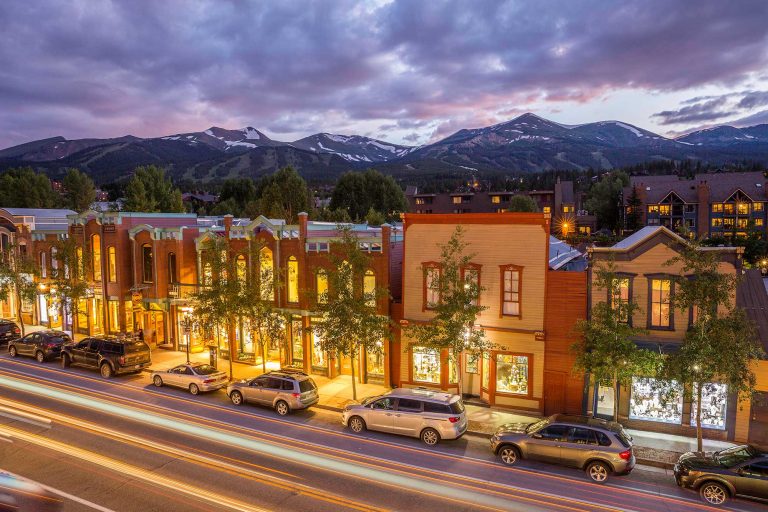 Embrace The Spirit
BLike Breckenridge™️ is a movement born of the spirit of our historic mountain town for those who call it home—whether for a weekend or a lifetime—to live by. It is a cause that connects us to each other, that we can all be a part of.