If you're looking for the best places for a winter wedding proposal in Breckenridge, Colorado, then this is your starting point. I'm going to suggest a few choice locations around town that I would want you to consider for a romantic spot to pop the question. Our favorite spots include some of the best views in town.
Best Places for a Winter Wedding Proposal:
On a Ski Slope
Whether at the top of a chairlift or the bottom of your favorite run, pull out the ring stashed in your pocket and propose on a ski slope. Just pick a spot where someone won't land on you both and totally ruin the moment. Safety first. Always.
Downtown Breckenridge in the Blue River Plaza
Spend the day on the hill and plan for a riverside proposal in downtown Breckenridge. In the center of town is the Blue River Plaza and the Blue River. Crossing the water to the Riverwalk Center is a bridge, and anywhere in that area would be perfect.
Boreas Pass
For the more adventurous, strap on the snowshoes, cross-country skis or hiking boots for a snowy trek along panoramic former railroad grade, Boreas Pass Road. Park at the trailhead and travel a non-maintained section of old railroad track that Engine No. 9 and the rest of the Snowplows traveled, cutting a track through the snow to Breckenridge and beyond.
Rotary Snowplow Park
If you don't feel like doing all that, you can still incorporate the trains and their history into your day with a visit to the Rotary Snowplow / High Line Railroad Park. Pose by Engine No. 9 and be thankful for the hardy mountain community that paved the path to the mountain paradise that we now enjoy.
Traverse Restaurant at Sunset
The new Traverse Restaurant at the remodeled Lodge at Breckenridge boasts gorgeous views of the Tenmile Range. So for those that prefer their winter proposals over a cup of (spiked?) hot cocoa, this is your spot.
So, in summary, these are the five spots that you can choose as a starting point to plan your epic mountain wedding proposal and be forever remembered in history with a story of you two in the winter. In the mountains. In love.
Stacy Sanchez, Guest Author
www.petalandbean.com
www.breckweddings.com
Lead photo courtesy of  Jason+Gina Wedding Photographers
The Breckenridge Tourism Office works to enhance and promote the unique character and experience of Breckenridge as a world-renowned destination resort and to represent, serve and perpetuate the common interest and character of its membership and community.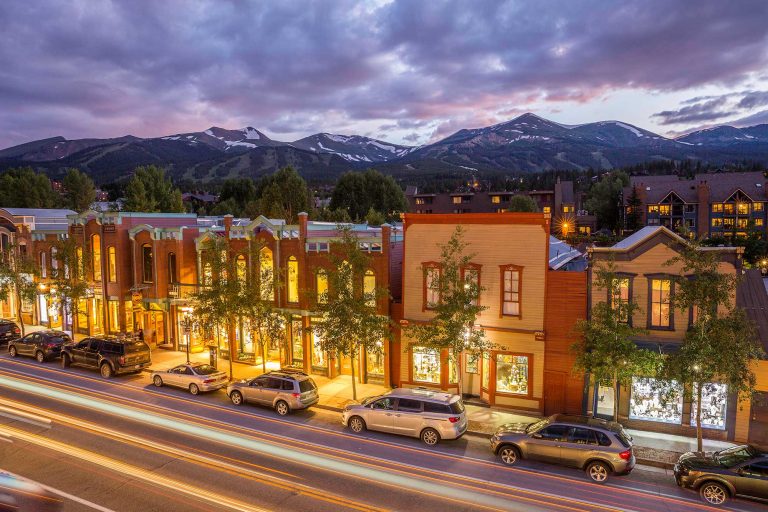 Embrace The Spirit
BLike Breckenridge™️ is a movement born of the spirit of our historic mountain town for those who call it home—whether for a weekend or a lifetime—to live by. It is a cause that connects us to each other, that we can all be a part of.