What to do this Halloween in Breckenridge
It's one of the best times of the year in Breckenridge. Carved pumpkins and spider webs decorate doorsteps, the brisk October air gets the stoke high for ski season, pumpkin spiced lattes and hot cider are easy to find at Breckenridge's local coffee shops, and everyone is excited to show off their new Halloween costumes. Whether you're looking for family-friendly activities or happening nightlife, here's your guide to Halloween in Breckenridge, from local events, haunted houses , ghost tours, trick-or-treating and more!
Breckenridge Ghost Tours and Haunted History
BRECKENRIDGE GHOST TOURS
Ghostly Tales Tour 
This is the original ghost tour of Breckenridge (started in 2010), with new sites and updated information. Explore the darker side of our wild west past with our chilling tales of the ghosts that remain here. Ghost hunting equipment provided!
Visit Breckenridge Ghost Tour's website for current schedule and pricing.
Tombstone Tales Tour
This twilight tour through Breckenridge's Valley Brook Cemetery, on the National Register of Historic Places, reveals ornate, carved gravestones representing some of the town's earliest art and written history. This is the only guided tour of Breckenridge's historic cemetery.
Tours offered summer and fall; visit Breckenridge History for current schedule and pricing.
Voices from the Grave Tour 
This walking tour starts at the site of the original cemetery of Breckenridge.  Hear the history of the town's burial grounds and also the stories of the locals that are buried here.  Visit their places of business or homes on the way.
Offered in summer only; Visit Breckenridge Ghost Tours' website for current schedule and pricing.
Preston Ghost Town and Gold Mine Hike
Over 130 years ago Preston was a bustling town of approximately 150 citizens but now only the ghostly remains of buildings reside here. Join a local expert on this 3-mile guided hike to learn about the history of the town and many of the rich mines that operated in the area.
Hikes offered seasonally; visit the Breckenridge History website for current schedule and pricing.
Strange But True Tour 
This 90 minute walking tour is all about disappearances, suspected kidnappings and other strange events, including the fate of the Breckenridge Navy.  Hear about the weird and unusual events that occurred in Breckenridge from 1961, when the ski area opened, until present day.  All true stories with a twist!
Visit Breckenridge Ghost Tours' website for current schedule and pricing.
Events and Festivals this Halloween in Breckenridge
Dia De Los Muertos Celebration – October 22-24
Dia De Los Muertos, or "Day of the Dead," is a multi-day, traditional Mexican holiday celebrating ancestors and loved ones who've passed. This is not a day of sadness, but a day where the dead come alive to celebrate with family and friends, and to come together support one another's spiritual journeys.
Join BreckCreate for a celebration filled with arts and crafts, live performances, featured installations, face painting and more. Learn about new cultures and traditions, right here in Breckenridge!
Broken Compass Halloween – October 29-31
Celebrate Halloween with a weekend of live music, cute costumed dogs and delicious beer! Broken Compass Main Street is home to live music on Friday night and Sunday afternoon. Saturday shifts to Broken Compass Brewery & Taproom for our annual Dog-O-Ween party, this year with proceeds benefitting the Summit County Animal Shelter and boasting the Dan Africano and friends live in concert!
Breckoween – October 30-31
Breckoween is back and we're celebrating with 3 treats in store for you this year! Join us for a Breckoween Bash at RMU tavern, the Mummy Crawl through downtown Breckenridge, followed by a "Flick-Or-Treat" screening of The Shining at the Eclipse theater. Tickets are required & must be purchased in advance online.  Locals with proof of residency receive discounts on tickets.
Flick-Or-Treat – October 31
Enjoy a Halloween themed movie screening of "The Shining" at the Eclipse Movie Theater, Sunday, October 31. Costumes are strongly encouraged, with a costume prize packs awarded to Spookiest Costume, Most Creative Costume, and Best Partners in Crime Duo. Don't miss out on free popcorn, drink specials and Trick-Or-Treat swag bags!
*All attendees must provide proof of vaccination to enter the theater. 
Breckenridge Craft Spirits Festival – Postponed Until 2022
Join us for the annual Breckenridge Craft Spirits Festival featuring small-batch distillers, artisan spirit seminars, a spirited cooking class, ghost tours, scavenger hunts, fine local cuisine and of course, plenty of sampling. Meet the distillers and taste the creations of 40 distillers Saturday night at the main event, the Still on the Hill Grand Tasting!
More Ways to get in the Halloween Spirit
Annual Halloween Dodgeball Tournament – TBD
Do you think you have what it takes to dodge witches, goblins and maybe even White Goodman? Our Annual Halloween Dodgeball Tournament is your chance to show off your skills AND your costume! A minimum of six players per team is required with at least two females.
Escape Rooms
Seek clues, solve unique puzzles, answer questions and work together to try to escape! These all-age friendly Breckenridge-themed rooms consist of stories, decorations and technology to immerse you in a fun game for all. You'll have 60-minutes to complete each of your adventures! This is a great bonding activity for families, friends, date nights, bachelorette, bachelor or birthday parties, co-workers and teammates. Try the Paranormal Mystery of Breckenridge room, perfect for Halloween!
Have you picked up your Breckenridge Dining Passport yet? Before you head out to the local restaurants, stores or coffee shops, head over to the Breckenridge Welcome Center to purchase your fall dining passport for deals and specials around town.
The Breckenridge Tourism Office works to enhance and promote the unique character and experience of Breckenridge as a world-renowned destination resort and to represent, serve and perpetuate the common interest and character of its membership and community.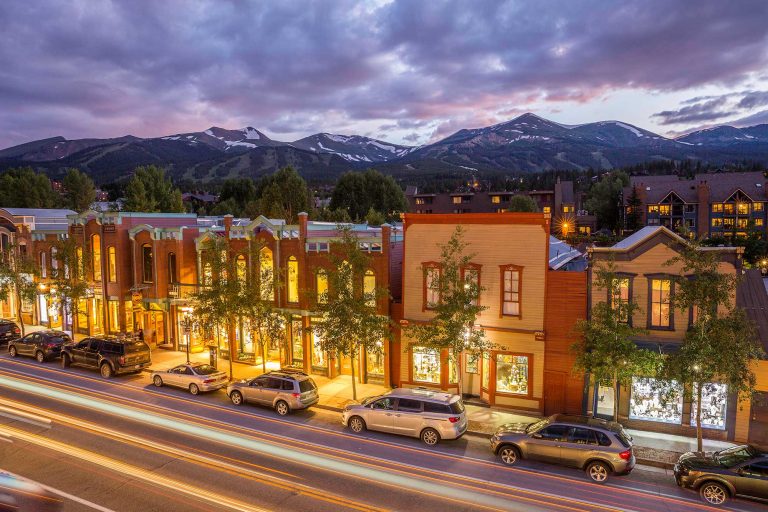 Embrace The Spirit
BLike Breckenridge™️ is a movement born of the spirit of our historic mountain town for those who call it home—whether for a weekend or a lifetime—to live by. It is a cause that connects us to each other, that we can all be a part of.