Local's Tip: Find the perfect hiking trail
From relaxed to rugged, Breckenridge's trail system caters to all abilities, in all seasons. We recommend exploring a trail that's not on a top ten list to experience more nature and fewer people. Learn how to find the perfect hiking trail for your next adventure.
trails that are perfect for beginners and families
Best Easy Hikes
An easy hike is generally suitable for anyone who enjoys walking. The trail will be mostly level or with a slight incline. Generally less than 3 miles.  Easy hikes are great for when you have a short amount of time to hike, have kids or non-hikers with you, want to relax in nature. Want more summer hiking ideas? Check out our top 3 easy hikes from downtown Breckenridge.
Iowa Hill
The Iowa Hill Loop is a pleasant stroll through an 1800's placer mine site with many interpretive signs along the way. A number of short side trails take you to interesting preserved mining machinery and the old boarding house. This is a nice shorter route for families or anyone visiting the area to see what mining looked like a hundred years ago.
Getting there: Head north from the town of Breckenridge on Hwy. 9, then turn left at Valley Brook Rd. Take a right on Airport Rd for about a ¼ mile. The trailhead is on the left with a designated sign and parking area.
Burro Trail
Hike the Burro Trail as an out-and-back route for as long (or as short) as desired. Just five or 10 minutes out can make you feel like you're miles away. The Burro trail provides access to a vast network of backcountry hiking options and is a great option for those staying at the many properties along Village Road.
Getting there: The Burro trail can be accessed from the bottom of the Lehman ski trail, located at the base of Peak 9 off Village Road in Breckenridge. You can walk or bike from downtown, but the trail is also accessible via the Breckenridge Free Ride's yellow route.
Hoosier Pass Loop
This three-mile loop at the Continental Divide delivers an alpine experience without having to huff and puff to beyond tree line. The Hoosier Pass Loop features incredible views, a relatively easy incline to the top, and mountain vistas as far as the eye can see.
Getting there: Head south on U.S. 9 from Breckenridge to the top of Hoosier Pass and park at the Continental Divide sign on the right side of the road.
Sawmill Trail
Follow this shaded trail about a mile and end up at the gorgeous Sawmill Reservoir. Pack a lunch and have a picnic at the Reservoir with views of Breckenridge and the Tenmile Mountain Range. The hike itself is short and very well shaded by surrounding pine trees. The Sawmill trail's gentle elevation gain makes it suitable for hikers of varying abilities, especially families with small children.
Getting there: One of the best parts about this trail is it's proximity to downtown Breckenridge. Walk up Four O'Clock Road to the Snowflake lift, or hop on the Breckenridge Free Ride Yellow Route to the base of the lift. From there, follow signs leading to the trail.
Boreas Pass Road
From the end of pavement to the summit of Boreas Pass is about 6.5 miles of dirt road, passable by most vehicles except in muddy, wet or winter conditions. Park at the trailhead and walk or bike as far as you'd like, taking in views of the Tenmile mountain range and Breckenridge Resort. If you have a 4WD car, keep driving through the aspens to the top of the continental divide. The historic Section House at the top of the pass is a ski hut in the winter, available for overnight reservations. If you have extra time, check out Baker's Tank trail or Aspen Alley in the fall for prime leaf peeping and great mountain biking.
Getting there: At the very south end of Breckenridge, take Boreas Pass Road all the way to the top. About 4 miles from town, the pavement ends at the Boreas Pass Trailhead. Park here to walk or bike along the road or continue driving to the top of the continental divide.
10 more easy hikes in Breckenridge to explore
While these hikes didn't make our top hikes list they are still amazing trails filled with mining ruins, wildflowers and jaw-dropping views. They also see less foot traffic, offering more solitude and nature than people.
Find even more beginner trails at alltrails.com or COTREX.org
Best Moderate Hikes
A moderate hike is generally suitable for novice hikers who want a bit of a challenge. The terrain will involve a moderate incline and may have some steeper sections. Generally 5 to 8 miles.  While average pace varies per person, on average hikers travel 1.5 miles per hour on moderate trails.
Blue Lakes Trail
Blue Lakes trail starts above tree line at 11,748 feet and in 2.5 miles takes you to a historic mining area surrounded by alpine lakes. Take in the amazing views as you follow the stream to the top. Wildflowers, waterfalls, and wildlife like mountain goats are why this is one of our favorite summer hikes in Breckenridge!
Getting there: Drive south on U.S. 9 through Blue River to Blue Lakes Road (FDR 850). Drive up a little ways and park at the base of the dam.
Mt Baldy Road and the Iowa Mill
Just across the valley from Breckenridge Ski Resort sits a mountain that every single person in town sees, but might not know much about. It's appropriately named Bald Mountain or "Baldy" as locals call it, since many of its trees burned during the mining days.  In addition to panoramic views of the Tenmile Range, this hike includes the Iowa Mining Mill, a historic gem from Breckenridge's mining era that was used to process ore from the Carbonate Mine.
This stunning hike rises up out of the Blue River Valley and offers incredible 360 degree views of the surrounding mountain ranges once you've reached the ridge of Baldy Mountain. Tailor the hiking to your liking and make it as long or as short of an adventure as you choose. If you're feeling adventurous (and are prepared), try to follow this trail all the way to the summit of this iconic 13er!
Getting there: From downtown, drive on Main Street to the south side of town. At the last lighted intersection, make a left (east) onto Boreas Pass Road. After two miles, make a left onto Baldy Road (CR 520). Soon you'll arrive at the Bald Mountain Trailhead, or keep driving a ways to the 4WD parking lot.
McCullough Gulch Trail
McCullough Gulch trail can be challenging in parts, but lakes, waterfalls, wildflowers, mountain goats, and views of iconic 13,000 and 14,000 foot peaks are your reward and well worth the effort. The first portion of the trail follows an old mining road across a footbridge and past an old mining shack. End your trip at the first lake, or keep heading up to Upper Blue Reservoir.
Getting there: Quandary Peak trailhead parking (which includes McCullough Gulch trailhead) is available by RESERVATION ONLY. There is no parking at McCullough Gulch trailhead. Please reserve parking at Quandary Peak trailhead and take the shuttle to McCullough Gulch trailhead, or take the shuttle from downtown Breckenridge (Airport Rd. Lot) directly to the McCullough Gulch trailhead.
Learn More & Reserve
Mohawk Lakes
It's impossible to not mention Mohawk Lakes when talking about great hiking in Breckenridge. Not only will you walk past Breckenridge's most stunning alpine lakes, but you will also pass the biggest/most impressive waterfall in Breckenridge: Continental Falls. Additionally, there is an old mining cabin along the trail between the lower and upper falls with remnants of a former cable car. The wide variety of terrain and scenery along the Mohawk Lakes Trail is what makes it so special. Keep in mind- this trail can get very busy in the summer. Go early or parking may be limited.
Getting there: Travel south on HWY 9 from Breckenridge for approximately 2.1 miles. Turn right onto Spruce Creek Road and proceed uphill on the dirt road and then bear left on Spruce Creek Rd. through the intersection. Keep driving until you arrive at the Spruce Creek trailhead parking area.
Get more info on waterfall hikes near Breckenridge and discover more moderate hiking trails in Breckenridge.
10 more moderate trails in Breckenridge to explore
You won't be disappointed exploring any of the hundreds of miles of trails Breckenridge has to offer.  Skip the top trails and explore one that offers less foot traffic and more solitude.
Find even more trails at alltrails.com or COTREX.org
Best Difficult Hikes
Strenuous hikes will challenge most hikers. The hike will generally be longer and steeper, but may be deemed "Difficult" because of the elevation gain, rock scrambling, stream crossings, and other challenging terrain.  Generally 7 to 10 plus miles.
Wheeler Pass
This stunning alpine hike starts just south of the Town of Breckenridge, and leads up to a stunning mountain pass in between Peaks 8 and 9 on Breckenridge Ski Resort. On the way up, hiker's will experience tremendous vista views of the Tenmile Range, pass multiple alpine lakes, and walk through fields of wildflowers (June and July are the best months for wildflower viewing) as they make there way past treeline towards the summit of the pass. As with a lot of Breckenridge hiking trails, the length of the hike is entirely dependent on the hiker.
Getting there: Drive south on U.S. 9 through Blue River to Blue Lakes Road (FDR 850). Turn right onto McCullough Gulch Road (FDR 851) and continue past the Quandary Peak trailhead for approximately 0.5 miles. At the fork, turn right onto County Rd 852. Proceed about 0.5 miles to the trailhead at the sharp left turn in the road.
Quandary Peak
One of Colorado's 54 14ers (peaks that top out above 14,000 feet), Quandary Peak is a friendly but rigorous hike. Although the trail is only six miles, it climbs 3,305 vertical feet and will take anywhere from three to nine hours to complete, depending on ability level. Plan to get there very early in the morning and try to be off the trail by noon to avoid the risks of afternoon thunderstorms. This trail can get very crowded- get there early or try a week day as parking fills up quickly.
Getting there: Visitors to Quandary Peak and McCullough Gulch Trail areas will now be required to reserve parking online or use the free shuttle from Breckenridge. Learn More.
Discover more difficult hiking trails in Breckenridge and learn more about how to climb your first 14er.
10 More Difficult Hikes Near Breckenridge
14ers aren't the only hikes worth bagging.  These 10 difficult hikes are packed with steep climbs and big views.
Find even more trails at alltrails.com or COTREX.org
Keep exploring
From relaxed to rugged, Breckenridge's trail system caters to all abilities, in all seasons. We recommend exploring a trail that's not on a top ten list to experience more nature and fewer people. Learn how to find the perfect hiking trail for your next adventure.
what to know before you head out on a hike
Know Before You Go
Many of the summer hikes in Breckenridge listed in this article lead out into the alpine and above treeline. Be sure to check the forecast before you head out, start early, and make sure you are off the mountain before any afternoon thunderstorms start to develop. Always carry plenty of food and water for your journey, and always tell someone where you are going.
Safety is everything in the mountains, and the more prepared you are, the more enjoyable your experience will be. Having a map of the area you are hiking can be a big help as well. Visit one of Breckenridge's local gear shops like Mountain Outfitters for maps and information on trails and conditions.
Leave No Trace
Help us Care For Colorado by practicing responsible tourism and these Leave No Trace guidelines:

Know before you go: Check the weather before you head out and carry a day pack with extra clothing layers, a water bottle, sunscreen, sunglasses and a snack. Colorado weather changes quickly- be prepared. for sun, rain, snow and wind.
Stick to the trails: Help natural areas stay natural- A few extra strides on the path will protect plants, lakes and the homes of the true locals.
Trash the trash: Pack it in, pack it out, all the way to the trash or recycling bin. Or pick it up to leave a place better than you found it.
Leave it as you find it: Leave plants, flowers, trees, rocks and historical items as you find them so others experience the joy of discovery.
Be careful with fire: Colorado's low humidity has perks, but can create dry, dangerous conditions.
Keep wildlife wild: Colorado is home to tens of thousands of furry, scaly and feathered creatures. To keep them – and you – safe, don't approach, chase, follow, surround or feed them, and always observe from a distance.
Share the trail: Be considerate-  yield to the uphill hiker and biker, and keep your voice and music soft.
Take the tree-hugger Challenge
Want to learn more about what it takes to be a responsible hiker?  Take the tree-hugger challenge to get ready for your trip.

Basic Trail Etiquette
Follow these easy tips and guidelines while out on the trail to respect nature and other trail users.
A hiker going uphill has the right of way.  If you're on a flat section, just be courteous and move to the side allow others to pass.
Greet others with a simple "hello" or a smile when you pass.
Keep conversation volume down to respect nearby trail users and enjoy the quietude of nature around you.
Keep dogs within sight, under control and have a leash handy to avoid and unwanted interactions with other pets, wildlife or trail users.
Stay on the trail. Avoid shortcuts, unless they are official trails. This helps protect the fragile habit, plants and integrity of the natural area.
Yield to bikes and horses, livestock. Technically bikers are supposed to yield to hikers, but usually bikes are moving quickly and it's easy enough to stop and let them pass. When you see horses on the trail, just step to the side and let them pass.
Local's Tips
Want to make sure you've packed all the essentials? Check out our Summer Packing Guide or prepare for your hike with these handy tips and what to bring from the experts at REI.
Colorado Trail Explorer (COTrex) is a great place to start looking for hikes. Choose your location and all the trails for that area will show up. Star your favorites, get trail info and look at recent photos.
No car? No problem. Carpool or take the bus to many of the Breckenridge trailheads.
On busy days, trailheads can fill up by noon, so head out early- the trail will be less crowded too and you'll miss the afternoon thunderstorms that can roll in by the afternoon.
Know and follow trail etiquette and leave no trace principles. Please pack out your trash, leave the wildflowers for others to enjoy, and give a friendly wave to the other users sharing the trail with you.
New to hiking or mountain biking?  Consider going with a guide or taking a class.  Breckenridge Heritage Alliance offers guided hiking trails that add an educational component to your trip.  Colorado Adventure Guides offer a variety of mountain biking lessons and guided hikes for all skill levels.
We hope to see you out there on the trails this summer!
Discover More Hiking in Breckenridge
The Breckenridge Tourism Office works to enhance and promote the unique character and experience of Breckenridge as a world-renowned destination resort and to represent, serve and perpetuate the common interest and character of its membership and community.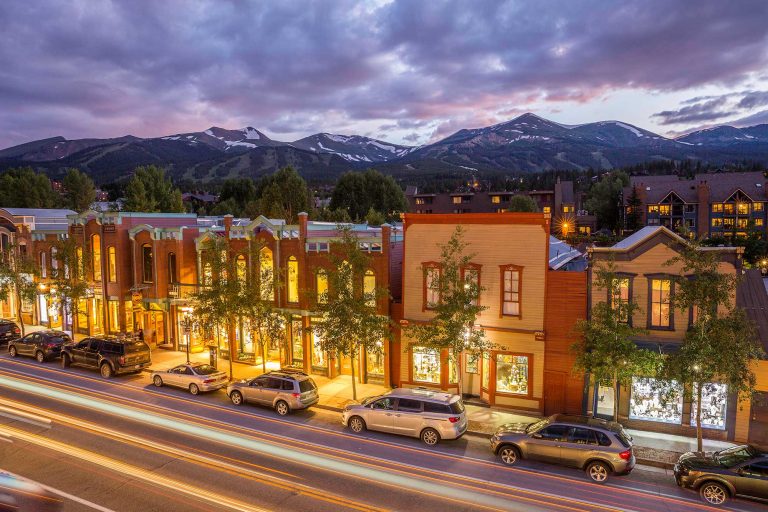 Embrace The Spirit
BLike Breckenridge™️ is a movement born of the spirit of our historic mountain town for those who call it home—whether for a weekend or a lifetime—to live by. It is a cause that connects us to each other, that we can all be a part of.