With warm (but not hot) days, incredible views, and tons of activities and events, Breckenridge is sure to be the perfect destination for you and your family this summer. While picking out what to do and keeping all family members happy can be tricky, if you've got kiddos in tow, we've got you covered. Let this family guide to Breckenridge help you find the best summer adventure for the whole crew.
Visiting Breckenridge With Kids: Summer Guide
Activities & Things To Do
The lazy days of summer aren't so lazy in Breckenridge.  There are over 100 things to do and an almost endless line-up of special events and plenty of hiking trails, parks and activities that are sure to satisfy everyone in your group.
Family-Friendly Hiking
For your family's first day in Breckenridge it's great to start with the easy stuff. You've come for the views and cool mountain air, so grab breakfast then head out for an easy hike to get your bearings.
Use our family hiking articles to find the best hikes for your family:
Kid-Approved Biking
Did you know Breckenridge is one of the best places to take kids on a bike ride? There are options for easy, paved rides, and the Town of Breckenridge is continuously expanding and improving its trail system for mountain bikers at every level. Nearly every ski rental shop in town becomes a bike rental shop in the summer, so there are plenty of bikes for every age and ability.
Learn More About Family Friendly Biking
Local's Tips:  If your clan isn't ready for dirt quite yet, jump on the Blue River Rec-Path and ride around town, following the Blue River. Bring a lunch and pull over at any point to take a break and refuel. Remember to always pack-it in and pack-it out.
Top Guided Adventures For Families
It's always fun to try new activities and adventures on vacation especially ones you'd never be able to do at home.  In Breckenridge, we make it easy for the whole family to try something new thanks to the variety of guided activities in town.
Guided activities are great because they typically include:
All the gear you need for the activity
An expert to teach you the activity, keep you safe, take photos and possibly provide lunch or snacks
Best Guided Family Activities To Try:
Best Kid-Friendly Activities From Main Street
Everyone in the family will love exploring historic Main Street. You can stay on foot or try the free Main Street trolley. Younger kids will enjoy the ride, and it has multiple stops on Breckenridge's main artery. This is a great way to get a little shopping in and see where you want to take the family for lunch or dinner. Throughout Main Street, you'll find small intimate pocket parks that are perfect for any, "I don't wanna shop" breakdown. Our favorite park is Blue River Plaza, right in the center of Breckenridge, has a unique playground that sits right on the bank of the Blue River.
5 Things Your Kids Can Do In Town
Play at one of the parks on and around Main Street
Feed the fish at Ollie's on the Dredge
Ride the free BreckConnect Gondola
Play in the Blue River Plaza
Paddleboard at Maggie Pond
You'll also want to check out the Breckenridge Creative Arts District – or BreckCreate for short – for afternoon crafts, music and more.
Top Indoor Activities For Kids
It's hard to believe, but there are some days that are less sunny than others in Breckenridge (though the sun shines more than 300 days a year here). If you're in the mood for a less physical day or want to spend some time exercising your brain, there are plenty of options in Breckenridge.
Kid-Approved Indoor Adventures
Explore a real gold mine then try your luck at gold panning at Country Boy Mine
Check out Breckenridge Heritage Alliance for museums and tours
Head to the Breckenridge Arts District which offers a wide variety of interactive arts workshops, classes and events.
Breckenridge also has a world-class recreation center, complete with an indoor pool, slides and hot tubs. Once you're done swimming, be sure to try the indoor rock-climbing wall or the new tennis center.
Seek clues, solve unique puzzles, answer questions and work together to try to escape one of our all-age-friendly escape rooms.
Find 5 More Picks For A Rainy Day in Breckenridge
Tip: Rain showers typically occur in the afternoon around 2 or 3 p.m. in the summer. Try to plan your outdoor activities in the morning if possible, but if the forecast calls for rain, don't worry! Showers are usually quick and the skies clear up within minutes. Just make sure you pack that rain jacket to be safe!
Visiting Breckenridge With Kids: Summer Guide
Dining
Explore the top decks and patios in Breckenridge while sampling a kid-friendly feast. Finding a family-friendly spot for eating out in Breckenridge can have its challenges, especially since many restaurants in town don't take reservations. The best way to avoid hangry kids is to head to dinner early. Places like Fatty's Pizzeria, Downstairs at Eric's and Mi Casa are family-friendly staples in town with large enough tables for a party of six or more. If you can make a 6:00pm dinner, you will increase your chances for a shorter wait time.
Another tip: If your family is bigger than six, think about splitting up into two tables; that will help the restaurant seat you faster.  Other strategies include hitting up happy hour for pre-dinner snacks, arriving at least an hour earlier than you'd normally eat, or visiting one of the off-the-beaten-path restaurants.
Visiting Breckenridge With Kids: Summer Guide
Shopping
Explore over 200+ retail locations and small businesses in Breckenridge, Colorado. No trip to Breckenridge is complete without a day to explore Main Street. It's just shy of a mile long, perfect for a light afternoon or evening stroll through the hub of town.
Visiting Breckenridge With Kids: Summer Guide
Transportation & Parking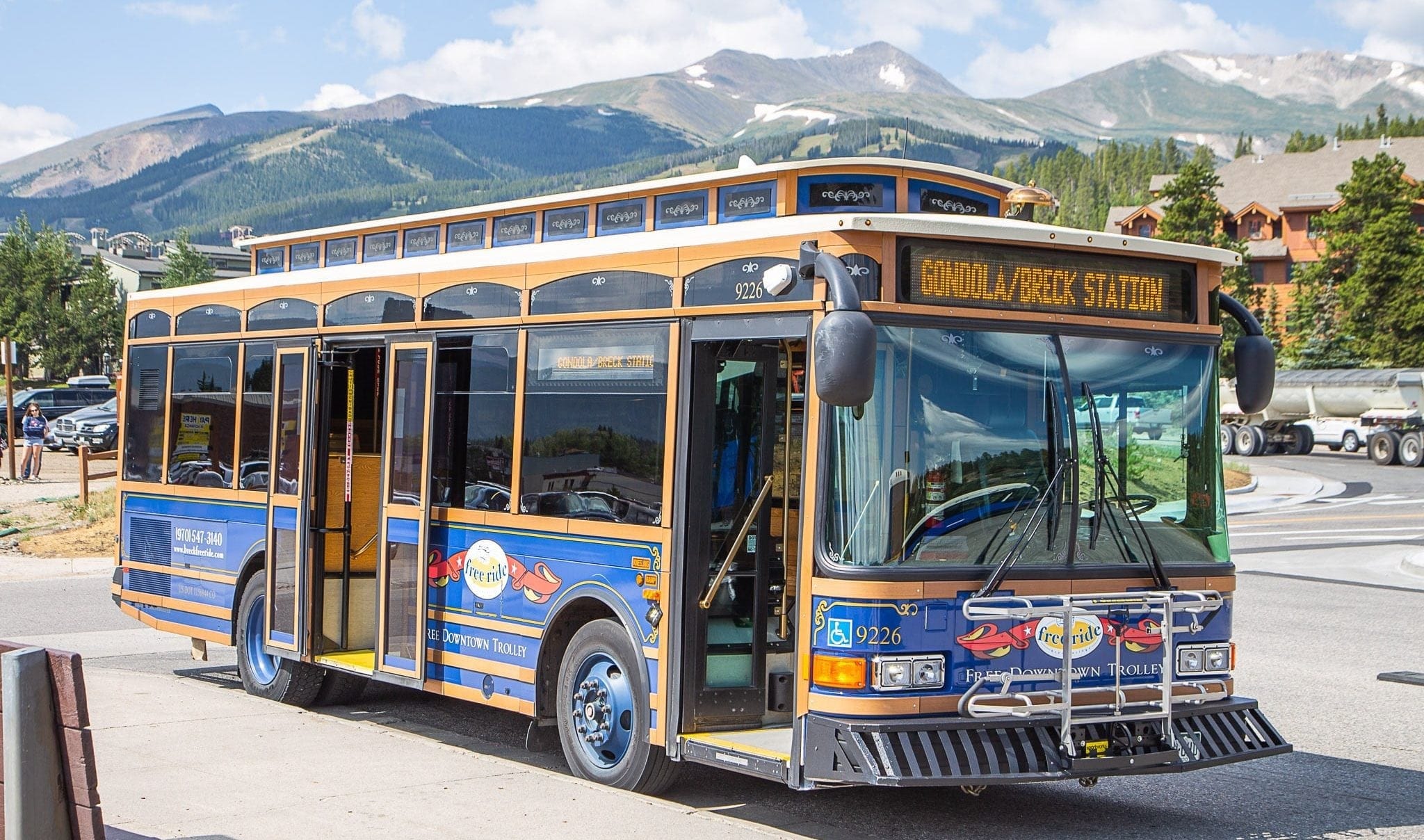 The Main Street Trolley is a free transportation shuttle that services downtown Breckenridge. Breckenridge's easy walkability and redesigned pathways and sidewalks make it easy to get around with a stroller, wagon or a handholding child.  When your kid's pint-sized legs get tired, hop on the Breck Free Ride. The Breck Free Ride is a community-wide free transit system complete with an easy app and routes designed to get you to where you want to be. Plus, the majority major of lodges offer complimentary shuttles to get around town with ease.
Fun ways to get around town
Don't miss out; the BreckConnect Gondola is free to ride in the winter and summer.
Try two wheels. Did you know that Breckenridge's bike lanes were awarded the highest level as a bicycle-friendly community by the League of American Bicyclists? Rent a bike and check it out!
Breckenridge's Trolley loops up and down Main Street. It's a perfect way to get from Point A to Point B as well as a great activity for all truck-loving kids.
Local Tip: Direct shuttles leave nearby airports almost hourly to Breckenridge.
Visiting Breckenridge With Kids: Summer Guide
Where To Stay
One of the best things about Breckenridge is its size.  No matter where you stay you'll be able to walk to town or a bus stop that'll take you to town.  Instead of focusing on location, we recommend choosing your place to stay based on amenities, room count and decor.  Search Lodging in Breckenridge.
Here are a few articles to help you decide:
The Breckenridge Tourism Office works to enhance and promote the unique character and experience of Breckenridge as a world-renowned destination resort and to represent, serve and perpetuate the common interest and character of its membership and community.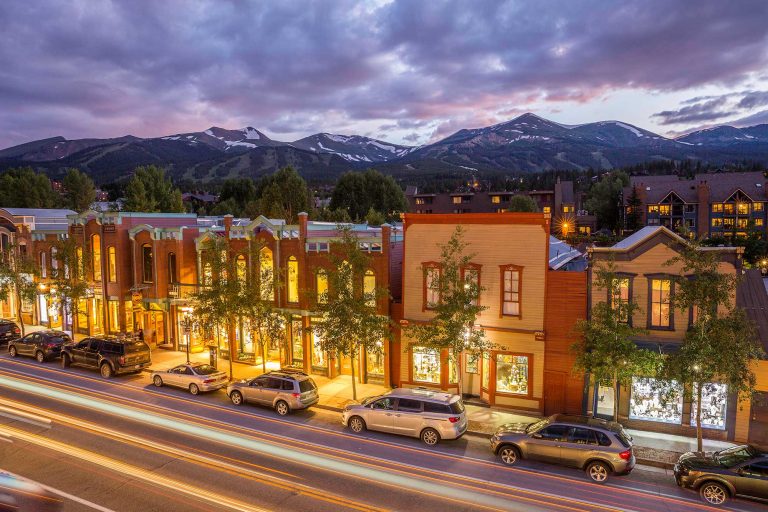 Embrace The Spirit
BLike Breckenridge™️ is a movement born of the spirit of our historic mountain town for those who call it home—whether for a weekend or a lifetime—to live by. It is a cause that connects us to each other, that we can all be a part of.