When the day winds down and you've gotten your fill of mountain adventures, it's time for some fun in town. Go beyond Breckenridge's remarkable bars and restaurants and look to these family-friendly activities as the sun begins to dip behind the Ten Mile Range.
Take a Guided Tour
Year-round walking historic tours, saloon tours and seasonal haunted and holiday tours from Historic Breckenridge offer deeper insight into local lore and characters.
Visit the Breckenridge Arts District
The famed downtown arts district is a hub for creative workshops, artists in residence, hands-on events and concerts. There's always something fun going on.
Go Stargazing
The Town of Breckenridge Recreation Center serve up unique opportunities to star gaze under the full moon on a guided hike, snowshoe or fat bike excursion.
Walk Main Street
The twinkling lights and lively sidewalks along Main Street Breckenridge maintain historic mining day and Victorian charm while delivering beautiful boutiques, gear outfitters, toy and book shops, Colorado artisan wares and more. Grab a cappuccino or ice cream cone and window-shop your way from one end to the other.
Go on a Sleigh Ride
Book a scenic winter sleigh ride with Breckenridge Stables and cozy up with cocoa under blankets while a dedicated team of horses tow you and your loved ones up Peak 9. Or opt for a mining camp dinner theater experience with Golden Horseshoe Sleigh Rides for a home-cooked meal and cowboy theatrics.
Head to the Riverwalk Center
Comedy shows, big name concerts, symphony sessions, film fests — the state-of-the-art Riverwalk Center in the middle of town plays host to entertaining acts and cultural fetes all year long.
Visit an Escape Room
Put together a team of sleuths and see if you can gather clues and earn your key to freedom before time runs out at one of Breckenridge's thrilling escape rooms. Choose from themes like Secret Agent and The Search for Sasquatch.
Visit A Park
Around town playgrounds and picnic areas make it easy to squeeze a few extra hours of fun.Playgrounds and picnic areas are smartly scattered around Breckenridge, making for an stop before heading to dinner. Don't miss the new nature-based River Park and Playground along the Blue River north of town and the High Line Railroad Park Playground where a real Engine No. 9 train, boxcar and interpretive signs make for a cool learning experience. Visit a Tom's Baby replica at Prospector Park- rub the gold nugget for good luck, and head to the Edwin Carter Discovery Center while you're there!
Catch a Performance
Grab a front-row seat at the Breckenridge Backstage Theatre and get your performing arts fill. Impressive local and traveling talent takes the stage in classic and cutting-edge acts.
Hit Some Balls
The Breckenridge Golf Club is home to three championship Jack Nicklaus signature nine-hole courses: the Bear, the Beaver and the Elk. See how far your ball flies into the sunset and then enjoy après at the restaurant deck.
Blend Your Own Wine
Sign up for a wine blending experience in the Breckenridge tasting room at Continental Divide Winery. Customize your own unique blend and learn about different varietals as you sip the night away.
Discover Breckenridge's Music Scene
Seated and acoustic or live, loud and out of your seat, music is the universal language that brings us all together. Get ready for a night out to dance, rejoice and sing along- here's where to see live music in Breckenridge.
Move and Meditate
Join an evening restorative meditation class at Meta Yoga or a special sound-healing journey at Bhava Yoga. Check out Be Your Own Guru Wellness Center for private yoga, reiki, acupuncture and tarot card readings.
The Breckenridge Tourism Office works to enhance and promote the unique character and experience of Breckenridge as a world-renowned destination resort and to represent, serve and perpetuate the common interest and character of its membership and community. Lisa Blake is a regular contributor. The Breckenridge-based freelance writer, editor and mom enjoys researching and sharing stories on health, wellness, dining and the outdoors. Find her work in Breckenridge Magazine, The Purist, 5280.com, and at lisablakecreative.com.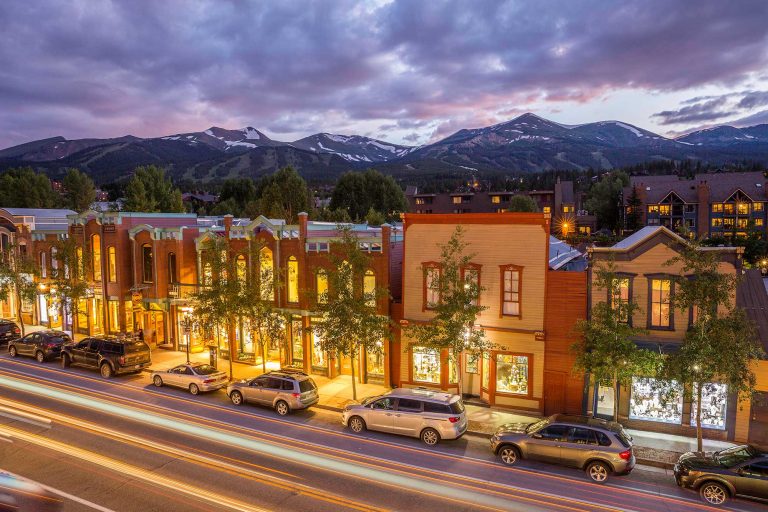 Embrace The Spirit
BLike Breckenridge™️ is a movement born of the spirit of our historic mountain town for those who call it home—whether for a weekend or a lifetime—to live by. It is a cause that connects us to each other, that we can all be a part of.