Winter warm-ups are key to a snowy day in the mountains. Raise your core temp with famous bowls of chili, chowder and brothy pho; curl up with the paper and a dirty chai or snag a spiked toddy to sip by the fire at these cozy Breckenridge spots. Here's where to thaw out and re-up after playing outside in Breckenridge.
12 Delicious Ways to Cozy Up This Winter
For morning relaxation and refueling, head to The Crown and order the trending coffee shop's Royal Tiger breakfast sandwich (eggs, hash browns, cheddar, bacon, avocado and tomato) with a steaming chai latte to enjoy on worn-in couches next to the fireplace. Across the street at homey Midwest transplant Cabin Coffee, choose from fireside nooks and a long list of hot specialty drinks (the highly caffeinated Tumbleweed with caramel and sea salt is a fave).
The Lodge at Breckenridge is a luxury resort perched above town. Take in million-dollar views from the modern mountain-rustic Traverse Restaurant and Bar or cuddle up with a good book and a hot toddy by the lobby fireplace. Get toasty in a pile of pillows with fresh espresso and European baked goods at Mom's Baking Co.—don't miss the baked berry oatmeal, flaky strudels and decadent German chocolate cake made onsite in the open kitchen. Grab a seat facing the mountains at soothing waterside Cool River Coffee House. Locals love the hearty biscuits and gravy for breakfast and the homemade spicy pork green chile and TBB sandwich (turkey, bacon, brie, fig jam and arugula on a croissant) for lunch.
Nibble, sniff and sample your way through Olive Fusion's tasting room. Cradle a healthy cup of hot tea while perusing thoughtful recipe kits, fragrant truffle oils and loose-leaf teas from around the globe. For lunch, the scratch offerings at locally owned Soupz On will warm you from the inside. The menu changes daily, but regulars know to order the loaded cheeseburger in paradise, robust elk stroganoff and mom's chicken noodle when available. Vietnamese fast-casual Pho Real brings authentic pho rice noodle soups to town. The hefty servings are built around slow-simmered beef or vegetarian broths that sing with exotic toasted spices.
Comfort food maven The Motherloaded Tavern is known for its hospitality and homecooking. It's the perfect place to cozy into a booth for cheese and gravy doused tots and indulgent family recipe mac and cheese. Inside the chic new Gravity Haus gathering grounds and hotel, Cabin Juice tempts with barrel-aged craft cocktails and regionally sourced family-style small plates.
The Myla Rose Saloon sits in a lodge south of Breckenridge in Blue River, dotted with low-key couches, grand rock fireplaces and plenty of woodsy accents. Order the award-winning lobster chowder and the pulled bison sandwich for a memorable mountainous meal. Tucked between town and the ski resort, the Breckenridge Nordic Center's Black Forest Tavern brings the winter ambiance with knotty pine, stone fireplaces and floor-to-ceiling windows for a quiet, lodge-y après scene.
Discover More Breckenridge Dining
The Breckenridge Tourism Office works to enhance and promote the unique character and experience of Breckenridge as a world-renowned destination resort and to represent, serve and perpetuate the common interest and character of its membership and community. Lisa Blake is a regular contributor. The Breckenridge-based freelance writer, editor and mom enjoys researching and sharing stories on health, wellness, dining and the outdoors. Find her work in Breckenridge Magazine, The Purist, 5280.com, and at lisablakecreative.com.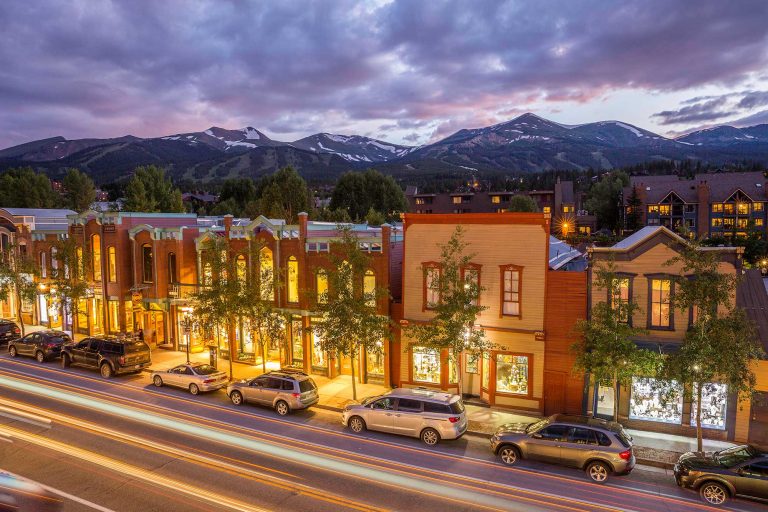 Embrace The Spirit
BLike Breckenridge™️ is a movement born of the spirit of our historic mountain town for those who call it home—whether for a weekend or a lifetime—to live by. It is a cause that connects us to each other, that we can all be a part of.