With so many options for a Breckenridge martini, settling on a place to go for a happy hour martini may just be the toughest decision of your day. Lucky for you we have tried them all and while this isn't by any means a complete list, it is a collection of some of the best martinis in Breckenridge.
Best Martinis in Breckenridge:
Blue River Bistro
Ask any Breckenridge local where to go for the best martinis in Breckenridge and there's no doubt that the Blue River Bistro will come up. Situated on the north end of Main Street, the Blue River Bistro is known for their martinis, casual sophisticated atmosphere, and modern Italian-American cuisine. From the classic to the creative, the Bistro's extensive menu of original martinis is unparalleled in town, and with 2-for1 martinis and apps during two daily happy hours, you'll be twice as tempted to try a few! The Blue River Bistro also has a fantastic patio adjacent to their bar and updates their martini menu seasonally so there's always something fresh to try.
Our martini pick: Cucumber Gulch – Skyy vodka, muddled cucumber and fresh lime juice
Modis
Right in the heart of historic downtown Breckenridge, Modis offers Colorado contemporary dining in a vibrant atmosphere that honors the history and feel that is Breckenridge. The mixologists at Modis are masters of their craft, specializing in the precise preparation of vintage cocktails like the 'Vesper', the original Bond martini, and known for creating innovative flavor profiles in new favorites like the 'Thyme Served'. They actually call their bar & kitchen science labs! And with two daily happy hours, 3pm-6pm and 10pm-midnight, you'll be twice as tempted to try one of the tasty concoctions at Modis.
Our martini pick: Corpse Reviver #2 – First recorded in 1930, the original 'hair of the dog,' is made with gin, Cointreau, Lillet Blanc, fresh lemons juice and an absinthe rinse. Guaranteed to awaken your senses!
Hearthstone Restaurant
Located in the 125-year old Kaiser home on Ridge Street, the Hearthstone Restaurant has been a Breckenridge institution since 1989. Warmly decorated in Victorian period style, the romantic home has great views of Breckenridge Ski Resort and the majestic Ten Mile Range. Though the Hearthstone has long been recognized as one of the best restaurants in town, their happy hour remains one of Breckenridge's best kept secrets. Make your way to the upstairs lounge during happy hour and enjoy a perfectly chilled martini with one of the enticing $5 small plates. During the summer, we recommend sitting outside on the patio among the wildflowers and aspen trees.
Our martini pick: French Pear Martini – Absolut Pear Vodka, Lillet Blanc, fresh queezed lemon juice, Sparking Cava.
Twist
Also found on Ridge Street with an amazing outdoor patio, Twist is the perfect place to unwind with friends at the end of the day and indulge in one of the best martinis in Breckenridge. Twist focuses on local and seasonal ingredients so the Happy Hour food menu is always changing, but the pork shoulder tacos for just $3 each have been a staple since Twist opened, given locals have been known to order them by the dozen. If you feel like branching out of your comfort zone try the bartender's creative cocktail of the evening, always different, always refreshing and always just $5.
Our martini pick: Jalapeno Grapefruit Martini – as simple and delicious as it sounds!
Cecilia's
Cecilia's, Breckenridge's first martini and cigar bar has gained notoriety for serving the finest martinis and craft cocktails since 1996. With three unique bar areas, Cecilia's captures just the right balance between intimacy and excitement. While Cecilia's has definitely made a name for itself as one the best late-night joints in town, visit the bar in the late afternoon and you'll be pleasantly surprised by the laid-back atmosphere and wide drink selection. Also, if you feel like a glass of scotch and a stogie this is definitely your place as Cecilia's boasts one of the biggest humidors you will find in Summit County. Find them in La Cima Mall.
Our martini pick: Satan's Soul Patch –  Old Forester bourbon, sweet and dry vermouth, a splash of orange juice and a dash of Angostura bitters. This drink is prepared with a fiery float made from Grand Marnier, Root liqueur and Paul Masson VS Brand
The Breckenridge Tourism Office works to enhance and promote the unique character and experience of Breckenridge as a world-renowned destination resort and to represent, serve and perpetuate the common interest and character of its membership and community.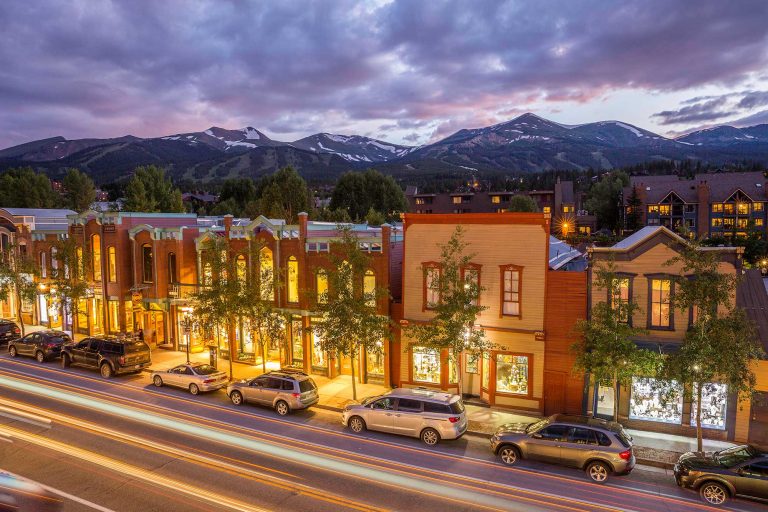 Embrace The Spirit
BLike Breckenridge™️ is a movement born of the spirit of our historic mountain town for those who call it home—whether for a weekend or a lifetime—to live by. It is a cause that connects us to each other, that we can all be a part of.