Is it possible that Breckenridge has the best toy store and the best bookstore in Colorado?   How about the best original children's clothing? Or most unique ski shop? One thing is for certain, Breckenridge shops are anything but routine. These small business owners came to Breckenridge to ski and snowboard and found success in retail business by caring as much for their customers as for their lifestyle. In Breckenridge shops you'll find offerings as unique as their owners:
Joy of Sox
324 S. Main Street, 970-453-4534
Ann Evans has owned Joy of Sox in Breckenridge for over 30 years, which doesn't seem possible since she looks to be in her 40's. A love of skiing brought her to Breckenridge, and love and family have kept her and her business thriving.
"I'm always striving to keep the store fresh and new, like an adventure every time you visit," she explains. Many guests say this is their favorite store in Breckenridge.  Long time staff members are happy to help with technical questions about specific sock functions. Yet the store is so much more than socks. Ann offers bags, purses, scarves, jewelry, gag gifts, games, and family-pleasing items for infants to grandmas.
Ann and her husband Rick Asher of Pup's Glide Shop have raised two kids in Breckenridge. "They ski faster than me now," Ann said proudly.
Ole Man Berkins
326 S. Main Street downstairs, 719-838-0100
Book lovers seek out Ole Man Berkins, Breckenridge's only book store, and not just for the books. The store reflects owner Justin Schlosberg's quirky, off beat aesthetic.  "I aim for good literature," he says, "I focus on classics, non-fiction. I steer away from romance. It's a constant search and I love doing it."
Because Justin is also an artist, musician and singer/songwriter, the store houses a piano for the occasional open-mic night, along with Justin's art and unusual greeting cards. One card starts "So You're Getting a Divorce?"
Justin originally started selling books out of Mountain Java, Breckenridge's first coffee shop. He moved to a small store and grew organically over the years as neighboring retail spaces went vacant.  Ole Man Berkins now takes up an entire wing of the building and is chock full of books, 60 to 70,000 of them. The store offers a cheaper price point, with many used or discounted books, and a great kids' section. "My staff and I know our books. The store is not corporate. We are part of a dying breed."
Peak-A-Boo Toys
117 S. Main Street, 970-453-4910
Peak-A-Boo Toys could be one of the best toy stores in Colorado. Many of the customers think so. "Oh my gosh, we hit the jackpot!" exclaimed one young customer upon entering the store.  Owners Jeff & Emily Boyd seek to stock harder-to-find, unique and retro toys like Etch-a-Sketch, Mr. Potato Head, and Fisher Price toys you remember from being a kid.  They also have old-school metal lunch boxes, games like Monopoly, Clue, and Cards Against Humanity, puzzles, crafts, stuffed animals, cars, you name it. Candy is an enticement for the young ones, and pets like the dog toy section.
Jeff and Emily came to Breckenridge fresh out of college in 1989.  They were living in Salt Lake City with their big fluffy dog Rocky and realized that they needed to live somewhere cooler for Rocky's sake.  Jeff had been coming to Breckenridge all his life, having grown up in Denver.
Their first joint venture in the 1990's was on the vanguard of a new business model that has now become ubiquitous – the coffee shop. They opened and ran Mountain Java for 10 years, on the same principle as the toy store: to create a community gathering place.  Passing on the coffee shop to a new owner and the book sales part to Justin Schlosberg of Ole Man Berkins, they opened Peak-A-Boo Toys in 2003.
For fun, Jeff and Emily still love to ski, hike, mountain bike, camp and trail run. Their children Ruthie and Henry are competitive athletes.
Magical Scraps
Wall of kid's shirts and hat display made by Mary Anne Stecken for her store Magical Scraps.310 S. Main Street, 970-453-6023
Mary Anne Stecken's business began with fabric scraps, Magical Scraps that transformed into hats, children's clothing, and women's accessories thanks to her skill at a sewing machine.  She too began at farmers markets and crafts fairs before moving into retail full time in 2008. "I'd been sewing in my basement, so it made sense to sew in public," she said. In fact, you can watch the act of sewing right in her shop, and even choose the fabric for your custom piece.
Mary Anne's eclectic collection reflects her desire to offer hand-made and different products from her own hand and from local artisans. Her fabrics are colorful, vibrant, and boldly patterned. The store is also becoming known for paper goods, cards, baby shower gifts, clothing for children and women, accessories, bags, and home goods.
Mary Anne has lived in Breckenridge for over 20 years, starting out as a nanny, and working in ski and retail shops. Snowboarding and mountain biking are still passions that she manages to squeeze in between caring for her toddler, sewing, and running the business.
Rocky Mountain Underground
114 S. Main Street, 970-406-1209
Yes, there are dozens of ski shops in Breckenridge, but none like Rocky Mountain Underground (RMU).  Nowhere else can you enjoy a beer or cocktail from the tavern while you watch skis being made on their demonstration press, and support former house-painters in their quest to make the best skis around.
The RMU store is as much a concept as a retail space, connecting people to the mountain culture of skiing, snowboarding, hiking, bicycling, and climbing. And beer. You'll need to slake your thirst after all that activity.
In addition to their skis, they offer apparel and accessories, the Growlerr Dog Collar with a built-in water bowl, and the 35L Core Pack, designed specifically for adventure travel. Coming out soon is a smaller backpack for day trips.
RMU was founded in 2008 by a former firefighter, Mike Waesche, who was curious about how to build skis, largely because he was tired of skiing on other companies' skis and breaking them.  Other founders who still live in Breckenridge, Bill Kirkhoff and Alex Neuschaefer, were also avid skiers who painted houses with Mike to get the resources to press skis. Paint a house, press a ski. The result: a more durable, stronger, better ski.
RMU offers demo ski rentals in winter and bike rentals in summer. In summer, the tavern expands into the beer garden with live music.
Breckenridge Shops Honorable Mention:
These unique shops were nominated for mention in the article by the businesses we profiled.  Unfortunately, there isn't room to feature them all.
Breckenridge Bike Guides, bikes and guide services, 411 S Main St #12, 970-393-9000
Mountain Goat, outdoor clothing and gear, 117 S Main St., 970-453-4628
Mountain Outfitters, mountain gear and clothing, 112 S Ridge St, 970-453-2201
Pup's Glide Shop, ski tunes and accessories, 107 Ski Hill Rd, 970-453-2111
Wandering Daisy, women's clothing and accessories, 326 S Main St. downstairs, 970-547-8044
All photos by the author except where noted.
The Breckenridge Tourism Office works to enhance and promote the unique character and experience of Breckenridge as a world-renowned destination resort and to represent, serve and perpetuate the common interest and character of its membership and community.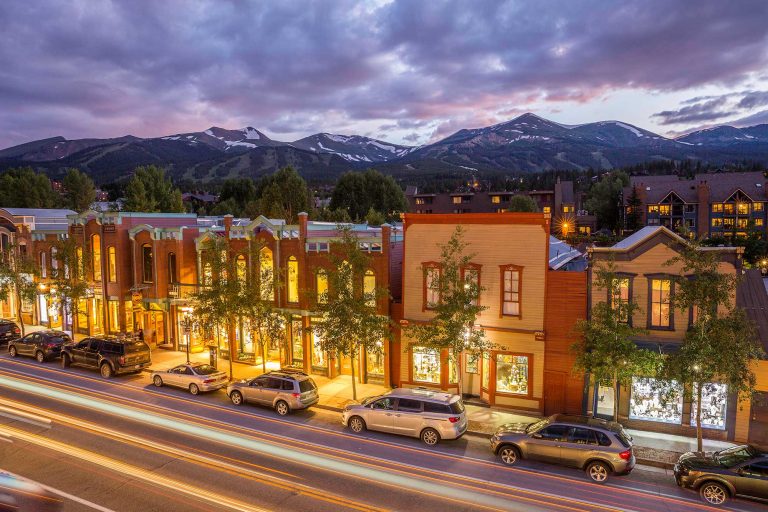 Embrace The Spirit
BLike Breckenridge™️ is a movement born of the spirit of our historic mountain town for those who call it home—whether for a weekend or a lifetime—to live by. It is a cause that connects us to each other, that we can all be a part of.