Sports are part of the American culture, and we know whether you live in Breckenridge or you are on vacation, there's not a chance you're missing your favorite teams play. Within the 75 plus bars and restaurants in Breckenridge, we've created a top 10 list of Breckenridge's Best Sports Bars to get your game on. Also, be sure to check out our best après spots in Breckenridge, and read about the rest of the dining and drinking scene in Breckenridge!
Breckenridge's Best Sports Bars:
Ollie's Pub and Grub
It's the classic American bar – but on a historic dredge boat, right in the center of town! For sports enthusiasts, Ollie's takes the cake, with 30 HDTVs offering every major sports package, so you never miss the action. Try their 20 Colorado craft beers on tap, $3 wells and wines and $3.50 beers for Happy Hour and some of the best burgers and wings in town.
Burke and Riley's Irish Pub
By far one of the best views in Breckenridge, Burke's patio overlooks the Breckenridge Ski Resort and can be enjoyed year-round with its patio fire-pit. Experience a little Irish flare, with Irish Pub specialties and Irish brews. Burke's is one of Breckenridge's best sports bars is a great choice for soccer fanatics, and it has an overall great atmosphere.
Fatty's Pizzeria
Looking for a locals' favorite? Fatty's is your spot. Located in one of the oldest historical buildings in Breckenridge, Fatty's prides itself on amazing cuisine and sports atmosphere. We can't say it enough: "We  love their sandwiches!" If you're looking to catch a specific game, come early, because you're not the only one trying to snag a seat. Be sure to catch happy hour with drink specials every day from 3-6 p.m.
Luigi's Pizzeria
Swing into Luigi's pizzeria for a cozy, laid-back, family friendly spot right along the Blue River. Sit outside on their patio in the summer, or catch all the big games indoors.  Try their specialty pizza pies, firecracker wings, pizza rolls, and yes, even deep-fried Oreos.
Downstairs at Eric's
Known for pizza, burgers, beer and sports, Eric's is a shoe-in for sports fanatics. Eric's features 20 unique beers on tap, and 100 beers by the bottle. Plus 14 flat-screen HDTVs, satellite coverage of all your favorite sports and an arcade with 18 games, make it perfect for the entire family. We put you to the challenge: Try the Giagantor pizza, 24 inches in diameter, prepared any way you like it. And if you're a hockey fan, let's just say, it's their specialty.
Northside Pizza
Two happy hours can make for one awesome game day and one of Breckenridge's best sports bars. If you haven't noticed a theme, it looks like pizza, beer and sports go hand-in-hand, which is why we've chosen Northside. Pizza, wings, beer — all served fast — says it all. It's one of our favorite spots to take a load off after a long day of activities.
Kenosha Steakhouse
Whether it's the all-you-can-eat-ribs or Kenosha's world-famous PigOut Platter, both blend great with sports. Kenosha knows all about mouth-watering burgers and steaks — and don't forget about the house-smoked barbecue. Football Bingo is always a locals' favorite on Monday nights.
Breckenridge Brewery
What goes better with sports than an ice-cold micro brew? The original Breckenridge Brewery is the perfect place to grab a stool, belly up to the bar and order a flight to taste all the microbrews, from Main Line brew to Seasonal and Small Batch brews to Barrel Aged. TVs line the walls throughout the restaurant so you can easily catch all your games during lunch, happy hour or dinner. Enjoy a burger and beer while taking in the views of Peak 9 and 10 of the Breckenridge Ski Resort.
Blue Stag Saloon
While not wholly new to Breckenridge, the Blue Stag Saloon's remodel of the Whale's Tail has rapidly become a local favorite. This boutique bar is certainly the coziest ambiance in town. Recycled beetle kill wood ceilings and barn wood walls make for the perfect mountain atmosphere. Go warm up by one of their fireplaces (inside or outside) after a big day on the mountain.
H.D. Tavern
The H.D. Tavern is home to the Hungry Dog. But they don't just have all the specialty hot dogs you can think of, they offer sandwiches, salads, and even vegetarian options too! This fun and affordable downstairs joint is perfect for the whole family, complete with 5 large High Definition TVs for sports, plus free darts and late night karaoke.
Looking for more fun? Check out our Complete Breckenridge Nightlife Guide!
The Breckenridge Tourism Office works to enhance and promote the unique character and experience of Breckenridge as a world-renowned destination resort and to represent, serve and perpetuate the common interest and character of its membership and community.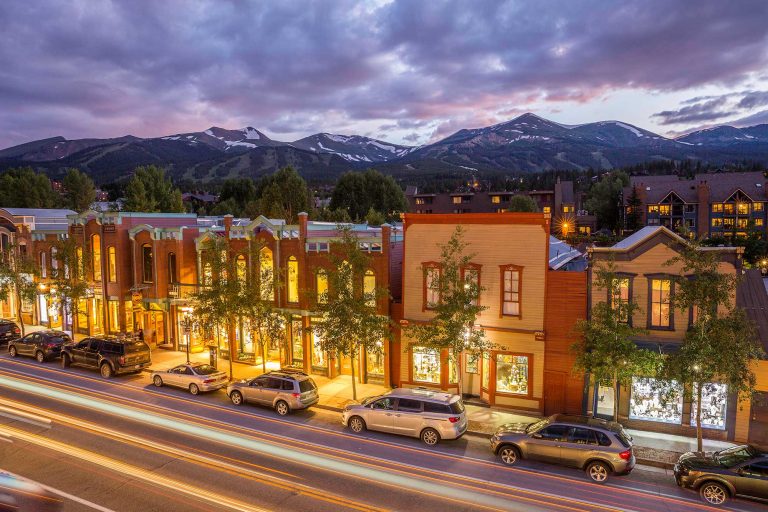 Embrace The Spirit
BLike Breckenridge™️ is a movement born of the spirit of our historic mountain town for those who call it home—whether for a weekend or a lifetime—to live by. It is a cause that connects us to each other, that we can all be a part of.