The craft movement is alive and thriving in Breckenridge as more locals are sharing their talents, spinning side hustle into full-on artistic entrepreneurship. We're hollering back to the days where handcrafted outweighs big box. And creativity is flourishing as our friends and neighbors pour their hearts into their craft of Breckenridge goods and gear.
Here are a few born-in-Breckenridge experiences and products that continue to shape our community.
Drink It
Breckenridge Distillery
Start with the best water from Rocky Mountain snowmelt with just the right amount of mineralization to make one of the tastiest bourbon whiskeys you'll try. And try to your heart's content at the conveniently located Tasting Room on Main Street next to the Blue River Plaza. Original owner, Brown Nolt, started with bourbon and has opened up the window for the creation of vodkas, rums, gins, and expanded bourbon offerings like single barrel and port cask finished whiskeys. Visit the Distillery on Airport Road and pair your cocktail with high-end victuals at their adjacent restaurant.
Find It:
Main Street Tasting Room, 137 S Main St., Breckenridge, CO  |  970-547-9759
Distillery and Restaurant: 1925 Airport Rd., Breckenridge, CO  |  970-547-9759
Broken Compass Brewing
It didn't take long for the locals' secret to get out: Broken Compass has a chill scene, really good beer, and a tucked-away location that takes some effort to find. But find it they did, and now Broken Compass's award-winning libations are found at bars and restaurants around the county, and at the new Broken Compass Brewery Main Street Taproom. Bring your own food, the kids and the dog to enjoy creative craft beers inspired by English and Irish Ales or whatever wacky ingredients owner Jason Ford and his brewers think up, like Peanut Butter Banana Hefeweizen.
Find it:
Airport Road Location: 68 Continental Ct.,Breckenridge, CO |  970-368-2772
Main Street Location: 520 S Main St Unit 2V, Breckenridge, CO | 970-368-2722
Breckenridge Brewery & Pub
In the late 1980's Breckenridge locals noticed something unusual: a brewery under construction. Soon our town would be on the vanguard of craft brewing. Since 1990, the Breckenridge Brewery has been offering their Avalanche Ale, Vanilla Porter and other favorites to thirsty locals and visitors alike, along with great pub-style food. While the Breckenridge Brewery may now be owned by Anheuser-Busch, the Breckenridge Brewery location is still the laboratory for new beer concoctions and seasonal offerings like chile beers in the fall and Orange Cream Ale in the summer.
Find it: 600 S. Main St., Breckenridge, CO  | 970-453-1550
Mountain View Coffee Bar
Roasting their own coffee beans right in the store, this is the place to get a hand-crafted coffee.
Find it: 222 South Main Suite B, Breckenridge, CO 80424  |  970-453-9336
Get Outside with It
Rocky Mountain Underground
RMU is a real grassroots ski bum story (read all about it here). These guys started out making hand-crafted skis for themselves in their basement (hence the underground name), then for friends who paid them in beer, and now their wildly successful alpine equipment is sold around the world and in a fresh Breckenridge retail-tavern space. RMU keeps it real with a "50+ days on snow" employee requirement. They also sell apparel and the Grrowler, a wearable dog bowl-collar combo.
Find it: 114 S. Main St., Breckenridge, CO  | 855-548-8020
Wear It
Wild Balance
Annie Kerr is a self-described type-A hippy entrepreneur with Rocky Mountain spirit. And it's reflected in her stylish jewelry. The Boston native landed in Breckenridge in 2008, selling her simple, lightweight quality earrings at Magical Scraps and Clint's Bakery while working other jobs. Kerr took the full-time artist plunge in 2013 and has since set up shop in the Breckenridge Arts District.
Find it: 110 E. Washington Ave., Breckenridge, CO  | 978-501-6175
Spicy Heart
Alicia Clark Fulcher's bohemian-style jewelry is mountain chic vintage meets warrior woman, incorporating lots of brass wire, bone, crystals and textiles. The self-taught Peruvian artist maintains a dedicated following on Etsy and pulls from high-altitude living and ancient cultures to craft her unique, soulful pieces.
Find it: Shop on Instagram or Etsy @Spicyheart or find her wares dangling at Vintage Sweet and Chic, Wandering Daisies and Fun vs Awesome.
Learn The Craft
The Breckenridge Creative Arts Campus provides incubator space for local makers creating useful crafts, treasured take-aways and gifts, and offering classes in their field of expertise. Check BreckCreate's class schedule for a chance to meet the artist, learn their skills of the trade and go home with your own made in Breckenridge Souvenir.
Ambika Herbal Apothecary
Carefully crafted salves, lotions, floral perfume blends, and therapeutic tinctures are handmade in small batches using locally grown and gathered herbs, roots and flowers. Owner Erica Ragusa is a trained herbalist and massage therapist who employs her products in her treatments.
Find it: 435 N Park Ave., Breckenridge, CO 80424  |  970-368-3270
Breckenridge Candle Cabin
Sourcing their raw materials from sustainable renewable resources like domestically grown soybeans, their pure wax candles, lotions, and gifts are fragranced with natural essential oils and presented in clever packaging.
Find it: 131 S. Ridge Street, Breckenridge, CO 80424  |  970-409-7315
Other Breckenridge Goods and Gear
Off the Slopes
Off the Slopes is one of Breckenridge's newest stores and offers unique artwork, designs and gifts inspired by Breckenridge scenery, animals and activities. Stop into this long-time local family owned shop nested feet off of Main Street, next door to the Rocky Mountain Chocolate Factory. Off the Slopes uses American made machinery, is an authorized Buck Knife distributor and welcomes custom orders and engravings like charcuterie boards, metal and wood wall art to make your gift truly one of a kind.
Find It: 224 S Main St, Breckenridge, CO, 80424 | 720-254-6077
Nikki LaRochelle Cards
Best known for heralding the entrance to Breckenridge with her charming banners, local artist Nikki LaRochelle's art cards fit in your pocket, making it easy to take home a piece of Breckenridge.
Find it: Available at Mountain Outfitters, 112 S. Ridge St.Breckenridge, CO 80424  |   970-453-2201
Magical Scraps
Utilizing colorful fabrics with whimsical designs, owner Mary-Anne Collins and her crew create children's wear, pillows, belts and accessories right in the store.
Find it: 310 S. Main St. Breckenridge, CO 80424  |   970-453-6023
Vintage Sweet and Chic
Local artisans mix with fashions and accessories, including Midnight Soul Macramé by Chelsa Ann Sullivan, and stylish silver and turquoise jewelry by Katie Pickens.
Find it: 215 S. Main Street, Breckenridge, CO 80424  |  970-485-9264
Marigolds Farmhouse Funk and Junk
Three generations of crafty ladies create clever jewelry, ornaments, and clothing from cast-offs and found items. Old hymnal books become Christmas ornaments, silverware gets a new life as rings and pendants, recycled saris turn into wrap bracelets, all upcycled and made in Breckenridge.
Find it: 215 S. Main Street Breckenridge, CO 80424  |  970-453-2093
Breckenridge Soap Company
Breckenridge local Renee Bartnick uses only organic or all natural ingredients to hand-craft small batches of these yummy soaps. That means no harsh dyes, fragrances or preservatives. She takes pride in creating a safe, pure soap the whole family can use, including her infant son. Look for Breckenridge Soap Company at the Blue Sage Spa, Marigold's Farmhouse Funk & Junk and Nature's Own in Breckenridge.
Find it: 411 S Main St #22, Breckenridge, CO 80424  |  970-485-3965
Fresh Soap Company
Kim Nieuwoudt opened the Fresh Soap shop in 2011 and has been making soaps with love since 2003 when she was disappointed with the lack of natural, fragrant soaps in the stores. Stop by her colorful shop where she makes soaps, sugar scrubs, bath bombs, lip balms and lotions all right in house from as many natural and vegan ingredients as possible!
Find it: 500 S Main St 970-423-7194
Kaleidoscope
Ever-changing, engaging, and colorful, this artisans' cooperative features locally-made crafts including bicycle-themed jewelry, art and clothing. In a nod to Breck locals' love of drinking outdoors, a hand-warmer koozie is one of their top sellers.
Find it: 226 S. Main St. Breckenridge, CO 80424  |   970-485-4536
True Joy Soy
Amy Flanagan crafts True Joy Soy homemade candles in her Breckenridge kitchen. The soy candles use eco soya wax—100 percent soybeans and botanical oils—for a cleaner, healthier burn.
Find it: Sniff these homey jars and discover other Colorado artist creations at Serendipity of Breckenridge.
Breckenridge 9600
Breckenridge 9600 BBQ Sauce uses Breckenridge Distillery bourbon in its spicy Kansas City-style sauce, making it ideal for chicken, chops, burgers and tofu. Try their Bloody Mary mix too.
Find it: At the Breckenridge Distillery and Breckenridge Distillery Tasting Room
Mountainkind
This handmade and local gallery featuring unique art, furniture and gifts is proud to offer unique handmade and local products to freshen up your mountain space! Mountainkind was founded by Brian and Ali, who were inspired to provide unique products celebrating the mountain and music lifestyle they love.
Find it: 308A S. Main Street Breckenridge, CO 80424 | 970-771-3935
The Breckenridge Tourism Office works to enhance and promote the unique character and experience of Breckenridge as a world-renowned destination resort and to represent, serve and perpetuate the common interest and character of its membership and community.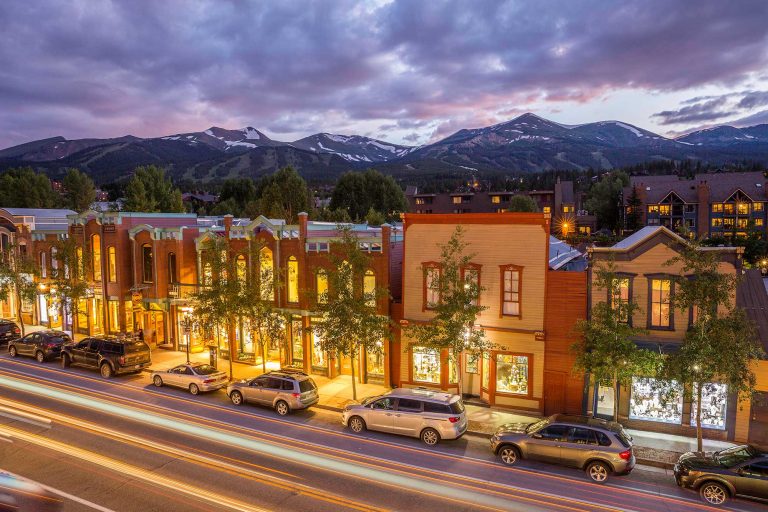 Embrace The Spirit
BLike Breckenridge™️ is a movement born of the spirit of our historic mountain town for those who call it home—whether for a weekend or a lifetime—to live by. It is a cause that connects us to each other, that we can all be a part of.