No matter the time of year, Breckenridge is the perfect town to spark a romantic spirit. Try one of these four itineraries for romantic dates in Breckenridge, no reservations required.
Romantic Dates in Breckenridge:
The Adventurer
If you're the type to place exploration ahead of indulgence, set out with your sweetie on a nighttime ski or snowshoe up Boreas Pass Road. There's not much moon to speak of this Valentine's Day but, less light means better conditions for stargazing. Stop by The Crown (215 S. Main St. #L, 970-453-6022) to fill your thermos with hot cocoa and grab a cookie for your ski break. (You are planning on a stop to snuggle, aren't you?)
The gentle, out-and-back climb lets you head for the top of the pass (about 13 miles roundtrip), or just turn around when you're ready. Got a smartphone? Download the SkyView Free app. It'll help you spot constellations while you sip cocoa together.
The Romantic
Romantic dates in Breckenridge aren't complete without a stroll arm-in-arm amidst the twinkling lights of Main Street Breckenridge. If it suits you, stop by the Blue River Plaza to see if carriage rides are running (they roll on an intermittent basis). Window shop as you make your way to Crepes a la Cart and share a savory option by the outdoor fire pit.
Next, head to La Francaise Bakery (411 S. Main St. #3, 970-547-7173). With a breadth of classic French pastries – cinnamon beignets, almond croissants and fresh meringue – arranged beautifully behind clear glass, your eyes won't need to wander up to the full menu. Settle in at the quaint café tables for dessert, lattes, and hot chocolate. Those that prefer wine can opt instead for a tasting at Continental Divide Winery; be sure to order a cheese and charcuterie box from the neighboring Cheese Shop of Breckenridge.
The lights along Main Street are perfect for a romantic stroll, but the quiet of the path along the river makes for the perfect spot to sneak a kiss.
The Artist
Check out the rotating lineup of workshops offered through Breckenridge Creative Arts. Past offerings have included chocolate-dipped hearts and strawberries for kids, soy candles, monoprinting, silversmithing and more.
Later, stroll down Main Street and check out the town's art galleries. Breckenridge galleries run the gamut from Art on a Whim, which offers fun — and often humorous — art pieces, to Breckenridge Gallery, which has been selling renowned pieces for over 30 years. Both are family-owned and run.
The DIY Foodie
Pre-packaged gift bags may save time, but the fun here is in the journey: Think Euro-style picnic and stroll (or bike) through town to pick up all you really need for a picnic. Begin at La Francaise (411 S. Main St. #3, 970-547-7173) and grab a baguette (though it may be tough to resist a pastry to fuel your journey). Next, head northward to Breckenridge Cheese and Chocolate, a name indicative of the selection — plus the shop sells wine. The helpful staff can suggest pairings to suit your taste.
Continue to Olive Fusion, where you can taste specialty oils and balsamics before you buy. Settle on your favorite, or try a flight and pick a few of each. Finish up at the Breckenridge Market for fruit and miscellaneous tapas.
The Breckenridge Tourism Office works to enhance and promote the unique character and experience of Breckenridge as a world-renowned destination resort and to represent, serve and perpetuate the common interest and character of its membership and community.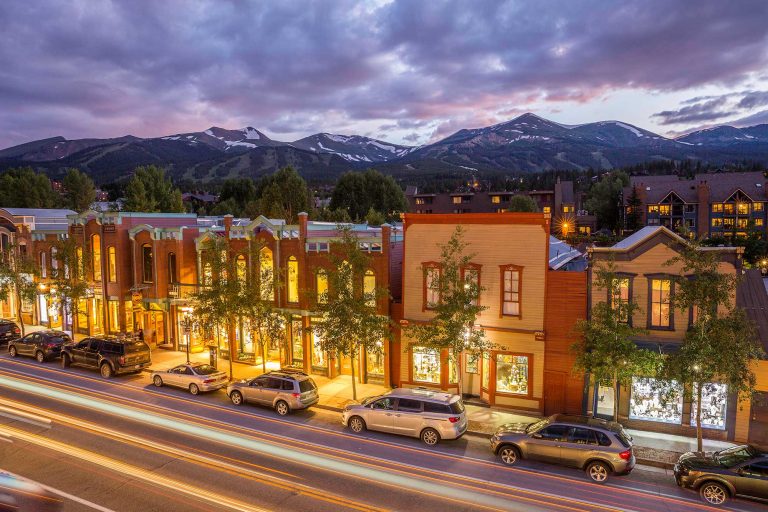 Embrace The Spirit
BLike Breckenridge™️ is a movement born of the spirit of our historic mountain town for those who call it home—whether for a weekend or a lifetime—to live by. It is a cause that connects us to each other, that we can all be a part of.