Where to see Live Music in Breckenridge
Seated and acoustic or live, loud and out of your seat, music is the universal language that brings us all together. Get ready for a night out to dance, rejoice and sing along- here's where to see live music in Breckenridge.
Jazz, Orchestra, Bluegrass, Folk and Rock Performances
Performances Venues & Organizers
The National Repertory Orchestra
Craft the perfect romantic date night around a National Repertory Orchestra (NRO) concert at the Riverwalk in Breckenridge. During its eight-week summer season, the NRO performs as many as 21 orchestral concerts and more than 32 free community concerts. Select from a variety of orchestral and chamber works—such as Romeo & Juliet or E.T. The Extra Terrestrial Film in Concert—led by Music Director Carl Topilow and joined by world-renowned guest conductors.
BreckCreate's Sonic Lodge
Check the BreckCreate event calendar for these monthly musical gatherings at Old Masonic Hall on Main Street. The gallery space hosts mini-concerts performed among art installations and interactive exhibits, while Broken Compass Brewery offers a cash bar.
Breckenridge Music 
What started in 1981 as a 10-day festival dubbed "Bach, Beethoven & Breckenridge" has since evolved into a full-on locally coveted institute serving the community year-round performances,  from New Orleans funk band Trombone Shorty to Colorado folk artist Bonnie Paine of Elephant Revival. Search the Breck Music event calendar to sort by classical, popular, festival and social performances and gatherings. Watch for national jazz, rock, folk, bluegrass and country acts playing at the Riverwalk Center throughout the summer.
Breckenridge Music AirStage
Let the good times roll! Breckenridge Music takes concerts outside, on the road and into your neighborhood with its new mobile stage, the Breck Music AirStage (a retrofitted 1975 Airstream Ambassador Travel Trailer) to accommodate a 14.5-foot wide by 9-foot deep stage. Performances at the AirStage will include neighborhood concerts, family-friendly pop-ups, artist residencies and special donor events as well as programming that supports Breckenridge Music Festival.
Events by and large will be free with the goal of connecting neighbors within the communities of Breckenridge and greater Summit County. Attendees will be encouraged to social distance and wear masks so that all can enjoy these much-needed concerts safely and without worry. Blankets and folding chairs are encouraged to help make the concert experience more comfortable.
Restaurant & Bar Venues 
Seek out acoustic happy hours, local bands and the hottest mountain DJs at the following restaurants and bars.
Motherloaded Tavern 
There's always something fun happening at the comfort-food queen, Motherloaded Tavern. Check out live music every Friday and Saturday, open-mic night on Mondays and happy hour daily from 3 to 6 p.m.
Blue River Bistro 
Sip handcrafted martinis in Blue River Bistro's mod upscale setting while regional talent plays everything from Delta Blues to Jazz Sunday through Thursday, 5 to 10 p.m. (Fridays and Saturdays during the off-season). Don't miss their late-night happy hour for 2-for-1 martinis and apps starting at 9 p.m.
Napper Tandy's Irish Pub 
Nicknamed the pub that parties like a club, Napper Tandy's Irish Pub is an unpretentious, laid-back time with familiar bar food, a pool table and a stage that hosts popular entertainers. When the 6 Million Dollar Band plays, don your best neon 80's gear and join loyal fans in a high-energy dance-til-you-drop jam out.
The Gold Pan Saloon 
Breckenridge's dance party go-to and locally loved watering hole, The Gold Pan Saloon is home to the longest held liquor license west of the Mississippi. Head here on Friday and Saturday nights for live tunes and a small, but rowdy, dance floor.
Rocky Mountain Underground (RMU) 
Rocky Mountain Underground's hidden beer garden is the perfect spot to kick back in an Adirondack chair with a cool cocktail and take in indie, bluegrass and rock performances from an intimate stage under the stars. Play a round (or two) of corn hole, and check out their locally made and award winning ski gear too!
The Blue Stag Saloon
Enjoy live music at The Blue Stag's cozy, intimate atmosphere and catch up with friends and family. Try their craft cocktails, over 40 rotating craft bottle beers, 8 rotating taps, a wide variety of whiskeys, and a selection of vine products that can accommodate any palate.
Windy City Pizza 
Windy City Pizza is a fun, family-friendly option for live acoustic tunes over happy hour deals from 3- 6 p.m. Try their Chicago-style slices, appetizers, beer and specialty cocktails.
Cecilia's Martini Bar & Nightclub 
For a guaranteed good time late-night scene, Cecilia's Martini Bar and Nightclub keeps the south end of Main Street bumping with DJ-driven dance floors.
Whiskey Star
Enjoy 160+ whiskeys and live music in the heart of Main Street at Whiskey Star.
Burk & Rileys
Burke and Riley's has something for everybody whether it's just catching a game over a beer at the bar, eating a great meal with your family, or meeting up with your friends to enjoy a drink while watching live music.
Music Festivals and Events in Breckenridge
Music Festivals
The Breckenridge Tourism Office works to enhance and promote the unique character and experience of Breckenridge as a world-renowned destination resort and to represent, serve and perpetuate the common interest and character of its membership and community. Lisa Blake is a regular contributor. The Breckenridge-based freelance writer, editor and mom enjoys researching and sharing stories on health, wellness, dining and the outdoors. Find her work in Breckenridge Magazine, The Purist, 5280.com, and at lisablakecreative.com.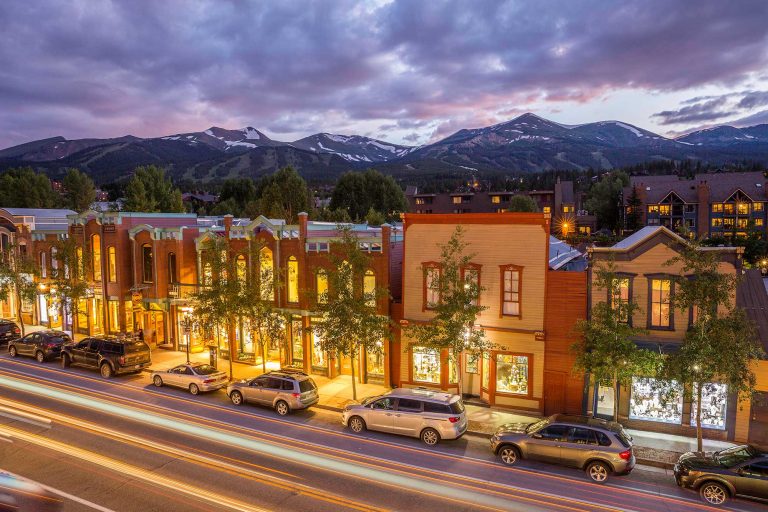 Embrace The Spirit
BLike Breckenridge™️ is a movement born of the spirit of our historic mountain town for those who call it home—whether for a weekend or a lifetime—to live by. It is a cause that connects us to each other, that we can all be a part of.