Breckenridge speaks the language of wine whether you are looking for a flight, a quartino, a jeroboam or a vintner. Wine lovers will find plenty to love in Breckenridge with offerings from locally crafted wine to tasting flights to a hearty glass of Colorado-grown red.  Here are some suggestions for your Breckenridge wine adventure.
Local Vintners
Carboy Winery at the Gold Pan
103 N.  Main Street, (970) 771-3944, carboywinery.com
Carboy sources their grapes from the classic wine regions of California, including Lodi, Alexander Valley, Sonoma, and Russian River, as well as from Washington State and Colorado. The juice is vinted, blended and aged at their wineries in Littleton, Colorado, and in the basement of the Gold Pan right here in Breckenridge. Their unique serving system is a tap, like for beer, which prevents aging as oxygen never meets the wine until it hits your glass. Try a variety of their wines in three- and four-glass flights, or fill your growler from their tap. If you like what you try, buy a bottle to take home.
Continental Divide Winery
505 S. Main Street, Main Street Station, (970) 771-3443,  breckwinery.com
Wine tasting can be intimidating with all the different descriptors for various flavors in wine. Continental Divide Winery makes it fun to explore different wine profiles with their Wine Blending experience. Bring a group of friends to taste, craft your own blend, bottle, cork and label your own personal favorite vintage. It's a great way to learn what you prefer. Of course you can also try their wines by the glass, created from grapes grown in California and Colorado. Colorado varietals include Merlot, Malbec, Albarino and Riesling. Self-proclaimed as world's highest altitude winery, the vinting takes place at their winery nearby in Fairplay, Colorado, at an elevation of 10,361.'
Ridge Street Wine and Breckenridge Cheese and Chocolate
304 S. Main Street, 970-453-7212, breckwineandcheese.com
Visit Ridge Street Wine to taste, sample, and shop one of the biggest wine selections in town.
This intimate wine and cheese purveyor makes a great first stop to try a flight of their ever revolving wine selections. Tucked down a walkway between historic buildings, it is worth taking a few steps off of Main Street to meet owners Ken Buck and Anne Dowling and try their hand-selected vintages. Anne, a former professional skier, is a certified sommelier. Their Enomatic Wine Preservation System keeps every glass as fresh as a new bottle. Pair a three-glass flight in Riedel crystal glasses with cheese from the shop for a perfect tasting combination.  Live acoustic music is offered on Friday and Saturday evenings. If you like what you try, you can buy a bottle at their wine store next door.
Headed to a tasting?  Here is our guide to the Four S's of Wine Tasting
Best Restaurants for Wine Lovers
Hearthstone Restaurant
130 S. Ridge Street, 970-453-1148, hearthstonebreck.com
Long a locals' favorite for consistently good food, great service, historic atmosphere, and a huge wine selection. The wine menu includes half-bottles, bubbly, and wines from around the world. With 27 different pinot noirs, 16 vintages of chardonnay, 33 cabernet sauvignons, and every other kind of wine imaginable, you will easily find a wine you love, or a new variety you've never tried before.
Legends Steak and Italian
215 S. Ridge Street, 970-423-6913, legendsbreckenridge.com
Specializing in fine steaks, classic Italian dishes and the wines to go with them. The lengthy wine list includes uncommon Italian whites, nine different Italian red wine varieties, as well as wines from California and France. Enjoy dinner and wine in the cozy booths in the dining room or belly up to the historic marble bar for small plates and a few sips.
Briar Rose Chophouse and Saloon
109 Lincoln Avenue, 970- 453-9948, briarrosechophouse.com
Your best bet for wines by the glass, the Briar offers a generous pour: wines are sold by the "quartino," which is a quarter of a liter or 1/3 of a bottle, perfect for when one glass isn't enough but two glasses is more than you want to drink. The wine list is extensive with familiar vintages and limited selections, such as a 2011 Gaja Conteisa Nebbiolo from Langhe Doc in the Piedmont of Italy for a cool $415 per bottle.    Enjoy your wine with a fine dinner of locally raised beef or game in the dining room, or sample small plates with your quartino in the historic saloon.
Staying In Options
City Liquors
400 N. Park Avenue, 970-453-4313
If you are looking for Colorado wines to enjoy in your accommodations or to bring home as gifts, City Liquors has the best selection of wines made from Colorado grapes.  Many selections come from the Grand Valley, the heart of Colorado wine country.
Need more options? Check out the Breckenridge Wine Classic held every year in mid-September.
The Breckenridge Tourism Office works to enhance and promote the unique character and experience of Breckenridge as a world-renowned destination resort and to represent, serve and perpetuate the common interest and character of its membership and community.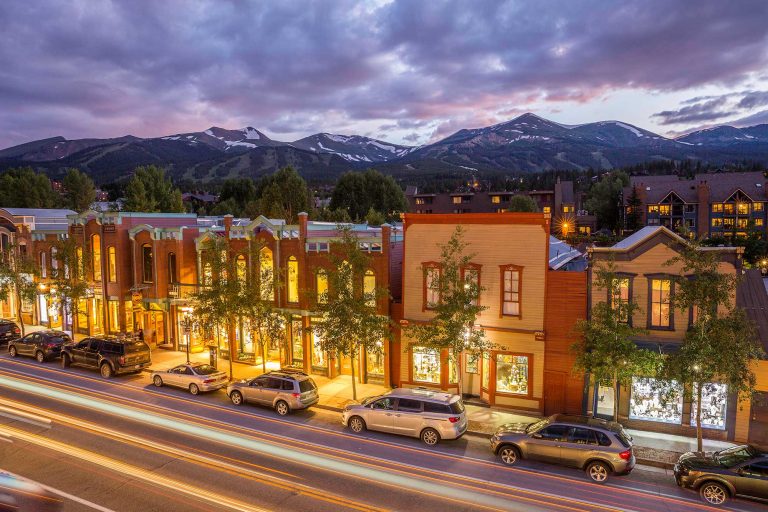 Embrace The Spirit
BLike Breckenridge™️ is a movement born of the spirit of our historic mountain town for those who call it home—whether for a weekend or a lifetime—to live by. It is a cause that connects us to each other, that we can all be a part of.