Breckenridge is home to some of the best fly fishing waters in the state of Colorado. With numerous rivers, streams, alpine lakes and reservoirs all within an hour of downtown, there's a destination to match nearly all interests and skill levels. With so many options to choose from, knowing where to go and what the fish will be biting on can be a bit daunting. Luckily, the top local shops like Breckenridge Outfitters and Mountain Angler boast overly-knowledgeable guides ready to provide their expertise to anglers of all skill levels.
Both outfitters can provide you with everything you need for your time on the water, including fishing licenses, rods & reels, waders, boots, water and drinks. Both shops offer very similar packages- here's what to expect:
When to go fly fishing in Breckenridge
Breckenridge offers world-class fly fishing year-round but summer is the most popular season to enjoy the sport.  Discover the best places to fly fish deepening on the time of year you are going.
Where to go fly fishing near Breckenridge
Breckenridge is near the headwaters of five major rivers. Within an hour of Breckenridge you can fly fish the Blue River, Eagle River, Colorado River, Arkansas River and South Platte River.  There are also numerous small streams, reservoirs and alpine lakes to explore.  If you are looking for the best locations, we recommend visiting our local outfitters, Mountain Angler and Breckenridge Outfitters, for recommendations.
Upper Blue River
Tenmile Creek
Lake Dillon
Swan River
Eagle River
Colorado River
South Platte River
Upper Colorado River and William's Fork
Clinton Reservoir on Highway 93 between Copper and Leadville
Lower Blue River at Dillon Dam
Dream Stream on the South Platte River
Spinney and Eleven mile reservoirs
Montgomery Reservoir
Arkansas River
Where to get a fishing licence in Breckenridge
Fishing licenses may be purchased online through Colorado Parks and Wildlife, or you can get one in person from an authorized fishing license retailer such as Mountain Angler and Breckenridge Outfitters in town.
Once you have purchased a fishing license, please check fishing laws and regulations that apply in your area before heading out. Anglers are required to follow both statewide and waterway specific rules so that fish populations are protected now and into the future.
Where to purchase fly fishing equipment
If you don't have your own equipment, or choose not to bring it along, local outfitters, Mountain Angler and Breckenridge Outfitters are a great location to pick up the essentials and even a few non-essentials.  If you book a guided fly fishing trip, both outfitters provide rods, reels and waders at no charge.
Similar to any other outdoor excursion, remember to dress in layers, bring sun protection and plenty of water.
Guided Fly Fishing Trips in Breckenridge
Breckenridge Outfitters and Mountain Angler offer year-round guided fly fishing trips.  Fly fishing trips can accommodate all skill levels from very beginners to the most experienced anglers. Guided trips include full equipment use (rod, reel, waders & boots, terminal tackle), transportation and guide service.  Lunch and beverages are provided of full day trips, beverages are provided on all guided trips. Drive time is not included in fishing time. Trips do not include Colorado State License, flies or guide gratuity.
Types of Guided Fly Fishing Trips in Breckenridge
Two Hour Intro to Fly Fishing Trips – geared toward beginners, families and those looking to start a new passion. You'll get an introduction to the elements of angling for trout with a fly rod in a laid back & fun environment.
Half Day Trips – geared to those wanting to spend a bit more time on the water in the pursuit of trout while learning how to cast with a fly-rod.  A lot of guests do the half day to get the basics down and have the opportunity to hone their skills.
Full Day Fly Fishing Trips – experienced fly fishers will appreciate full-throttle guided trips offer valuable one-on-one time with a local expert. The morning will cover fine-tune casting and presentation instructions, and exposure and insights into the water you are fishing.
Walk & Wade Trips or Float Trips Down the River – float trips allow you to fish from a classic drift boat or whitewater/ fly-fishing equipped raft. Our local shops typically float the legendary Colorado River, which is famous for our great trout populations, a springtime Giant Salmon fly emergence and amazing mayfly hatches throughout the summer.
Where to fish with kids in Breckenridge
Kids will  enjoy fishing Maggie Pond and Sawmill Reservoir in Breckenridge and Meadow Creek Pond in Frisco.
Did you know that fly-fishing in Breckenridge is available year-round? Reel in 4 seasons of fly-fishing, and bring the crew for an ultimate Breckenridge Man-Cation or Girl's Getaway!
The Breckenridge Tourism Office works to enhance and promote the unique character and experience of Breckenridge as a world-renowned destination resort and to represent, serve and perpetuate the common interest and character of its membership and community.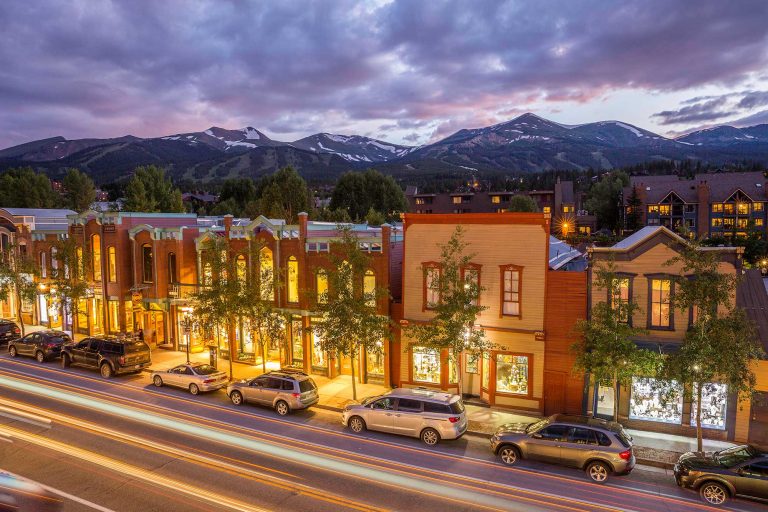 Embrace The Spirit
BLike Breckenridge™️ is a movement born of the spirit of our historic mountain town for those who call it home—whether for a weekend or a lifetime—to live by. It is a cause that connects us to each other, that we can all be a part of.