Breckenridge is a small mountain town rooted in mining history and ski culture. If you're a first time visitor to Breckenridge or want the most updated tips and tricks, chances are you're looking for the top things to do, best places to eat, how to get around and more local secrets. The good news is that we have something for everyone, and you don't actually have to be a local to explore like one. We're here to give you the lowdown on Breckenridge activities, history and culture, transportation and parking, dining and so much more. Start planning your adventures with the first timer's guide to Breckenridge.
Top Activities in Breckenridge
Breckenridge is home to world-class skiing and snowboarding, as well as amazing hiking and biking trails. But we also boast other outdoor activities like dog sledding, whitewater rafting, historic tours and ghost tours, art workshops and classes and so much more. So if you're planning a mountain vacation here, you definitely won't get bored. To ensure you don't miss a thing during your trip, check out our list of the top 10 things to do in Breckenridge that cover the full range of beauty, activities, history and culture that make Breckenridge so special.
Find Top 100 Winter Activities
Find Top 100 Summer Activities
Be Prepared
When's the Best Time to Visit Breckenridge?
Breckenridge is a great place to visit year-round, but knowing what types of activities and adventures you're interested in may help determine the best time for your visit to Breckenridge.
Winter (November – May)
Winter activities and events are abundant in Breckenridge from early November through mid-April. With great powder days, blue-bird skies, holiday lights illuminating Main Street and cozy shops to warm your toes in, Breckenridge is practically a winter wonderland.  Learn more about visiting in winter.
Summer (June – August)
Summer is an amazing time to experience Breckenridge. In fact, many locals say that the winter brings them to Breckenridge but that the summers are what entices them to stay. The temperatures are near perfect in the 70s, and there are endless activities and events to enjoy.  Learn more about visiting in summer.
Fall (October – September)
Fall offers near perfect conditions for outdoor recreation as the weather usually stays warm enough to play outside and schools are back in session, meaning there are less people on trails and in town. If you've always wanted to see the aspens turn, you're in luck. While there is no guarantee on dates, mid-to-late September is typically one of the best times to take in the fall foliage. Plus, you can find some great lodging and dining deals in the fall too!  Learn more about visiting in fall.
Altitude and Weather
Breckenridge is higher than most Colorado resort areas and towns. At an elevation of 9,600 feet (2,900 meters) above sea level, Breckenridge enjoys around 300 inches of snow in the winter and mild 70-degree temperatures in the summer. While our high mountain climate provides breathtaking scenery and perfect conditions for outdoor activities, the elevation can affect people in different ways and visitors should take high altitude precautions.
Adjusting to Altitude in Breckenridge
At higher elevation, the sun is much stronger than at lower elevations. Be sure to protect yourself year-round by wearing sunscreen, hats, sunglasses and goggles, even if the clouds are out. For outdoor activities like skiing, snowshoeing, dog sledding and more, we recommend wearing warm winter jackets and pants, snow boots, hats, gloves and goggles/sunglasses.
Breckenridge Summer Packing Guide
Winter Layering + Packing Guide
While Colorado gets tons of annual sunshine, the snow has to come from somewhere. Throughout the winter, expect snow storms to roll through. Snow plows typically run throughout the mornings to clear main roads and sidewalks, but streets and walkways can be icy. Make sure you're dressed properly and have boots with good traction.
If you have a car, be sure you're comfortable driving in winter weather conditions, and familiarize yourself with current traction and 4-wheel-drive laws. Get updates for Colorado's road and weather conditions prior to driving by calling 303.639.1111 or visiting the Colorado Department of Transportation. Don't want to deal with the hassles of clearing snow from your car, driving on icy roads and finding paid parking? Go Carless in Breckenridge!
BYOB (Bring Your Own Bags + Bottles)
The Town of Breckenridge has a bag fee of 10 cents per bag at shops around town, restaurants and grocery stores. Visit like a local and bring your own reusable shopping bag or purchase one at the Welcome Center on Main Street. They make great souvenirs too! You might also notice that straws don't come in your beverages at coffee shops and restaurants. That's because straws are only available per request. Another item to keep in your day bag is a reusable water bottle. Breckenridge has water refill stations throughout town, not to mention, some of the best tap water in the country to fill up on in between adventures. With these local tips, you'll save money, keep Breckenridge clean and you won't look like a ding a'ling.
Learn more about Sustainable Breck and be sure to brush up on Leave No Trace Principles before you head out.
Transportation and Parking
You've heard of Sleepless in Seattle, but how about Carless in Breckenridge? Why worry about clearing snow off your car, sitting in traffic and finding and paying for parking? Let us handle the winter driving conditions while you enjoy the views and get to were you need to stress free. Getting to and around Breckenridge is easy and convenient, due to free transportation options and our easily walkable town. Breckenridge's shuttle and transportation systems will help any visitor make the most of their trip.
Where to Eat, Drink and Shop
The Breckenridge dining scene explodes with flavor. Expect to find worldly inspired cuisines, fresh take on culinary classics and plenty of craft beer and cocktails made from our local brewers.  From slope-side Après to cozy Victorian restaurants, our town offers unforgettable dining and nightlife options. Whether you're looking for live music, high end flavors, local game nights or just a welcoming seat at the bar, you'll find it each night right on Main Street.
History has made Main Street a colorful place to stroll & the perfect place to shop. With more than 200 stores to choose from, enjoy quaint storefronts featuring bookstores, chic boutiques, jewelry, antiques, sporting goods and more. Our specialty? Providing the latest styles and greatest gear for any outdoor outing and adventure.
Where to Stay in Breckenridge
Breckenridge may be small, but it offers a large variety when it comes to lodging and activities for your spring, summer, winter and fall vacations. Make new friends and meet fellow travelers at a historic B&B, bring the whole family for a getaway in a large private home, or settle in close to the slopes in a condo or a hotel. If you've got kids, choose a place with a pool or an arcade. If you're looking to relax, choose a hotel with a spa or steamy hot tubs. If you're looking for ski-in-ski-out, we've got that too! Whatever your flavor, Breckenridge lodging options have something for everyone.  Explore lodging options.
Breckenridge Festivals and Events
We don't just call ourselves the most social mountain town. We are. Our calendar is filled with exciting festivals and events – aka excuses to celebrate our rich history, dynamic community, endless creativity, local libations and so much more. Join us as we unite around life's most cheers-worthy moments all year long. Praise the Norse god of snow at Ullr Fest, take in the fall colors at Breckenridge Wine Classic or watch as 20-ton blocks of snow are transformed into enormous, intricate works of art at the International Snow Sculpture Championships.
View all events in Breckenridge
Have more questions about visiting Breckenridge or what to do while you're here? Check out Breckenridge FAQs, or visit the Welcome Center on Main Street.
Discover More in Breckenridge
The Breckenridge Tourism Office works to enhance and promote the unique character and experience of Breckenridge as a world-renowned destination resort and to represent, serve and perpetuate the common interest and character of its membership and community.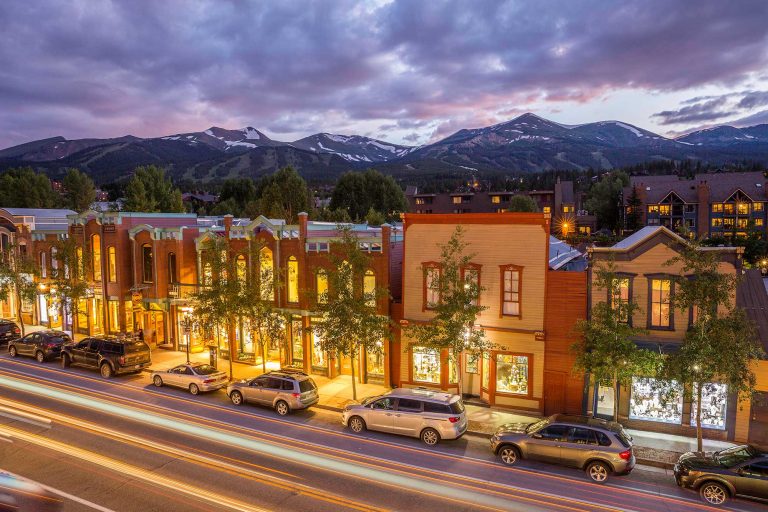 Embrace The Spirit
BLike Breckenridge™️ is a movement born of the spirit of our historic mountain town for those who call it home—whether for a weekend or a lifetime—to live by. It is a cause that connects us to each other, that we can all be a part of.