The Best Indoor Activities in Breckenridge
Sometimes it rains. Sometimes we get 3 feet of fresh powder. And sometimes your feet just need a break from strolling historic Main Street. Thankfully, Breckenridge offers a colorful canvas of indoor activities in diverse and welcoming spaces. (Don't worry—storms pass quickly here and you'll be back outside in no time to soak up some sunshine).
Art & Workshops 
Call on the Frosted Flamingo for a tailor-made mobile art studio experience and throw your own crafty party. The project menu spans bedazzled trucker hats to etched wine glasses. Hit the BreckCreate arts district for a full lineup of classes, events, open studios, tours and concerts.
Get creative and cozy up inside Breckenridge's paint your own pottery studio, Ready Paint Fire! Enjoy fun projects like pottery and canvas painting, candle making, mosaic art, glass fusing and more! Guests can follow tutorials or let their imagination flow. Unwind and relax with a glass of wine or beer, or bring your own snacks to indulge while you craft. Ready Paint Fire is the perfect indoor activity for all ages for those who don't want to ski or those who need to take a rest!
Arcades & Games
Eat, drink and play arcade games, skee-ball and more at Downstairs at Eric's, visit The Crown for coffee and cards by the fireplace and cozy up at Après Handcrafted Libations for grown-up board games over craft brews and inventive cocktails.
Escape Rooms
Choose from three family-friendly themes at Mountain Time Escape Rooms (add on holograms or computer-generated imagery). Join friends or strangers in a locked room at Escape Room Breckenridge and pool your wits to solve riddles and uncover clues in a race against time.
Historic Tours & Museums
Dig into a real Breckenridge gold mining experience at Country Boy Mine, where hilarious actors showcase life in the 1880s. Pan for actual gold and keep what you find! Dive into more mining-era history and learn about the town's deep roots in the railroad and ski industries on a Breckenridge History museum visit or tour.
Recreation, Yoga & Fitness Classes 
Spend an afternoon exploring the Breckenridge Recreation Center, playing tennis and pickleball, swimming, rock climbing, sliding and jumping in the little tike indoor playground, working out or just soaking in the hot tubs. Take a yoga class at one of the local beginner-to-expert-friendly studios, cycle until you drop at Psycle 9600—the highest spin studio in the U.S.—or check out CrossFit Breckenridge for an intensely satisfying group workout.
Year-Round Ice Skating
The Stephen C. West Ice Arena offers year-round indoor public skate sessions and is home to the Breckenridge Vipers Mountain West Hockey League. Check the home game schedule here.
Shopping & Art Galleries 
Breckenridge is lined with incredibly thoughtful, well-curated boutiques, galleries and shops selling everything from socks to sculptures. Longtime local small business owners line shelves with puzzles and toys, purses and soaps, and oils and wines. Cooks and gourmands love Olive Fusion, the Spice Merchants and The Cheese Shop, while gear junkies drool over the latest skis, boards and beanies at Mountain Outfitters, Rocky Mountain Underground and Mountain Goat. Make sure the kids pop into Peak-a-Boo Toys and Magical Scraps after a stop by the Mountain Top Cookie Shop.
Spas, Wellness and Massage 
Find your indoor activity bliss with some quiet, pampered spa time. Hang out in a candle-lit grotto, detox in a steam room, stretch out in a hot tub and call on Breckenridge wellness gurus for healing treatments. A therapeutic massage, reflexology or reiki session can do wonders for your mood and muscles. Check out this Breckenridge Wellness Itinerary for the ultimate self-care escape.
Live Performances, Movies & Theatre
Love live music? Head over to the 750-seat Riverwalk Center for a concert or head to Breckenridge's local bars to see local bands in a quaint setting. If you're more into theatre, catch a performance at the Backstage Theatre for professional live shows. The Eclipse Theater (formerly the Speakeasy) is Breckenridge's only movie theater and Breck Film's new permanent home. Catch a screening of a variety of blockbuster, indie, classic, foreign, and outdoor films year-round.
Brewery & Distillery Tours & Tastings
Catching up with friends over pints and craft spirits is a ski town pastime that never gets old. Visit the pup-friendly Broken Compass for a chocolate coffee stout and some pinball or the Breckenridge Brewery for the latest seasonal taps and a cheesy plate of nachos. Take a tour at the Breckenridge Distillery and then settle in for a multi-course culinary treat in the stylish restaurant space. Swirl award-winning California and Colorado wines at the Continental Divide tasting room and sign up for a custom wine blending experience.
Find more ideas on where to sip wine, linger over happy hours and discover grown-up nightlife scenes.
Make Memories at Home
Whether you're staying at a hotel, private home, condo or B&B, there's always fun to be had with the whole family at home. Warm up by the fire with a round of board games or a puzzle from a local toy store like Peak-a-Boo Toys or YoYo Loco on Main Street. Make it even more fun (and easy) with take-out or delivery from a local restaurant. Whether you're feeling fancy or want to keep it casual with a pizza, Breckenridge has options for even the pickiest eaters.
Scenic Drives
Breckenridge's central location puts us right in the middle of the Rocky Mountains with miles of scenic roads in every direction.  While we always say, "there's no better way to explore Breckenridge than with your own two feet." rest assured, there's plenty to enjoy from the comfort of your car on a scenic drive. Take in high elevation views, mining and railroad history and ranch lands. Before you head out, grab a snack at one of Breckenridge's local bakeries like La Francaise, Mimi & Pin or Amazing Grace. Then gas up, buckle up and enjoy!
Coffee Shops
Take a break from shopping historic Main Street and rejuvenate with an afternoon-pick-me-up. Grab a cup of joe and take in the views or read about Breckenridge's history. Swing by the Welcome Center to pick up a book about our mining past from local writers and members of the Breckenridge Heritage Alliance.
*Article originally written by Lisa Blake, and later edited in 2020 for accuracy. 
The Breckenridge Tourism Office works to enhance and promote the unique character and experience of Breckenridge as a world-renowned destination resort and to represent, serve and perpetuate the common interest and character of its membership and community. Lisa Blake is a regular contributor. The Breckenridge-based freelance writer, editor and mom enjoys researching and sharing stories on health, wellness, dining and the outdoors. Find her work in Breckenridge Magazine, The Purist, 5280.com, and at lisablakecreative.com.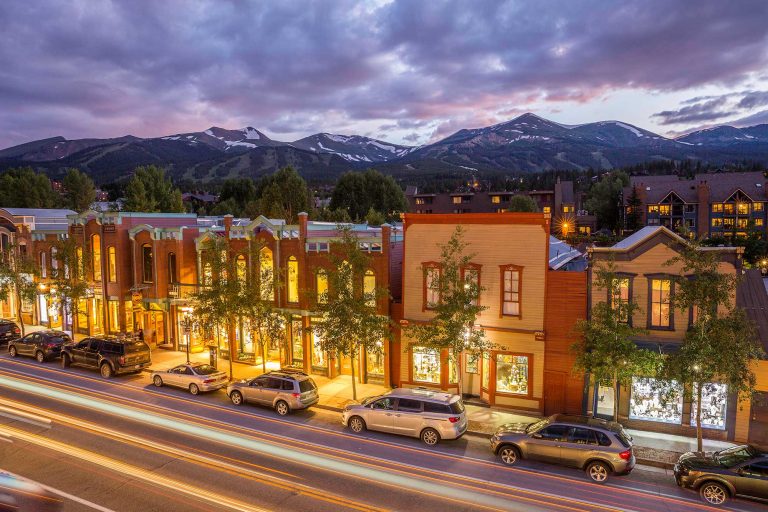 Embrace The Spirit
BLike Breckenridge™️ is a movement born of the spirit of our historic mountain town for those who call it home—whether for a weekend or a lifetime—to live by. It is a cause that connects us to each other, that we can all be a part of.