Breckenridge Hiking and Biking Trail Maps
Breckenridge is home to over 100 miles of hiking and biking trails throughout and around town. Whether you're looking for speedy mountain biking single track, scenic vistas, gradual wooded forests or mountain lakes, we've got it all. And don't worry, you don't need to be an expert- with tons of easy, moderate and difficult trails to choose from, you're sure to find the perfect summer trail the whole group can enjoy. Start your Breckenridge trail journey here to discover maps, tips and tricks, and other hiking resources to help you along the way.
Top Trail & Map Resources
If you don't have a lot of time for research, check out some of Breckenridge's best summer hikes and our Breckenridge hiking guide.
How to Choose hiking and biking trails
There are many factors that go into choosing a hiking trail that might include length, difficulty, and elevation gain. Other factors may be scenic qualities, trailhead access and Muddy Meter conditions. Maybe there are young ones or young-at-hearts in your group to consider. To help you get started, check out our 9 tips for choosing the perfect hiking trail and tips for hiking with kids.
Trail Etiquette & Leave No Trace Practices
Anytime you are out enjoying nature, it's important to abide by Leave No Trace principles. Remember pack it in, pack it out always— this includes all trash, waste, gear etc. If you see trash along the trail, pick it up! It is best to leave the trail and the wilderness even more beautiful than when you arrived whenever possible. Stay on the trail and avoid the side trails or any shortcuts to preserve the natural environment as much as possible while avoiding erosion. You can help us preserve and protect what we love by following Leave No Trace practices during your visit.  Learn more by taking the Tree-Hugger Challenge.

Basic Trail Etiquette
Follow these easy tips and guidelines while out on the trail to respect nature and other trail users.
A hiker going uphill has the right of way.  If you're on a flat section, just be courteous and move to the side allow others to pass.
Greet others with a simple "hello" or a smile when you pass.
Keep conversation volume down to respect nearby trail users and enjoy the quietude of nature around you.
Keep dogs within sight, under control and have a leash handy to avoid and unwanted interactions with other pets, wildlife or trail users.
Stay on the trail. Avoid shortcuts, unless they are official trails. This helps protect the fragile habit, plants and integrity of the natural area.
Yield to bikes and horses, livestock. Technically bikers are supposed to yield to hikers, but usually bikes are moving quickly and it's easy enough to stop and let them pass. When you see horses on the trail, just step to the side and let them pass.
Local's Tips
Want to make sure you've packed all the essentials? Check out our Summer Packing Guide or prepare for your hike with these handy tips and what to bring from the experts at REI.
Colorado Trail Explorer (COTrex) is a great place to start looking for hikes. Choose your location and all the trails for that area will show up. Star your favorites, get trail info and look at recent photos.
No car? No problem. Carpool or take the bus to many of the Breckenridge trailheads.
On busy days, trailheads can fill up by noon, so head out early- the trail will be less crowded too and you'll miss the afternoon thunderstorms that can roll in by the afternoon.
Know and follow trail etiquette and leave no trace principles. Please pack out your trash, leave the wildflowers for others to enjoy, and give a friendly wave to the other users sharing the trail with you.
New to hiking or mountain biking?  Consider going with a guide or taking a class.  Breckenridge Heritage Alliance offers guided hiking trails that add an educational component to your trip.  Colorado Adventure Guides offer a variety of mountain biking lessons and guided hikes for all skill levels.
With these handy tips, you're well on your way to choosing one or many hiking destinations perfect for you and your group, and you didn't even have to create a matrix diagram to make your decision.
Find out more things to do this summer in Breckenridge, and learn more about hiking in Breckenridge without a car!
Do your part to keep our trails amazing. Pack it in, pack it out. Or pick it up to leave a place better than you found it.
Find more things to do this summer
Explore Summer
The Breckenridge Tourism Office works to enhance and promote the unique character and experience of Breckenridge as a world-renowned destination resort and to represent, serve and perpetuate the common interest and character of its membership and community.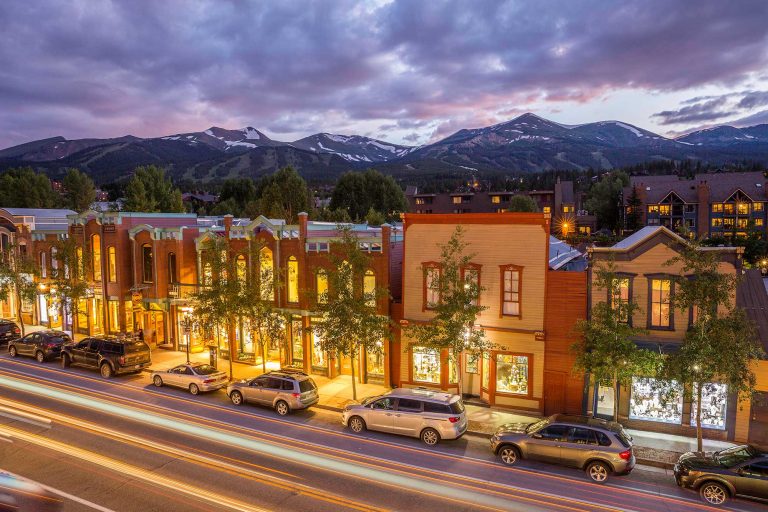 Embrace The Spirit
BLike Breckenridge™️ is a movement born of the spirit of our historic mountain town for those who call it home—whether for a weekend or a lifetime—to live by. It is a cause that connects us to each other, that we can all be a part of.