Breckenridge in September is the start of fall. Due to our high elevation, Breckenridge is one of the first places in the country where the leaves begin to change color. Visitors and locals alike flock to the trails and embark on scenic drives to see the vibrant colors of green, orange and yellow come together on hillsides, valleys and around town. But Breckenridge in September is more than just golden aspens- events and festivals fill the calendar and there are tons of outdoor activity options too. Join us for yourself and see what all the hype is about.
Weather
Breckenridge in September is when the temperatures begin to drop, yet it's still perfect weather for almost any activity on your list. Temperatures range from the mid-60s and high 50s most days, with abundant sunshine perfect for strolling at fall outdoor events or hitting the trails.
What should I wear in Breckenridge in September?
Days are typically warm enough for shorts and a t-shirt, while nights will require extra layers. When the sun goes behind the clouds or mountains, the temperature can drop dramatically, so having a sweater or light jacket to throw on at any moment is important.
For just walking around town, jeans, sandals, t-shirts and a light jacket are perfect. Breckenridge is a laid back town, which means you can leave your fancy clothes at home. You can even go straight from your morning hike or zipline to lunch on Main Street in the same clothes. They'll be perfect for soaking up some sun on the patio!
Breckenridge Summer Packing Guide
Does it snow in Breckenridge in September?
September is usually one of the drier months and the afternoon showers of summer have started to diminish. Come late September to October, there may be an occasional snowfall as the temperatures start to drop heading into winter.
September Events
Breckenridge Film Festival – Sept. 16-19, 2021
Breck Film celebrates its 40th Anniversary Festival this September 16-19, 2021! This year's festival is back with in-person screenings, forums and parties all around town.
Breckenridge Wine Classic – Sept. 16-19, 2021
Raise your glasses and join us as we uncork the can't miss wine festival of the season! Breckenridge Wine Classic is your chance to grow your knowledge and enjoy top quality food and wines from vineyards around the world. Master sommeliers, chefs and winemakers invite the public to play, wine and dine during the height of Breckenridge's fall colors. The event combines a Grand Tasting at Beaver Run, wine pairing dinners and seminars to create a weekend of fine food and foliage.
What is there to do in Breckenridge in September?
Hiking and Biking 
Walk, hike or bike in the golden glow of the aspen groves with seemingly endless miles of trails to explore around Breckenridge. Here are a few of our favorite trails to get you started.
Aspen Alley can be reached via Boreas Pass Road. Look for the large wagon wheels on the right at the first switchback and turn onto Monroe Road toward Illinois Gulch. A handful of parking spots are available at the Breckenridge Sawmill Museum, or you can park at Stephen C. West Ice Arena and hike up and back down. Mountain Bikers can ride to the upper trailhead and descend.
Minnie Mine, B&B and Reiling Dredge trails are all connected through the French Gulch trail system. Take Wellington Road past the Country Boy Mine, and you'll see various trailheads that allow for out and back or loop hikes. For a great aspen loop hike, park at the B&B trailhead and continue east before crossing the road and climbing the Minnie Mine trail. Choose the X10U8 trail for less climbing, and for longer loops do a search for Side Door or V3 trails.
With hundreds of miles of trails in and around Breckenridge, there's a trail perfect for you. Search historic trails, family-friendly trails or learn how to choose the right trail for your trip.
As always, Breckenridge stands behind the Colorado Tourism Office's Leave No Trace – Care for Colorado Principles to help maintain the natural beauty of our trails and forests.  Looking for more? Learn more about hiking and biking in Breckenridge.
Scenic Drives 
There's nothing like passing through the trees on a scenic drive near Breckenridge. Filled with history, journeys to the top of the continental divide, high alpine views and aspens galore, these three easy drives will leave you in awe.
Boreas Pass will take you from Breckenridge to Como in about an hour – though you can turn around at any point before then.  The drive is filled with high alpine meadows, historical sights and mountain views. Hop out to take photos and stroll along the easy, relatively flat dirt road as far as you'd like.
Hoosier Pass takes you south past Breckenridge through Blue River to Alma and Fairplay. Stop at the top of the pass to see the Continental Divide sign, and maybe even take a short hike from the trailhead. Hoosier Pass is paved and doesn't require a 4-wheel drive vehicle in the Summer. If you have more time, head north on US-285 toward Kenosha Pass. The Colorado Trail crosses the summit of Kenosha Pass, and there are many hiking and biking trails nearby with a large parking area at the top of the pass.
Top of the Rockies National Scenic Byway starts at Copper Mountain and travels over Fremont Pass to Leadville. Travelers can take one route to Granite or, to loop back to Breckenridge, follow the extension to Tennessee Pass, through Camp Hale, Red Cliff and Minturn, and back to I-70 East. Take in expansive views of Colorado 14ers and glorious fall colors.
Fly Fishing
Fall weather and water conditions can often be more stable, making September a favorite month for local anglers. Take a guided tour with one of the many fly-fishing shops around town, or simply head down to the Blue River that runs right through Breckenridge and cast a line. The River Trail follows the Blue northbound, and there are plenty of spots to set up for a few hours. Park at the Breckenridge Recreation Center or along Airport Road in one of the free summer parking lots.
Golf
Golfing in Breckenridge extends throughout the summer into September. The Breckenridge Golf Course is situated in the breathtaking, glacier-sculpted Upper Blue River Valley and Breckenridge is the only town in the world to maintain a Jack Nicklaus-designed 27-hole golf course. The clubhouse sits at an elevation of 9,324 feet and features a restaurant, bar, golf shop and full practice facilities.
Whitewater Rafting
One of the best group activities during the summer, whitewater rafting in Breckenridge and its surrounding rivers can make a splash during any vacation. And this year, with our record-breaking snowfall, rafting continues into the fall through mid-September. Trips can be customized by age, ability level, and sense of adventure.  From adrenaline junkies looking for huge waves and pounding hearts to those looking for a relaxing float trip that showcases scenery, solitude, wildlife, and history; there's a rafting experience that's perfect for your group.
More Fall Activities
This fall, you can also try solving clues and escaping from an Escape Room, a Country Boy Mine tour complete with gold panning, BreckCreate classes, and workshops, as well as ghost, history and museum tours in Breckenridge. For more activities to do in Breckenridge in September, check out more of our top 100 activities to do in fall!
No car? No Problem. With several base areas for skiing, a gondola from town and a trail network accessible just blocks from Main Street, most activities–including skiing, hiking, biking, shopping, eating, live music and more–are just a short stroll away once you reach downtown Breckenridge. Take advantage of our free bus system, free hotel shuttles, bike rentals and ride-share apps.
The Breckenridge Tourism Office works to enhance and promote the unique character and experience of Breckenridge as a world-renowned destination resort and to represent, serve and perpetuate the common interest and character of its membership and community.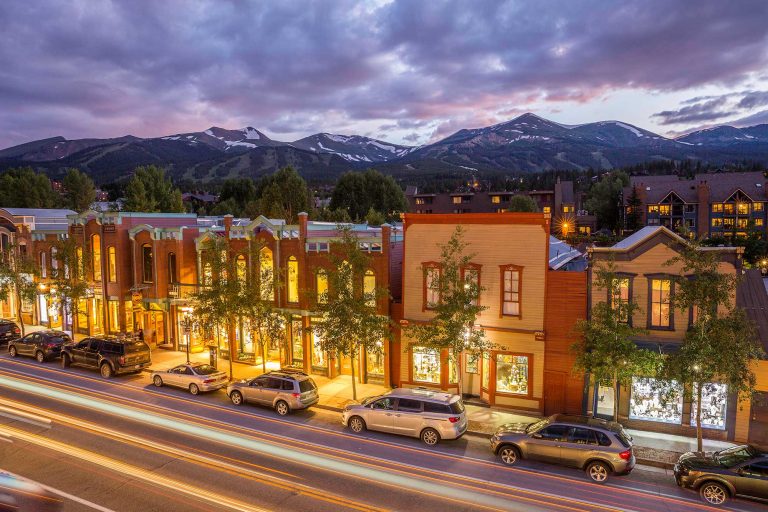 Embrace The Spirit
BLike Breckenridge™️ is a movement born of the spirit of our historic mountain town for those who call it home—whether for a weekend or a lifetime—to live by. It is a cause that connects us to each other, that we can all be a part of.