Breckenridge Frequently Asked Questions:
From historic Main Street to legendary skiing, Breckenridge packs all four seasons with the best of the outdoors, the indoors, and everything in between. We've compiled some of the top vacation FAQs to make your trip a breeze!
What is Breckenridge Famous for?
Breckenridge, Colorado is a small mountain town in the heart of the Rocky Mountains. Home to the largest historic district in Colorado, Breckenridge's rich and colorful history is full of gold finds and mining, exploration and adventure, brothels, saloons, booms and busts. Founded in 1859 by a small group of prospectors, the town's Gold Rush brought droves of settlers seeking their fortunes.  Learn more about Breckenridge's early days by visiting one of the town's museums or joining a historic tour.
Contrary to popular belief, Breckenridge was a bustling town long before it was known for its world-class skiing and snowboarding. In 1961, Breckenridge Ski Resort was founded, and currently boasts 5 peaks, 2,908 skiable acres, 187 trails, four terrain parks and the tallest chairlift in North America. Considered by many to be one of the best ski resorts in Colorado, Breckenridge combines unique character with unmatched terrain and impeccable service to stand out from the rest.
When Should I Visit Breckenridge?
There's no such thing as a bad time to visit Breckenridge! Know what to expect during each season:
Winter/Spring (November – May)
Winter activities and events are abundant in Breckenridge from early November through mid-April. With great powder days, blue-bird skies, holiday lights illuminating Main Street and cozy shops to warm your toes in, Breckenridge is practically a winter wonderland.
Summer (June – August)
Summer is an amazing time to experience Breckenridge. In fact, many locals say that the winter brings them to Breckenridge but that summer is what entices them to stay. The temperatures are near perfect in the 70s, and there are endless activities and events to enjoy.
Fall (September, October)
Fall offers near perfect conditions for outdoor recreation as the weather usually stays warm enough to play outside and schools are back in session, meaning there are less people on trails and in town. If you've always wanted to see the aspens turn, you're in luck. While there is no guarantee on dates, mid-to-late September is the perfect time to take in the fall foliage. Plus, you can find some great lodging and dining deals in the fall too!
How many days do I need in Breckenridge?
While itineraries can be extended or shortened to fit any type of travel, we typically recommend at least 4-5 days to visit Breckenridge. Your first day should be reserved for mellow activities like strolling Main Street or taking a historic tour in order to get acclimated to our high elevation. If possible, we recommend staying a night or two in Denver to help the process. The next few days should be spent exploring Breckenridge's seemingly endless winter and summer outdoor activities. Your last day is the perfect time to unwind and enjoy a spa day or soak in the hot tub. Don't forget to add in extra time to explore the Arts District, shopping and dining and our bustling nightlife scene. You may even want to consider planning your trip around one of our signature festivals and events!
How do I get to Breckenridge, Colorado?
What airport do you fly into to get to Breckenridge?
Denver International Airport (DEN) is the main international airport for Colorado and is served by most major nationwide and international airlines. Just an hour and a half from Breckenridge, DIA is very convenient and most travelers book a shuttle or rent a car to travel from the airport to Breckenridge. Colorado Springs Airport (COS) and Eagle County Regional Airport (EGE) are other great options for getting to the mountains.
Getting to Breckenridge
Shuttle services are well equipped to fit all your luggage and ski gear and offer door-to-door service. If you do plan on driving, check real-time road information on GoI70 and follow tips to avoid peak congestion times. Once you're here, we recommend leaving the car parked at your hotel or rental during your stay. Take the free bus, trolley or lodging shuttles to and from town or to the mountain so you don't have to worry about finding parking and driving in winter weather conditions. Almost everything in town is pay-to-park and fills up quickly.
What's the Best Way to Get around Town?
No car, no problem! Once you are here, it's easy to get around Breckenridge without a car. There are plenty of transportation options for those who are going carless in Breckenridge. The Breckenridge FreeRide offers free bus transportation throughout the day with multiple shuttle systems running throughout Breckenridge, including the Main Street Trolley. Most likely, the place you are staying is near a bus stop or offers its own free shuttle transportation to and from town. Once you are here, you'll find it's easy to get around town on foot or on bike and that everything is just a few blocks away. If you are planning to visit neighboring towns during your trip, the Summit Stage is a free county-wide bus system available throughout Summit County. Uber, Lyft and multiple taxi services are also available to help you travel around or between towns.
How do I get to Breckenridge Ski Resort?
Depending on snowfall and conditions, Breckenridge Resort is typically open for the ski season from the beginning of November to Late April or May. In the summer months, the resort is home to Epic Discovery park. One of the easiest and cheapest ways to get to the resort is to take a free shuttle or bus into town from your lodging property and then take the free gondola up to Peak 8. From there, you can access all parts of the ski area.
Paid skier parking is available outside of town, in-town and slope-side, however spots fill up quickly. Free parking is available on Airport Road with shuttles provided.
How Should I Prepare for a Visit to Breckenridge?
Being prepared is everything in the mountains, and the more prepared you are, the more enjoyable your Breckenridge vacation will be. This means everything from having extra layers for changing weather, staying hydrated with a re-usable water bottle, protecting yourself from our strong Rocky Mountain sun and gearing up for winter driving conditions.
Adjusting to Altitude
Breckenridge is higher than most Colorado resort areas and towns. At an elevation of 9,600 feet (2,900 meters) above sea level, Breckenridge enjoys 300 inches of snow in the winter and mild 70-degree temperatures in the summer. While our high mountain climate provides breathtaking scenery and perfect conditions for outdoor activities, the elevation can affect people in different ways and visitors should take high altitude precautions.
Sun Protection
At higher elevation, the sun is much stronger than at lower elevations. Be sure to protect yourself year-round by wearing sunscreen, hats, sunglasses and goggles, even if the clouds are out.
Attire and Clothing
Breckenridge prides itself in its laid-back, casual mountain atmosphere. For a stroll along Main Street or a night on the town, there's no need to be fancy. Leave the heels and dress clothes at home. Most locals run errands in their ski clothes, and go out for drinks, dinner or live music in what they wore to work. In the summer, be sure to bring a light jacket for the evenings and mornings, and in winter, always have a warm winter jacket handy. Casual dress is even suitable for Breckenridge's higher-end restaurants.
For outdoor activities like skiing, snowshoeing, dog sledding and more, we recommend wearing warm winter jackets and pants, snow boots, hats, gloves and goggles/sunglasses.
Winter Weather Conditions
While Colorado gets tons of annual sunshine, the snow has to come from somewhere. Throughout the winter, expect snow storms to roll through. Snow plows typically run throughout the mornings to clear main roads and sidewalks, but streets and walkways can be icy. Make sure you're dressed properly and have boots with good traction.
If you have a car, be sure you're comfortable driving in winter weather conditions, and familiarize yourself with current traction and 4-wheel-drive laws. Get updates for Colorado's road and weather conditions prior to driving by calling 303.639.1111 or visiting the Colorado Department of Transportation. Don't want to deal with the hassles of clearing snow from your car, driving on icy roads and finding paid parking? Go Carless in Breckenridge!
When does Breckenridge get snow?
Breckenridge typically gets snow starting late October through the end of May, however, Breckenridge has been known to receive snow every month of the year. Breckenridge Ski Resort is usually open mid-November through Memorial day, weather depending. For summer activities like hiking and biking, plan for late June through September or early October. For winter sports and skiing, conditions are best December through April.
What is there to do in Breckenridge besides Skiing & Snowboarding?
Whether you're not a skier, are here for the summer or just need a break from ski boots for a day, there are tons of activities to entertain the whole family in Breckenridge year-round. During ski season, try winter activities like dog-sledding, snowshoeing, fat-biking and more. In the summer, some of our favorites include hiking and biking our hundreds of miles of trails in and around Breckenridge. The town also boasts a world-class shopping, dining and nightlife scene, as well as countless spas, a newly renovated recreation center, historic tours and museums, an arts district and great festivals and events.
Is Breckenridge Dog-Friendly?
Yes! With dog-friendly lodging, trails, restaurants, a dog park and more, Breckenridge is a great place for your furry friends. By following guidelines and tips, you and your pup will have an enjoyable time and help keep Breckenridge a dog-friendly town.
Is there a bag fee in Breckenridge?
Yes. The Town of Breckenridge has a bag fee of 10 cents per bag at shops around town, restaurants and grocery stores. Visit like a local and bring your own reusable shopping bag or purchase one at the Welcome Center on Main Street. They make great souvenirs too! You might also notice that straws don't come in your beverages at coffee shops and restaurants. That's because straws are only available per request. Wondering about water? Ditch the bottled water from the store and bring or buy a reusable water bottle. Breckenridge has water refill stations throughout town, not to mention, some of the best tap water in the country to fill up on in between adventures. With these local tips, you'll save money, keep Breckenridge clean and you won't look like a ding a'ling.
Learn more about Sustainable Breck
What kinds of Wildlife will I see in Breckenridge?
While you may not always see wildlife, they are always here! Breckenridge is home to many furry and scaly critters like moose, bears, foxes, trout, beavers and more! Learn how to respect our home (and theirs) with our Breckenridge Wildlife Guide.
Have more questions? The Welcome Center on Main Street has all your answers! Our friendly staff can give shopping, dining and activity recommendations, as well as current info about weather, trail conditions, events and more!
Want to be a responsible visitor? Take our five-minute Tree-Hugger Challenge to learn what you can do to leave Breckenridge better and claim your reward!
Need More Inspiration?
Build your own itinerary: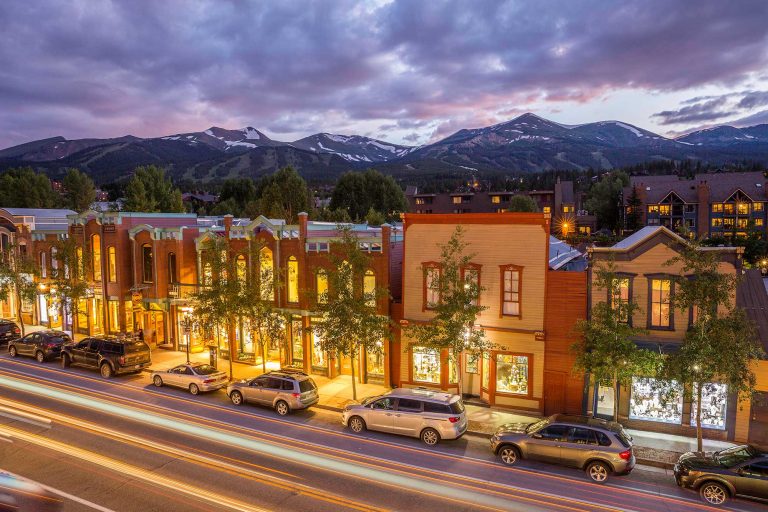 Embrace The Spirit
BLike Breckenridge™️ is a movement born of the spirit of our historic mountain town for those who call it home—whether for a weekend or a lifetime—to live by. It is a cause that connects us to each other, that we can all be a part of.