Best Outdoor Group Activities
There's no better place to experience summer than in Breckenridge. With plenty of space to explore, adventure around every corner and endless sunshine, our charming mountain town is the perfect place to get away with your group.  Discover endless outdoor activities waiting for you here in Breckenridge this summer.
Explore Historic Main Street
Strolling Breckenridge's historic Main Street is the perfect way to acclimate and is great for your first day in the Rockies. With Breckenridge being so easy to get around, that means you can walk almost anywhere in town! Wander in and out of quaint shops, follow the path along the Blue River up to Maggie Pond and be sure to stop for lunch at one of the many local restaurants and cafes. Enjoy happy hour on the patio and take in magnificent views of the mountains to end out a perfect day.
Local's Tip: Swing by the Breckenridge Welcome Center in the heart of town for local info, trip planning advice and what's happening in Breckenridge today!
Explore Breckenridge's Trails by Boot or Bike
If you truly want to experience Breckenridge's breathtaking beauty, hit the trails! Breckenridge transforms into a hiking and biking mecca during the summer. Outdoor adventure lovers from around the world converge onto our beautiful mountain town to experience some of the best views in the Rocky Mountains. With hundreds of hiking and biking trails in and around Breckenridge from gentle dirt roads and paved paths to challenging summits, you're sure to find something everyone in your group will love.
Visit Isak, the Breckenridge Troll
Isak Heartstone is a 15-foot tall wooden troll sculpture located on the Trollstigen Trail in Breckenridge, Colorado. Isak was created by the Danish artist Thomas Dambo, who is known worldwide for bringing awareness to recycling and upcycling by building great things out of trash.
Take a Historic Tour
Breckenridge is rooted in its past and boasts one of the largest historic districts in Colorado. Create memories with guided historic tours and hikes, ghost tours and free museums. Stop by the Welcome Center to walk through their in-house museum and theater, try gold panning at Lomax Placer mine, or head 1000 feet underground into the restored Country Boy Mine!
Local's Tip: Be sure to call each company ahead of time to reserve tours and activities in advance. Spots may be limited, and current regulations are constantly changing.
Saddle Up
Transport yourself back into a time gone by and experience horseback riding in the Rocky Mountains. Choose from trail rides through Breckenridge's sprawling trail network or open range rides north of Breckenridge.
Play a Round of Golf
Imagine yourself situated in the breathtaking, glacier-sculpted Upper Blue River Valley with spectacular views of the surrounding mountains. Breckenridge is only town in the world to maintain a Jack Nicklaus-designed 27-hole golf course, which sits at an elevation of 9,324 feet. Visiting golfers get an immediate confidence boost as the golf ball flies farther and straighter than at lower elevations due to less air resistance. Ready to tee up?
Cool Off on the Water
Whitewater Rafting isn't the only way to get out on the water this summer! Try a guided fly-fishing tour complete with lessons, licenses, transportation and equipment, or take in views of Peak 8 during a stand-up paddle board (SUP) yoga class on the Maggie pond right in town. Head to the nearby Frisco Marina for kayak and paddleboard rentals to soak up endless sunshine!
Mush with a Pack
Have you ever wondered what sled dogs do in the summer? Head outside and over to Good Times Adventures kennel and enjoy a summer dog sledding adventure, complete with endless wet kisses from adorable huskies! Located just a 10 minute drive outside of town, this is the perfect way to enjoy some solitude out on the trails in Breckenridge's backcountry.
Epic Discovery & Ziplining
Take the free BreckConnect Gondola up Peak 8 to explore Breckenridge Ski Resort in the summer. The mountain offers a variety of activities like scenic chairlift rides, hiking, the Alpine Slide, mini golf, rock climbing and the Gold Runner Coaster. They even offer private group and team building excursions like ropes courses and zip lining tours!
Getting Around Breckenridge
Getting around Breckenridge is easy, as the majority of Breckenridge lodging properties are within walking distance from Main Street, spanning eight blocks. Downtown is easy to explore by foot, bus or bike, so once you are here it's easy to go carless. Breckenridge boasts a free bus service which serves most of town, as well as the free downtown trolley servicing Main Street.
Submit your RFP
Our local sales team is happy to help you find the perfect location, venue and activities to meet your goals. Fill out our RFP for info on large and small group deals plus optional group activities.


Discover More Summer in Breckenridge
The Breckenridge Tourism Office works to enhance and promote the unique character and experience of Breckenridge as a world-renowned destination resort and to represent, serve and perpetuate the common interest and character of its membership and community.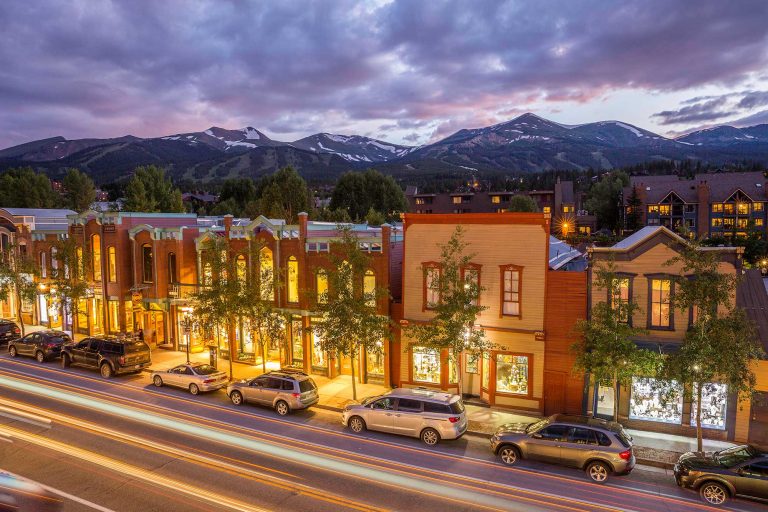 Embrace The Spirit
BLike Breckenridge™️ is a movement born of the spirit of our historic mountain town for those who call it home—whether for a weekend or a lifetime—to live by. It is a cause that connects us to each other, that we can all be a part of.