Best Ways to Get to Breckenridge from Denver
Getting to and around Breckenridge is easy and convenient, due to free transportation options and our easily walkable town. Breckenridge's shuttle and transportation systems will help any visitor make the most of their trip. Here're the ins and outs on how to get around town and make the most of the Breckenridge transportation services available.
How Far is Breckenridge from Denver?
Once wheels touch down at Denver International Airport, there's only one thing left separating you from the mountains: the drive! The good news is, there are plenty of mountain shuttles ready to take you up to Breckenridge, so you can ditch the rental car and hitch a ride with one of these airport transportation options to make your travels a breeze.
Prepare for about a 2 hour drive from DIA to the mountains, and about 1.5 hours if you're coming from the city of Denver. Winter weather and skier traffic can often delay travel, so be sure to always give yourself extra time if you need to catch a flight.
Local's Tip: Skier traffic is at its worst going Westbound on Friday afternoons and Eastbound on Sundays. Plan to visit on week days or extend your stay to avoid the front-range crowds coming up on the weekends.
Shuttle Services from Denver International Airport (DIA) to the Mountains
Save time, money and stress by booking a shuttle from the airport to Breckenridge. You won't have to worry about finding a rental car to fit all your gear, driving in winter weather conditions and traffic, or finding parking once you're here. Plus, you'll be free to take in the epic views and catch up with family and friends. Shuttle services are well equipped to fit all your luggage and ski gear and most offer door-to-door service. Choose a private shuttle for your crew, or opt for a shared ride to save a few bucks. Booking online in advance is always the best option, but if you need a last minute ride, check with the transportation desk at the airport or call  a mountain shuttle service provider to see if they have any seats left for you.
Local's Tip: Plan to arrive during the day when shuttles are cheaper and more frequent. If your flight arrives late at night or early morning, you may have to make other arrangements or book a private shuttle.
Shuttle companies serving DIA to Summit County:
Chartered Rides
If you're heading to the mountains with a large group or need extra space for gear, consider chartering a private shuttle to pick you up from the airport. You can tailor your ride by date, time and destination, depending on your specific travel plans. Choose from five person SUVs to full size vans. Summit Express, Fresh Tracks Transportation and Colorado Resort Limousine provide private charter services to Summit County.
Uber & Lyft
If you've got a late flight, your plans change or you simply want a private ride, Uber and Lyft are always great options. Book an Uber Ski ride to get a vehicle specifically equipped with ski racks to get you and your gear into to the mountains.
Public Transportation
For those on a budget, public transportation is a great option. Bustang busses run from Denver to multiple destinations, including Glenwood Springs, Fort Collins, Vail and Colorado Springs. The RTD rail and bus service is another cheap way to travel throughout the Denver area.
To get to Breckenridge from DIA, start by taking the A Line on the RTD rail service from DIA to Union Station (downtown Denver) for just $10.50. From Union Station, take the Bustang West Line toward Grand Junction and get off at the Frisco Bus Station. From there, take the free Summit Stage bus to Breckenridge. Once you've arrived at the Breckenridge Station, you can easily get to your lodging property on the FreeRide bus, free lodging shuttles or ride share service.
Also, in addition to CDOT's Bustang West service, which stops at Frisco, the Pegasus service also runs from Denver Union Station to Frisco and the Snowstang service runs direct from Denver to Breckenridge
What if I'm Driving to Breckenridge?
While we highly recommend going carless in Breckenridge, if you do need to rent a car or are driving in from another state, make sure you're comfortable with mountain driving conditions and choose a vehicle that'll fit your checked baggage, skis and snowboards. Visit GoI70.com to learn the best times to travel to avoid congestion. Before you jump on the road, check real-time road conditions at CoTrip.org. If you need a car to get here, we recommend driving in and leaving the car parked at your hotel or rental during your stay. Take the free bus, trolley or lodging shuttles to and from town or to the mountain so you don't have to worry about finding parking. Almost everything in town is pay-to-park and fills up quickly.
Getting Around Breckenridge Once You're Here
Once you are here, it's easy to get around Breckenridge without a car. There are plenty of transportation options for those who are going carless in Breckenridge.
Breckenridge Free Ride Bus
The Breckenridge FreeRide offers free bus transportation throughout the day with multiple shuttle systems running throughout Breckenridge, including the Main Street Trolley. Most likely, the place you are staying is near a bus stop or offers its own free shuttle transportation to and from town.
Walking & Biking
Once in Breckenridge, you'll find it's easy to get around town by foot or on bike and that everything is just a few blocks away. FreeRide busses are equipped with bike racks if you decide to change your mind, but often fill up in the summer.
Summit Stage Bus
If you're planning to visit neighboring towns during your trip or your lodging property is a few towns over, the Summit Stage is a free county-wide bus system servicing Breckenridge, Blue River, Frisco, Dillon, Silverthorne, Keystone, Arapahoe Basin (winter only), Summit Cove and Copper Mountain.
Hotel & Lodging Shuttles
Many lodging properties and hotels around town provide free shuttles to and from downtown Breckenridge and tend to pick up and drop off at main attractions and Main Street Trolley stops. Be sure to call your property to see if shuttles are available during your stay.
Uber & Lyft
Uber, Lyft and multiple taxi services are available to help you travel around Breckenridge or between towns.
BreckConnect Gondola
The BreckConnect Gondola transports guests from town to the base of Peak 7 and 8 in both winter and summer. The gondola typically shuts down late spring and late fall- check current lift status before heading out.
Depending on snowfall and conditions, Breckenridge Resort is typically open for the ski season from the beginning of November to late May. In the summer months, the resort is home to Epic Discovery park. One of the easiest and cheapest ways to get to the resort is to take a free shuttle or bus into town from your lodging property and then take the free gondola up to Peak 8. From there, you can access all parts of the ski area and fun park.
Paid skier parking is available outside of town, in-town and slope-side, however spots fill up quickly. Free parking is available on Airport Road with shuttles provided.
Breckenridge Parking
IN-TOWN AND PAID PARKING 
The Town of Breckenridge has implemented an innovative smart parking system that can be used with credit cards at pay stations or on smartphones on the app. Rates average at $1 or less per hour and max out at a daily rate. Payment is required each time a vehicle changes location. Fifteen-minute free parking is available in most locations but parkers must still register their license plate on the app or at a meter.
SKIER PARKING 
Skier parking is available outside of town, in-town and slope-side. The closer you get to the slopes, the more you'll generally pay for parking. Free skier parking is available on Airport Road with shuttles provided.
Free Parking on Airport Road
Your best bet for free parking is the Satellite lot at 1690 Airport Road. The town recently increased shuttle service to and from these lots to 15-minute intervals.
PAID SKIIER LOTS
Beaver Run Lot (Access to Peak 9):
Monday-Thursday: $15
Friday-Sunday and Peak Days: $20
Handicap parking available at the Beaver Run lot
In-Town Gondola Parking (Gondola North & South Lots, Gold Rush Lot – Access to Peaks 7 & 8):
Monday-Thursday: $5
Friday-Sunday and Peak Days: $12
Handicap parking available at the North Gondola lot
The Breckenridge Tourism Office works to enhance and promote the unique character and experience of Breckenridge as a world-renowned destination resort and to represent, serve and perpetuate the common interest and character of its membership and community.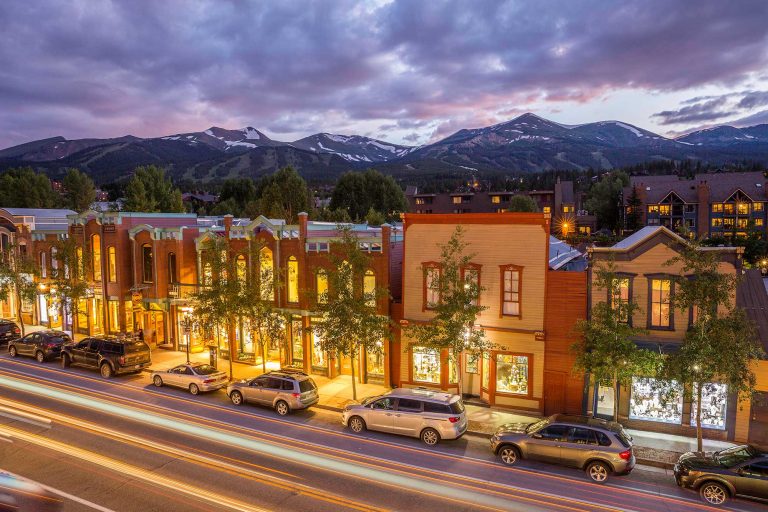 Embrace The Spirit
BLike Breckenridge™️ is a movement born of the spirit of our historic mountain town for those who call it home—whether for a weekend or a lifetime—to live by. It is a cause that connects us to each other, that we can all be a part of.