Getting to and around Breckenridge is easy and convenient, due to free transportation options and our easily walkable town. Breckenridge's shuttle and transportation systems will help any visitor make the most of their trip. Here're the ins and outs on how to get around town and make the most of the Breckenridge transportation services available.
Getting Here
Air Transportation
Denver International Airport (DEN) and the Colorado Springs Airport (COS) are served by most major nationwide and international airlines. Regardless of which airport you choose, you'll have a scenic drive or shuttle ride to Breckenridge, Colorado to take in the dramatic views. Breckenridge is located in the central Rocky Mountains of Colorado, 90 miles west of Denver, approximately 90-minutes from either airport, via shuttle or car.
Ground Transportation
Most travelers book a shuttle or rent a car to travel from the airport to Breckenridge. Shuttle services are well equipped to fit all your luggage and ski gear and offer door-to-door service.
Shuttle Companies serving DIA to Summit County:
Driving In
While we recommend going carless in Breckenridge, if you do need to rent a car, make sure you're comfortable with mountain driving conditions and choose a vehicle that'll fit your checked baggage, skis and snowboards. Visit GoI70.com to learn the best times to travel to avoid congestion.   Before you jump on the road, check real-time road conditions at CoTrip.org If you need a car to get here, we recommend driving in and leaving the car parked at your hotel or rental during your stay. Take the free bus, trolley or lodging shuttles to and from town or to the mountain so you don't have to worry about finding parking. Almost everything in town is pay-to-park and fills up quickly.  Learn more about parking in Breckenridge.
EV Charging Stations
The  Town of Breckenridge has recently installed more than 20 public electric vehicle charging ports located at convenient locations around town. In Fall 2021, when the South Gondola parking structure on Park Avenue is completed, there will be an additional 40 ports installed to support the growing sector of electric vehicles. Travelers are encouraged to take a shuttle or rent an electric vehicle when visiting Breckenridge.
Breckenridge Shuttle and Transportation
In-Town Transportation
No Car, No Problem
Once you are here, it's easy to get around Breckenridge without a car. There are plenty of transportation options for those who are going carless in Breckenridge. The Breckenridge FreeRide offers free bus transportation throughout the day with multiple shuttle systems running throughout Breckenridge, including the Main Street Trolley. Most likely, the place you are staying is near a bus stop or offers its own free shuttle transportation to and from town. Once you are here, you'll find it's easy to get around town on foot or on bike and that everything is just a few blocks away. If you are planning to visit neighboring towns during your trip, the Summit Stage is a free county-wide bus system available throughout Summit County. Uber, Lyft and multiple taxi services are also available to help you travel around or between towns.
Free Ride Transit System Map and Schedule
where to park in Breckenridge, CO
Parking
Parking in Breckenridge
The Town of Breckenridge has implemented an innovative smart parking system. Patrons can pay for parking with credit cards at the pay station or on their smartphones on the app without ever having to visit a pay station. Paid parking is in effect daily and can be paid through the mobile parking app or at pay stations. Rates average a $1 or less an hour and max out at a daily rate.  Please note that payment is required each time a vehicle changes location. Fifteen-minute free parking is available in most locations but parkers must still register their license plate on the app or at a meter.
Learn more about paid parking in Breckenridge or download the Parking App.
Breckenridge's downtown parking lots are paid and traditionally fill up fast, so guests should plan to arrive early and park in the same spot for the day. If possible, keep your car parked at your lodging property and take free lodging shuttles or the free bus into town.
Breckfreeride.com allows you to find nearby bus stops and track bus locations in real time.
Paid Lots
Peak 9 Slope-side Parking (Lift Access to Peak 9)
Beaver Run Lot:
Monday-Thursday: $15
Friday-Sunday and Peak Days: $20
Handicap parking available at the Beaver Run lot.
In-Town Gondola Parking (Gondola Access to Peak 8)
Gondola South Lot, Gondola North Lot & Gold Rush Lot:
Monday-Thursday: $5
Friday-Sunday and Peak Days: $12
Handicap parking available at the North Gondola lot.
Breckenridge Transportation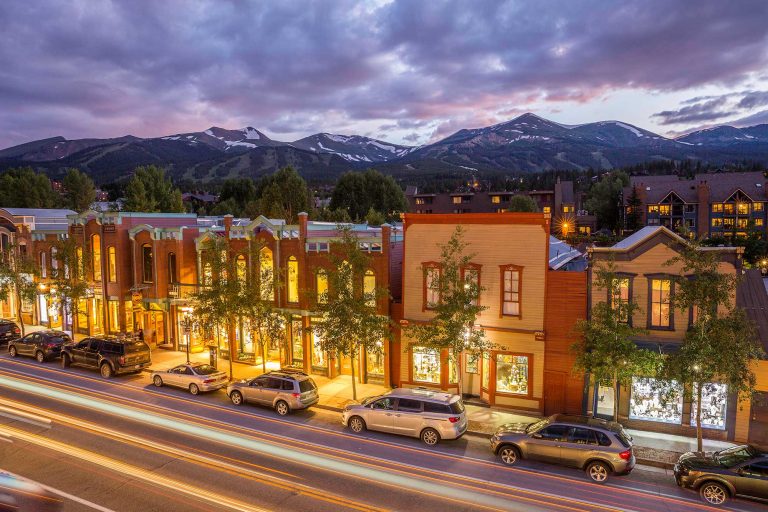 Embrace The Spirit
BLike Breckenridge™️ is a movement born of the spirit of our historic mountain town for those who call it home—whether for a weekend or a lifetime—to live by. It is a cause that connects us to each other, that we can all be a part of.