The month of May signals a major transition in the Rocky Mountains as the weather shifts from winter to summer. That means it's a great time to visit for those looking to relax and enjoy the mountains in solitude. As snowpack begins to melt and flow into the streams, lakes, and rivers (creating breathtaking waterfalls in the process), wildflowers begin to sprout and wildlife emerges from their winter dens. Not to mention Breckenridge Ski Resort is now extending its season, meaning spring skiing at its finest! While May is one of our favorite times of the year, it's also the time when many Breckenridge businesses close to re-coup from the busy winter season. Here's what to know when visiting Breckenridge in May.
Breckenridge in May
Weather
May weather combines the best of both worlds. During the daytime, the temperatures can easily get into the high 60s, yet there are still days where a foot of fresh snow will fall. The snowpack is still significant enough to go skiing, while the warm temperatures allow for summer activities such as road biking, rafting and even BBQs on the patio!
Events
April & May are widely known for having some of the best snow in Colorado, along with sunny bluebird days, special events, and great deals for guests from around the world. There's no better way to send off the season than with Breckenridge's Spring Events!
Spring it on at Breckenridge 
Breckenridge Ski Resort has extended its season and will remain open through May, weather depending. Splash into Spring and get ready for festivities, DJs, spring snow, high alpine laps and plenty of sunshine!
Activities to do in May
Remember, May is Breckenridge's transition period from winter to summer. That means we could get a foot of snow one day, and you could be wearing sandals the next! Be sure to call ahead for all activities to make sure they are up and running, and plan for all types of weather. Wear layers and always remember sunscreen, sunglasses and footwear that can handle slushy melting snow and mud (aka. don't wear your brand new white sneakers around town)!
Local's Tip: To ensure you get to do all the activities on your bucket list, start making activity reservations as soon as possible. This includes guided activities as well as gear rentals.
Hiking, Snowshoeing and Nordic Skiing 
Warm, sunny days mean it's a perfect time to get outside and explore Breckenridge's hundreds of miles of trails. Be sure to check out trail conditions via the Town's the Muddy Meter so you know how wet or packed down the snow will be. Try hiking with winter boots where it's mostly dry, and snowshoeing or cross-country skiing at higher elevations where snow is more plentiful. Use our Early Summer Hiking Guide for suggestions on which trails will be the first to claim snow-free status.
May is the beginning of wildflower season– keep an eye out for those early buds popping up once the snow melts at lower elevations!
Fat Bike Tours 
Discover the best points of interest and Breckenridge history year-round as you casually roll through town on a high-performance carbon fiber fat bike with Ridden tours. Once out of town the real adventure begins as you descend to your destinations on the scenic Blue River Rec Path to the World's highest Distillery and Broken Compass Brewery.
Country Boy Mine Tours 
Head just 2 miles outside town to the historic restored Country Boy Mine, which offers underground mine tours and even gold panning! In the midst of the majestic Rocky Mountains, the Country Boy Mine was one of the largest and most famous gold mines in Breckenridge, Colorado. Today, enjoy the many activities the mine has to offer. Gold pan, pet the burros, slide down the 55 foot ore chute, explore the authentic mine site, view the exhibits and equipment that were used in the mine and visit the general store.
Rafting 
Whitewater rafting is one of the best things to do in May as winter snowmelt starts to head into Breckenridge's surrounding rivers. Trips can be customized by age, ability level, and sense of adventure. From adrenaline junkies looking for huge waves and pounding hearts to those looking for a relaxing float trip that showcases scenery, solitude, wildlife, and history; there's a rafting experience that's perfect for your group! Check with rafting companies early season for updates on river flow, availability and restrictions.
BreckCreate 
Get artsy and try something new with BreckCreate. Bring the whole family and try throwing your own pottery, making candles, glass blowing and more! Check the schedule for the lineup of activities and classes.
Ghost Tours 
Prepare to be haunted by Breckenridge's mining ghosts of the past- history lovers will enjoy visiting original cabins and stately homes to learn about the people who lived here over 100 years ago. Check availability now!
Treat Yourself
May is a perfect time to catch up on self-care and get ready for summer! Treat yourself and explore many of the salons and spas around town during the transition time or head to a yoga class during your stay.
Escape Rooms 
Seek clues, solve unique puzzles, answer questions and work together to try to escape! These all-age friendly Breckenridge-themed rooms consist of stories, decorations and technology to immerse you in a fun game for all. You'll have 60-minutes to complete each of your adventures!
Ice Skating
Head to the Stephen C. West Ice Arena for open skate! Public ice skating is open daily on their indoor rink- call or go online for up to date schedules during transition season. Bring the whole crew- family and group discounts are available, as well as private and group skating lessons. Skate rentals are just $4!
Fly Fishing 
Breckenridge is home to some of the best fly-fishing waters in the state of Colorado. With numerous rivers, streams, alpine lakes and reservoirs in and around town, there's a destination to match nearly all interests and skill levels. Whether you're a first-timer looking for some tips, are opting for a guided tour for the whole family or are an experienced angler seeking out new places to find some solitude, we've got you covered.
The Breckenridge Troll
Say hello to Isak Heartstone, a 15-foot tall wooden troll sculpture located on the Trollstigen Trail. The newly constructed trailhead is located in the southeast corner of the Stephen C. West Ice Arena parking lot, next to Illinois Gulch Trailhead. During your visit, please keep Isak's home in pristine condition and leave no trace on his surroundings!
Horseback Riding 
Transport yourself back into a time gone by and experience horseback riding in the Rocky Mountains. American Safari Ranch offers year-round tours just a short, scenic 29 mile drive from Breckenridge. They pride themselves on providing real ranch experiences with real horseback riding. Don't settle for nose-to-tail trail rides!
Tips for Traveling to Breckenridge in May
MAKE RESERVATIONS BEFORE YOU ARRIVE
To ensure you get to do all the activities on your bucket list, start making activity reservations as soon as possible. This includes guided activities as well as gear rentals.
In addition to activities, restaurant and lodging reservations are highly recommended. Be sure to call, reserve online and don't miss Breckenridge's best patios. If you're planning a date night, be sure to hire a babysitter ahead of time. ResortSitters, Care.com, ski resort daycare and Kids Night Out will ensure your little ones are having just as much fun as you are.
LEAVE THE CAR AT HOME
Direct shuttles from nearby airports to your vacation rental make it easy to get to Breckenridge without renting a car.  Once you are here, the best way to explore Breckenridge's quaint historic streets is on foot. Breckenridge is remarkably walkable, even with kids in tow.  Most of our lodging is in walking distance to town or a Breck Free Ride bus stop which will take you to town after a short drive.  Many lodges also offer free hotel shuttle transportation around town.  Regardless of where you booked, your lodging company should be able to assist you in figuring out easy transportation from your rental.
Learn more about going car-free in Breckenridge.
Before you head out to the local restaurants, stores or coffee shops, check with the Breckenridge Welcome Center to see what's open, what's closed and where to get the best deals. The Welcome Center is located at 203 S. Main Street, or contact them by calling 877-864-0868.
The Breckenridge Tourism Office works to enhance and promote the unique character and experience of Breckenridge as a world-renowned destination resort and to represent, serve and perpetuate the common interest and character of its membership and community.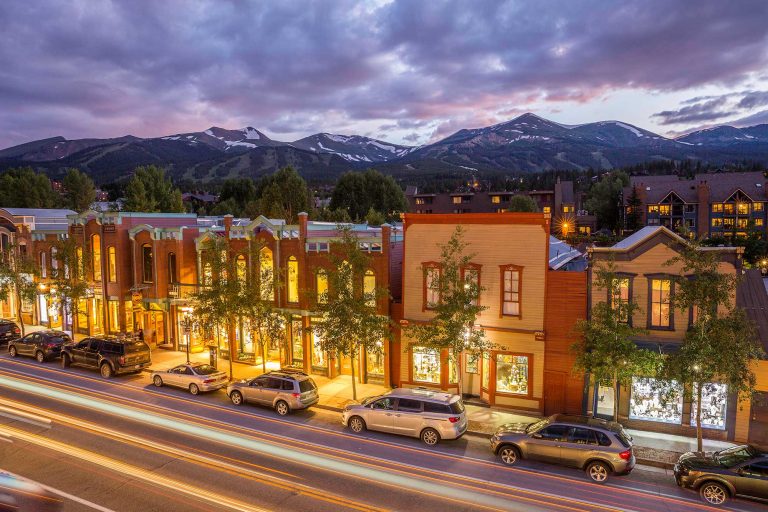 Embrace The Spirit
BLike Breckenridge™️ is a movement born of the spirit of our historic mountain town for those who call it home—whether for a weekend or a lifetime—to live by. It is a cause that connects us to each other, that we can all be a part of.