Wildflowers bloom in Breckenridge from late-April through early-October, which means if it isn't ski season, it's wildflower season. The first spring blossoms peer out from under a late dusting of snow, and the last compete to spread their seeds before winter's snowy inundation. No matter the summer month you visit Breckenridge, you'll find a variety of nature's blossoms to delight you. Below are the top five Breckenridge wildflower hikes that offer both incredible views and abundant amounts of wildflowers.
Top 5 Wildflower Hikes Near Breckenridge
HIKE 1: THE HIDDEN TREASURE TROVE OF SAWMILL CREEK, BRECKENRIDGE
The short length, insignificant elevation gain and proximity to the town of Breckenridge makes the Sawmill Creek hike perfect for families with young children. Starting near the bottom of the Snowflake Chairlift, the trail leads hikers down a shady ravine with a creek running through it. The high rocky walls protect hikers from the insistent summer sun and offer a refuge to plants and wildlife, including plenty of wildflowers.
Children can touch, smell and experience nature along the trail, from the babbling creek to pungent pine needles. Small animal burrows and shy, shade-loving wildflowers can be found along the path. Mushrooms will make an appearance in August. Small bridges take hikers back and forth across the creek. Eventually, wooden stairs lead up a hillside to the shore of a shallow lake, Sawmill Reservoir, — just the right place for a splash in the shallows and a sunny afternoon picnic. The hike is less than a mile and is rated as easy.
HIKE 2: WILDLIFE AND WILDFLOWERS AT WHEELER LAKES, COPPER MOUNTAIN
Still a family hike, although a littler higher and tougher than Saw Mill Creek, the trail from Copper Mountain Resort to the Wheeler Lakes has it all — plants, animals and stunning views.
This wildflower hike features areas thick with trees, including aspen and pines. These gradually give way to open meadows full of wildflowers.
Wheeler Lakes trail has plenty of elevation gain and terrain change, allowing for a variety of wildflowers. Right now, there should be numerous patches of Columbines in bloom. Along with flowers, there is a population of black-and-gold tiger salamanders that live along the shallows of Wheeler Lakes. This trail is 6.4 miles round trip and is rated as moderate to more difficult.
HIKE 3: MOUNTAIN RANGE DISCOVERY OVER UNEVA PASS, COPPER MOUNTAIN
For those who don't want to stop at the Wheeler Lakes, the trail continues from Copper Mountain all the way to Frisco via the top of the Tenmile Range and Uneva Pass.
After the Wheeler lakes, before reaching Uneva Pass, is another lake known as Lost Lake. Despite its proximity to the trail, it's nearly completely hidden by a tall berm.
The trail features fabulous alpine lakes that have cliffs on their far ends. The lakes are right off the trail, but can be tricky to spot. The high point on this trail is 11,900 feet with stupendous views. Hikers stay on top of the Tenmile Range for a while, then descend to meet the North Tenmile Trail, which lets out at the westernmost part of Frisco Main Street. Here plenty of Lupine can be seen, as well as Indian paintbrush. This trail is 11.5 miles one way and is rated as more difficult. Two cars are recommended to arrange a shuttle.
HIKE 4: FLOWER HEAVEN AT UPPER STRAIGHT CREEK, EISENHOWER TUNNELS
Upper Straight Creek has been referred to as 'flower valley' and July is the best month to view flowers here. This hike is incredible for sub-alpine wildflowers, as you are tucked below the Continental Divide when hiking through this flowery oasis. According to guide books, the flowers seen here are flowers you'd never see down in an aspen forest or in a valley. Flowers to look out for here include, elephant head, purple penstamen and Indian paintbrush, king's crown, and white bog orchid. The higher you hike on this trail the more true alpine flowers start to appear, including sky pilot, alpine kitten tail and dwarf columbine. This trail reaches its peak at 12,400 feet and is rated as moderate to more difficult. It's 4 miles round trip and can be accessed off of I-70 8 miles from Silverthorne.
HIKE 5: CASCADING WATER AT SOUTH WILLOW FALLS, SILVERTHORNE
South Willow Falls is a relaxed hike that children will enjoy, with opportunity to see columbine — Colorado's state flower — in early July. The scenery varies between open meadows and closed-in stretches through trees and a gulch. Turning around offers great views of the Continental Divide and Lake Dillon throughout. The area is also rich in mining history. Once hikers reach the waterfall, they should take some time to relax and enjoy the location. There are plenty of rocks to relax on by the water. Look for alpine avens, columbine, alpine sandwort, small penstemon, wild rose bushes and more along the South Willow Falls trail. This trail is roughly 9 miles round trip and is rated as moderate.
More places to find Wildflowers in Breckenridge
Ice Rink and Sawmill Museum Trails:  Park at the Sawmill Museum on Boreas Pass Road and venture along the Blue River Trail for some of the best wildflowers in any season. Early summer blooms will be found in the sage meadows, and profuse flowers will be found in the wet meadow. Follow the Blue River Trail back toward the Ice Rink for forest flowers, or park at the Ice Rink and look for early spring blossoms in the sage meadow on the west side.
Carter Museum and Carter Park: The great 19th century naturalist, Edwin Carter, left a legacy of natural lands. Much of the grounds of his eponymous museum in downtown Breckenridge at Ridge Street and Wellington Road have been little disturbed since the 1870's when Carter built his cabin there. In any season you'll find a variety of Penstemons and other wildflowers with almost no effort.  Or venture to Carter Park at the south end of High Street and take a short walk up the hill for a combination of views and wildflowers that you won't soon forget.
Boreas Pass Road: It's a dirt road, but easily passable by most vehicles.  As you approach the alpine zone, you'll find huge meadows of brilliant yellow Alpine Sunflower. Stop at the top to explore the area above timberline for later summer bloomers.
Burro Trail:  Starting at Beaver Run Resort on Village Road, follow the Burro Trail along Lehman Creek for a gentle climb, a burbling creek, and plenty of water-loving wildflowers.
To learn more about Breckenridge wildflowers, read the Colorado wildflowers guide.
View All Breckenridge Hiking Trails
Trail Etiquette & Leave No Trace Practices
Anytime you are out enjoying nature, it's important to abide by Leave No Trace principles. Remember pack it in, pack it out always— this includes all trash, waste, gear etc. If you see trash along the trail, pick it up! It is best to leave the trail and the wilderness even more beautiful than when you arrived whenever possible. Stay on the trail and avoid the side trails or any shortcuts to preserve the natural environment as much as possible while avoiding erosion. You can help us preserve and protect what we love by following Leave No Trace practices during your visit.  Learn more by taking the Tree-Hugger Challenge.

Basic Trail Etiquette
Follow these easy tips and guidelines while out on the trail to respect nature and other trail users.
A hiker going uphill has the right of way.  If you're on a flat section, just be courteous and move to the side allow others to pass.
Greet others with a simple "hello" or a smile when you pass.
Keep conversation volume down to respect nearby trail users and enjoy the quietude of nature around you.
Keep dogs within sight, under control and have a leash handy to avoid and unwanted interactions with other pets, wildlife or trail users.
Stay on the trail. Avoid shortcuts, unless they are official trails. This helps protect the fragile habit, plants and integrity of the natural area.
Yield to bikes and horses, livestock. Technically bikers are supposed to yield to hikers, but usually bikes are moving quickly and it's easy enough to stop and let them pass. When you see horses on the trail, just step to the side and let them pass.
Local's Tips
Want to make sure you've packed all the essentials? Check out our Summer Packing Guide or prepare for your hike with these handy tips and what to bring from the experts at REI.
Colorado Trail Explorer (COTrex) is a great place to start looking for hikes. Choose your location and all the trails for that area will show up. Star your favorites, get trail info and look at recent photos.
No car? No problem. Carpool or take the bus to many of the Breckenridge trailheads.
On busy days, trailheads can fill up by noon, so head out early- the trail will be less crowded too and you'll miss the afternoon thunderstorms that can roll in by the afternoon.
Know and follow trail etiquette and leave no trace principles. Please pack out your trash, leave the wildflowers for others to enjoy, and give a friendly wave to the other users sharing the trail with you.
New to hiking or mountain biking?  Consider going with a guide or taking a class.  Breckenridge Heritage Alliance offers guided hiking trails that add an educational component to your trip.  Colorado Adventure Guides offer a variety of mountain biking lessons and guided hikes for all skill levels.
With these handy tips, you're well on your way to choosing one or many hiking destinations perfect for you and your group, and you didn't even have to create a matrix diagram to make your decision.
Find out more things to do this summer in Breckenridge, and learn more about hiking in Breckenridge without a car!
Article originally submitted by Jessica Smith for The Summit Daily and re-written in 2020 for accuracy.
The Breckenridge Tourism Office works to enhance and promote the unique character and experience of Breckenridge as a world-renowned destination resort and to represent, serve and perpetuate the common interest and character of its membership and community.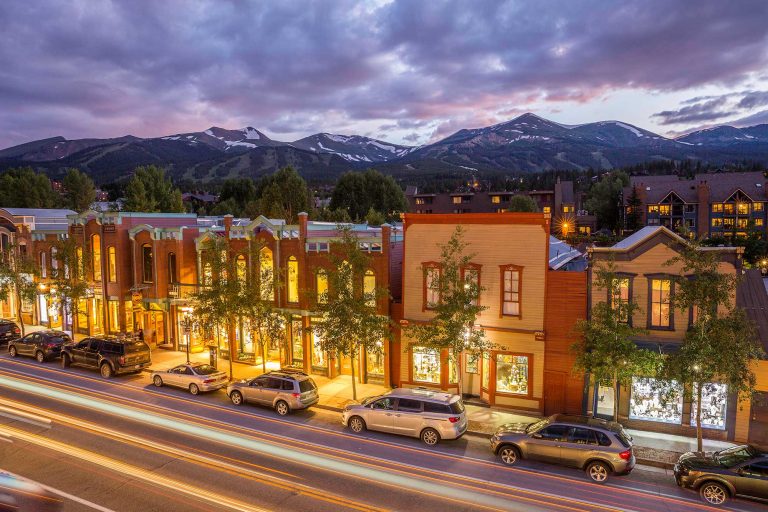 Embrace The Spirit
BLike Breckenridge™️ is a movement born of the spirit of our historic mountain town for those who call it home—whether for a weekend or a lifetime—to live by. It is a cause that connects us to each other, that we can all be a part of.