Visiting Colorado doesn't mean giving up the water: There are plenty of fantastic water activities to try in this land-locked state. In Breckenridge, taking it to the water means quite a bit. It means rafting the beautiful Blue River that flows through town or the bigger Arkansas River. It means recreating on scenic Maggie Pond or Lake Dillon. It also simply means taking a hike to one of the many high alpine lakes that are waiting to be discovered. Here are some of our favorite summer water activities in Breckenridge:
Water Activities in Breckenridge:
Kayaking
The beauty of kayaking is that it can be as serene or as adrenaline-filled as you like. For those who haven't tried it yet, kayaking is an easy way to get on the water. Rent a version called a "duckie," which allows you to sit on top and allows for an easier recovery if you tip over (not that you will). There are tours on Lake Dillon that depart from the Frisco Marina and point out local wildlife. For those with a bit more skill under their life-jacket, Breckenridge is home to an 1,800-foot-long whitewater kayak park on the Blue River. There are more than 15 water features for beginners and experts alike, but be aware that park flows are dependent on water levels.
Want to see the experts in action? There are several viewing points to see what's happening—and who's flipping—in Breckenridge's whitewater park.
Whitewater rafting
One of the most popular summertime activities in Breckenridge is whitewater rafting. Several local companies offer tours on rivers that are located within an hour of Breckenridge, including the Colorado, Arkansas, Blue and Eagle Rivers and Clear Creek with even more options if you don't mind traveling a bit farther. Ranging from scenic float trips that are great for families with smaller children to excursions with heart-pounding Class IV and V rapids, there's a rafting trip for just about everyone.
For something truly unique, try a full moon rafting trip or spend a few days on the river with an overnight trip.
Paddleboarding
Stand up paddleboarding may have started in the ocean, but we've fully embraced SUPing here in the mountains. There are several rental locations in Breckenridge and you can take a board out for a half day or a full day. Maggie Pond is great for beginners when the wind is light; for a longer tour, take a paddle around Lake Dillon—there are plenty of little coves to explore and a convenient put-in point at the Frisco Marina. Once you've conquered the flat water, the river is the place to be. Several shops offer SUP river lesson and tours and it's a totally different experience. It requires more balance and concentration, but also provides some spectacular views and a totally different river experience than being on a kayak or in a raft.
Ready to take it up another notch? Check out a SUP yoga class on Maggie Pond, led by yogis from a local studio. Your downward dog never looked so good.
Fishing
Colorado is known for its fly fishing (and fly fishing fanatics) and Breckenridge is no different. There are world-class fishing spots in town that allow anglers to vie for both rainbow and brown trout as well as the occasional brook trout. If you're a fly fishing novice, there are several great shops in town that can hook you up (no pun intended) with gear and a guide. Utilize a guide—they not only know the best spots, but they are also incredibly in tune with the taste buds of these trout. Though there are plenty of good spots in town, there are also other opportunities to fish in the high alpine lakes or on a float trip on a nearby river. As Heraclitus said, "No man ever steps in the same river twice"; he wasn't talking about fishing, but it sure does apply to the wide variety of fishing opportunities in Breckenridge.
Be sure to take a camera with you when you go fly fishing: We all practice catch and release so the next visitors can enjoy the adventure, too.
Get outdoors in Breckenridge
The Breckenridge Tourism Office works to enhance and promote the unique character and experience of Breckenridge as a world-renowned destination resort and to represent, serve and perpetuate the common interest and character of its membership and community.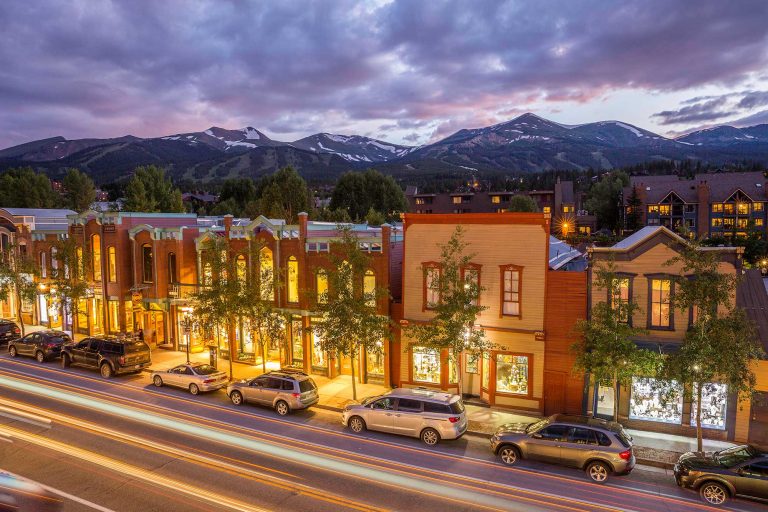 Embrace The Spirit
BLike Breckenridge™️ is a movement born of the spirit of our historic mountain town for those who call it home—whether for a weekend or a lifetime—to live by. It is a cause that connects us to each other, that we can all be a part of.