Spring in Breckenridge is known for endless sunshine, amazing snow conditions, and an unbeatable après scene.  While the slopes are hard to beat, most people's legs can't handle seven days in a row of skiing.  Thankfully, there are tons of activities to do during your rest days.  Many of our most popular tours and activities fill-up in advance so it is highly recommended that you make a reservation for any guided activity you're interested in.  Same for any anniversary or birthday dinners.
7 Day Breckenridge Spring Itinerary
Day 1:  Get acclimated and tour the town
Welcome to your vacation! Start your trip by settling into your lodging and learning about Breckenridge's free and convenient transportation options while in town.  Many lodging options are located near a Breck FreeRide bus stop which makes traveling to town or the ski area easy and car-free.  You're recreating at 9,600ft, so remember it's okay to ease into adventure.  We recommend starting the day with a late breakfast then walking off your meal with a stroll around town.  This will be a great opportunity to pick up any gear you need.  Bonus:  Many stores start offering sales on winter gear starting in April.
If you're looking to get a little activity in to the day, explore an easy snowshoe trail.  If there hasn't been recent snowfall you should be fine hiking in a good pair of winter boots but if there's new or mushy snow, you'll want to rent a pair of snowshoes or head to one of Breckenridge's two nordic centers for rentals and trail access.
If you need ski rentals for your trip, pick them up the evening before you need them.  You'll avoid the extra wait in the morning and be able to head straight to the lifts.
Tonight, plan for a relaxing evening in and drink plenty of water.  Vacations are a great time to enact family game night.  If your unit doesn't have cards or games, you can pick one up while walking around Main Street at Peak-A-Boo Toys.  Another option to keep the kids entertained is to get arts and crafts delivered to your door via Frosted Flamingo or sign-up for a grab-and-go art class with BreckCreate.
Day 2: Ski Day
Enjoy your day on the mountain and don't forget the sunscreen!  Remember, you want your legs to last the rest of the week so don't go too hard today.  While the traditional post skiing activity is to head to slopeside après, you might want to consider après yoga instead.  At the very least, remember to stretch a bit after your done skiing.  If you're looking for the best après options, we recommend heading to one of the best patios in Breckenridge or trying out one of the new outdoor dining options around town.  We're sure you're going to be tired after a long day on the slopes, so tonight's going to be a great night to enjoy the hot tub too!
Day 3: Try something new
Even if you stretched, you might be a little sore today. Thankfully, Breckenridge has plenty of ways to hit the trails while giving your legs a rest.  You should plan today around some type of guided tour.  The most popular guided tours are sleigh rides, snowmobile tours, dogsled tours, fly fishing tours, fat tire tours, ATV tours and scenic cat tours.  If you didn't make a reservation for a guided tour and are looking for some last-minute plans, explore our no planning required winter activity guide. It has ideas for last-minute activities to fill your day.
Finish off your day with an easy yet thrilling activity in town before heading to dinner. Favorites include local escape rooms (kid options available)  and educational ghost tours through Breckenridge's haunted past.  After your tour, dine out at one of the haunted restaurants and enjoy a spirited beverage.
Day 4: Take a Lesson
Lessons are great for all levels of skiers and riders.  You get to improve your skills, make some new ski friends, tour the mountain with a pro and skip the lift lines.  If you are taking a lesson, expect to get a full day of skiing in.  That sounds like a big day to us. This evening, let someone else do the cooking by heading out to dinner at one of the newest restaurants in town.
Day 5: Ski Day
If you're skiing today, make sure you give yourself a few breaks to soak up the sun in an Adirondack chair.  After you are done hitting the slopes, head to the sledding hill for an entirely different set of thrills. If you are looking for afternoon entertainment without the uphill, make a reservation to tour a historic gold mine or take an extreme sled ride (no hill climbing required).  Another option, make this a half-day of skiing and book yourself a massage – you deserve it.  Find more ways to relax with our wellness guide.
After your busy day, wind down with a decadent hot chocolate followed by an evening stroll in town to see Main Street illuminated by 250,000 holiday lights.
Day 6: Hit the Trails
There are so many ways to hit the trails besides skiing! We love guided tours (sleigh rides, snowmobling, dogsledding, fat bike tours) because they're a great way to safely try a new experience while learning more about the area.  However, nothing beats the reward of heading into the solitude of nature on foot.  Breckenridge offers an extensive network of trails to explore or you can head to one of Breckenridge's two nordic centers.
Day 7: Replay your favorites
On your final day in Breckenridge, we recommend giving your favorite activity another go. That might be an extra ski day, a scenic snowshoe, finding zen in a yoga class, taking a self-guided art tour, or strolling Main Street for locally made goods and products.  Finish the day with a meal at one of our locally-owned restaurants and don't forget to cheers to a great trip!
The Breckenridge Tourism Office works to enhance and promote the unique character and experience of Breckenridge as a world-renowned destination resort and to represent, serve and perpetuate the common interest and character of its membership and community.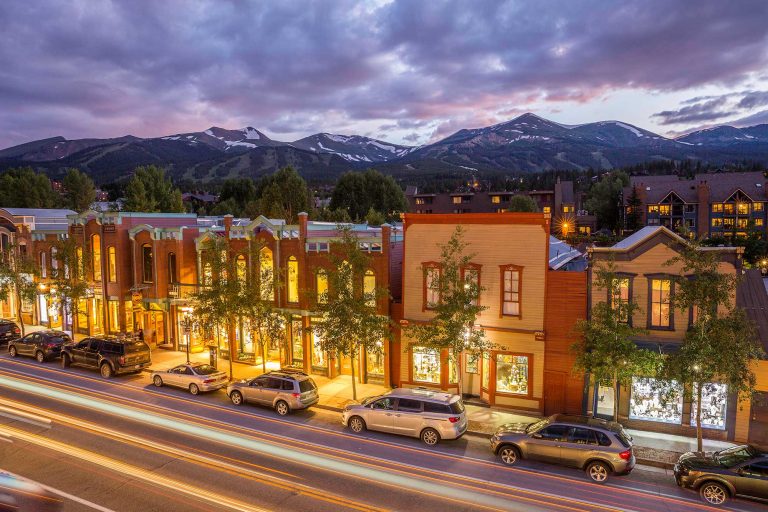 Embrace The Spirit
BLike Breckenridge™️ is a movement born of the spirit of our historic mountain town for those who call it home—whether for a weekend or a lifetime—to live by. It is a cause that connects us to each other, that we can all be a part of.