The list of outdoor activities in Breckenridge is never-ending. Being situated above 9,000 feet in the Rocky Mountains surrounded by millions of acres of national forest affords Breckenridge the spoils of experiencing the best activities in the west. From fly fishing to rafting to horseback riding to snowmobiling to dog sledding and everywhere in between, Breckenridge has it all. Find out about all of the best outdoor activities in Breckenridge.
On Snow
Snowmobiling
The beauty and splendor of the Rocky Mountains opens up to you as you race through miles of backcountry trails around Breckenridge. For the perfect mix of speed, excitement and scenery try a guided snowmobiling tour. Whether you've never ridden before or you're an experienced snowmobiler seeking an adrenaline-inspired experience, guided snowmobiling tours offer a breathtaking way to explore Colorado's backcounty.
Available:  Winter & Spring.  Opening / Closing dates depend on snowfall but typically open early December – early April.
Dog Sledding
People have been using dog-powered sleds for more than a thousand years, as far back as the 10th century. Imagine mushing through a forest of beautiful spruce trees while being pulled by Siberian Huskies. Breckenridge offers some of the best dog sledding in Colorado, which is a great way to get out into the backcountry surrounding Breckenridge and enjoy the serene nature of a winter forest. History and adventure come together to make dog sledding a truly unique family experience. In addition to winter dog sledding, Breckenridge is one of the few places to offer dog sledding in the summertime!
Available:  Winter & Spring.
Opening / Closing dates depend on snowfall but typically open early December – early April.
Nordic Skiing
Breckenridge boasts more than 50 kilometers (30 miles) of perfectly manicured cross-country skiing and snowshoeing trails between the town's two Nordic Centers. If exploring some historic mining ruins on your own is more your style, the Breckenridge trail system offers hundreds of miles of ungroomed trails to explore.
Learn more about Nordic skiing in Breckenridge
Sledding
When it comes to winter activities, tubing and sledding are always a family favorite. A day playing in the snow is a free way to enjoy the outdoors while giving your legs a break from skiing. Grab your toboggan, saucer or any slider or glider of your choice and get ready for a fun day of sledding at the Carter Park Sledding Hill.  The sledding hill is free for all to use and is a perfect afternoon activity for kids – and kids at heart.
Learn More about sledding in Breckenridge
Fat Biking
Fat biking is one of the newest winter pastimes taking over Breckenridge. If you've spent any time in Breckenridge over the past few winters, you may have noticed this new breed of snow enthusiasts joining you on the town trails, bike lanes, and Nordic center.
Learn more about fat biking in Breckenridge.
Scenic Tours
There are plenty of ways to enjoy the snow and take in Breckenridge's views that won't leave you out of breath. Enjoy everything the Rocky Mountains have to offer on one of our scenic tours.
Scenic Cat Tour
Take a scenic tour in a heated, all-glass snowcat as you explore an old-growth forest, listen to historic tales and search for wildlife.  Guests will break for s'mores and hot chocolate in an old mining hut before heading back out on the trail.
Learn more about scenic cat tours in Breckenridge
Horse-Drawn Sleigh Rides
Dash through the snow from the comfort of a sleigh while taking in the mountain views.  Scenic Sleigh Rides and Dinner Sleigh Rides are available throughout the winter season.
Learn more about horse-drawn sleigh rides in Breckenridge

Winter Zipline Tours
Though it is traditionally a summertime activity, ziplining demand has been slowly increasing for the winter months.  Catch views of the Continental Divide and blankets of snow across Summit County on this 6-line course in Breckenridge!  Breckenridge Zip Line Tours sits on 2,000 acres and is guaranteed to give you a great experience!
On Water
Fly Fishing
Fly Fishing is a deep passion shared by many who live in the Rocky Mountains. There are plenty of gorgeous rivers and streams in the White River National Forest surrounding Breckenridge, including the Blue River that flows right through the heart of Breckenridge. There are plenty of guided fly fishing tours in Breckenridge that will have you out on the water enjoying your day whether you are a first time fisherman or a seasoned expert.  Fly fishing is available year-round in Breckenridge.
Available:  Year-Round
Rafting
There is no feeling more thrilling than rushing down a rapidly flowing river. Whitewater rafting in Colorado is one of the most popular activities during the spring and summer, and for great reason. The rivers of Colorado wind through the breathtaking valleys beneath the peaks of the Rockies, and rafting through these waters is an unbelievable way to experience this natural beauty.
Available:  Summers from May – Mid- August
Stand Up Paddle-boarding (SUP)
Once the ice has melted in the Breckenridge high-country, it's hard to find a still body of water without witnessing stand up paddleboarding in Breckenridge, also know as SUPing. With rental locations throughout Breckenridge, SUPers flock to areas like Maggie Pond or nearby Lake Dillon to feed their need for floating freely among the mountains.
Learn more about SUPing in Breckenridge
On Land
Golf
The Breckenridge Golf Course is situated in the breathtaking, glacier-sculpted Upper Blue River Valley. The only town in the world to maintain a Jack Nicklaus-designed 27-hole golf course, the clubhouse sits at an elevation of 9,324 feet. Visiting golfers get an immediate confidence boost as the golf ball flies farther and straighter than at lower elevations due to less air resistance.
In the 2001 golf season, the town opened the last nine holes of the 27, also designed by Nicklaus and every bit as challenging as the original 18-holes. The Elk Course offers nine holes with more elevation change than the original nine-hole Bear Course and Beaver Course.
The Breckenridge Golf Course has received regional and national honors since opening in 1985. Honors have included: Best Mountain Course and Toughest Mountain Course by Colorado Golfer; Golf Digest's "Places to Play" rated Breckenridge as a 4 -Star Award Winner, as one of their top "Upscale Places To Play" in the nation. The course is also Zagat rated.
Available: May – October
Horseback Riding
Transport yourself back into a time gone by and experience Breckenridge by horseback. Choose from trail rides through Breckenridge's sprawling trail network (very Last of the Mohicans) or think more Little Home on the Prairie with open range rides north of Breckenridge.
Breckenridge Stables, last 1.5 hours and explore the beautiful scenery between Peaks 9 and 10 on the Ten Mile Range above Breckenridge Ski Resort. You will experience river crossings, beaver ponds and breathtaking panoramic views of the continental divide. With more than 100 horses, guides are able to match each rider to a horse based on ability and experience. This is also a great trip for younger children in the group. Breakfast and dinner rides are also available on weekends.
Available:  Summer & Fall  opening in May
For those looking for more wide open spaces and want to view the beauty of Colorado's wilderness by horseback, check out The Rusty Spurr Ranch. This remote location has been preserved so that visitors can spot the same wildlife and landscape that the first settlers discovered during the 19th century. It's not uncommon to encounter deer, elk, antelope and other large game during the rides.
Available:  Summer & Fall opening in May
Or if you are looking for an experience at a real Colorado ranch, take your group for a day full of outdoor adventures at American Safari Ranch! Offering horseback riding, ATV tours, and specializing in group activities, you are bound to find something for everyone involved.
Available:  Year-Round, 365 days a year!
UTV, ATV, and Jeep Tours
Explore the mountain vistas and historic trails of Colorado while riding a UTV, ATV or Jeep.  Guided tours are available within an hour drive of Breckenridge.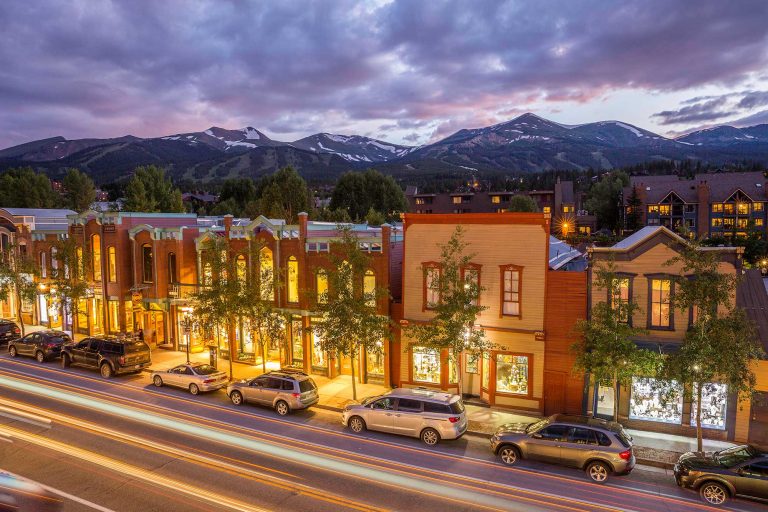 Embrace The Spirit
BLike Breckenridge™️ is a movement born of the spirit of our historic mountain town for those who call it home—whether for a weekend or a lifetime—to live by. It is a cause that connects us to each other, that we can all be a part of.