Summer, fall, winter or spring, Breckenridge pops with scenic nooks and crannies, just waiting to be photographed. Of course, you'll want to get plenty of pictures of family and friends to illustrate your personal story of Breckenridge, but here are a few unique, easy-to-find places to snap a picture-perfect scene. Behold, the best photographic spots in Breckenridge:
Photographic Spots in Breckenridge:
Flags over Breck
If you're heading into Breckenridge from Frisco, you'll see huge flags of Colorado and the United States. Take a right into the quaint store that sells log-carved bears and other fun animals, and point your camera high to capture the flags and Breckenridge Ski Resort in the background.
Breckenridge Golf Course
You don't have to pay big bucks to enjoy the views from Breckenridge Golf Course. Just park in the lot, walk around the clubhouse, and snap a few shots of mountain peaks backing the pond.
On your way out, pull over on the side of the road (be quick about it, though), and point and shoot at one of the holes on your left-hand side for a green foreground with Breckenridge's mountains in the background.
Mining history
Country Boy Mine is rich with history, and it's worth a guided trip through the mine itself, but while you're there, make sure you take plenty of pictures of the surrounding scenery, including the mineshafts and old buildings. These make great black-and-white and sepia prints.
A Quirky Little Shot
A local doc owns a cabin and an orange VW on French Street. The VW has remained wedged between trees and an old cabin for years and years, and it's really fun to watch the Volkswagen amass snow throughout the winter. But, it's great to see it in all its bright, rusted orange glory in the summer and fall, so catch it while you can.
Hike to it
Just about any hiking trail you choose in Breckenridge will render amazing views. Whether it be during the summer when the wildflowers are abundant and the waterfalls are roaring, or in the winter when everywhere you look elicits a feeling of being in a winter fairy-tale.
Heading south
Two directions on the south end of Breckenridge are sure to please you with photo ops. First, you can head up Boreas Pass Road up to Overlook Drive at The Lodge and Spa at Breckenridge, where you'll get a bird's eye view of Breckenridge.
Then, come down the hill, turn left on Main Street (south) and drive toward Blue River. There, you'll find the Goose Pasture Tarn.
There's a parking spot on the left, but you'll have to walk along the highway to take a picture of the water, so please be careful, as there isn't a shoulder to walk upon, and the tarn and land around it below the highway are private property.
On the other side
From the other side of the county, namely the top of Arapahoe Basin, you get a stunning overview of Breckenridge. In the summer, you'll have to hike up the mountain, but the view is worth it. In the winter, it's just two chairlift rides up Black Mountain and Lenawee, then a short little walk up to the top of Montezuma lift, and voilà — breathtaking views.
Of course, this is hardly a comprehensive list of off-the-beaten-path photographic spots in Breckenridge. Find your own, and share them with us through Instagram using #UnitedByBreck. Happy hunting!
The Breckenridge Tourism Office works to enhance and promote the unique character and experience of Breckenridge as a world-renowned destination resort and to represent, serve and perpetuate the common interest and character of its membership and community.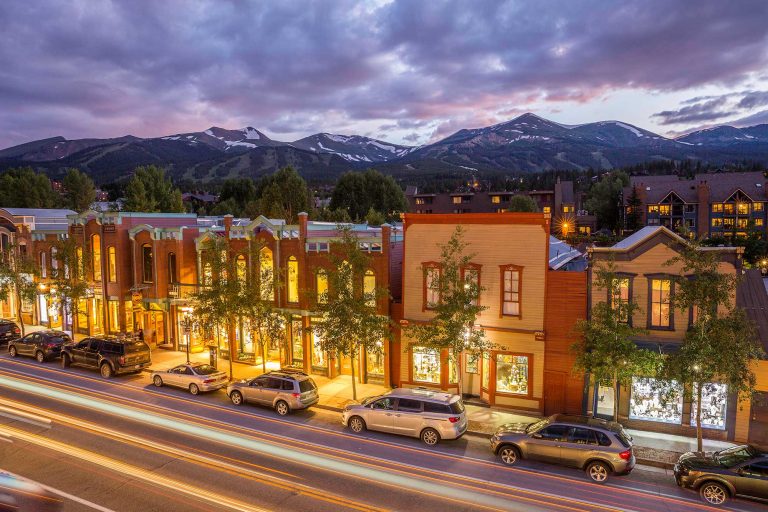 Embrace The Spirit
BLike Breckenridge™️ is a movement born of the spirit of our historic mountain town for those who call it home—whether for a weekend or a lifetime—to live by. It is a cause that connects us to each other, that we can all be a part of.